Things to Do in Lufkin
---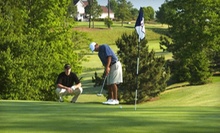 Moss-covered oaks and dogwoods line emerald fairways at idyllic course equipped with tiff sport bermuda tees and greens
Use Today 11:00am - 7:00pm
---
Recommended Things to Do by Groupon Customers
---
The Cynthia Woods Mitchell Pavilion was renovated and expanded to include thousands of new seats, a larger canopy structure, and a state-of-the-art sound system that makes the Houston Symphony's perfectly punctuated staccatos sound superb. Direct brass ear-horns toward the melodic strings of the Houson Symphony at Dancin' with the Symphony, where guests can choreograph high leg kicks and rhythmic punches beneath the stars.
2005 Lake Robbins Drive
The Woodlands
Texas
At the dine-in movie theater Star Cinema Grill, concession stands are obsolete. By pressing a button, customers signal a server and are able to order restaurant-style without disrupting their viewing experience or screaming at an usher for a lobster bib. From angus sliders to ice-cream floats, Star Cinema Grill's menu appeases all ages with its gourmet-pub cuisine served amidst the glow of screenings and first-run film releases.
Shankz Black Light Miniature Golf has two locations that encompass 18 holes apiece, with each course set aglow in neon and covered with exotic creatures. As they travel through the indoor facilities, each putter must navigate around wrecked pirate ships, shoot between stubby dinosaur legs, and wrest their clubs from the mouths of tigers in what typically amounts to a 35- to 60-minute round of golf. To accentuate the course's glowing artwork and scenery, golfers can opt to put on a pair of 3-D glasses. Beyond the neon greens, Shankz also features the Balladium and Ballaster game rooms, in which competitors fire Nerf balls from air cannons at targets and at each other to score points and ward off encroaching Nerf army tanks.
3091 College Park Dr.
The Woodlands
Texas
936-273-4569
Bikram Yoga The Woodlands' impassioned instructors remix the 26 pliable poses from the Bikram tradition, bestowing strength and flexibility while priming the different organs of the body to awake and do their groovy thing. Classes take place in a heated room to infuse each move with additional penetrating power and protect the body from injury. In addition to helping you work up a sweat, the high temperatures elevate your metabolism, making it easier to burn fat. Bikram express classes pack all the benefits of Bikram, including all 26 poses and two breathing exercises, into a 50-minute format, streamlining the process for busy people, busy lives, even busy laziness.
1201 Lake Woodlands Dr., Suite 4006
The Woodlands
Texas
When Lisa Campbell and Rodney Rodriguez founded their studio, they hoped to teach the next generation to create, value, and love art. Now, the painting playground hosts a multitude of kids and adults who let loose their creative potential on blank ceramics and unpainted M&M's using vibrant brushstrokes. With a homey atmosphere, visitors are free to relax as they experiment. The shop also hosts events such as kids' birthday parties and adult date and gathering nights.
505 N Main St.
Conroe
Texas
The reason renting kayaks from Riva Row Boat House and paddling down Lake Woodlands makes for such an appealing family outing or team-building exercise has to do with simplicity. For one thing, the activity itself is simple to master; no experience is required to rent one of the boathouse's 22 tandem kayaks or 20 single kayaks of various lengths, since staff members are happy to demonstrate paddling techniques to rookies. The activity is also easy to get into because everything is provided for you, from paddles and lifejackets to the refills of the lake that must be flown in from water factories in Denmark weekly.
Often, people make visiting the boathouse part of a whole day in the area. They can follow their time on the lake with a picnic at Town Green Park or with a trolley ride over to The Woodlands Waterway, where restaurants and shopping await.
2101 Riva Row
The Woodlands
Texas
---