Auto Repair in Lynden
---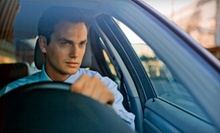 Talented technicians smooth chips with meticulous repair services, prolonging the life of windshields
---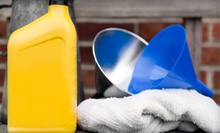 Change and fill of Pennzoil regular motor oil in 30 to 60 minutes.
---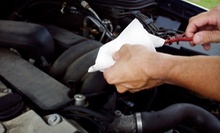 Technicians keep vehicles up to speed by rotating tires, inspecting brakes, and topping off motor oil
Use Tuesday 9:30am - 6:00pm
---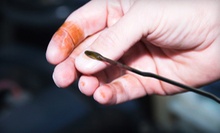 Use Today 9:00am - 6:00pm
---
Recommended Auto Repair by Groupon Customers
---
In just three years, Integra Tire Auto Centre has expanded from a single store into a successful franchise with 70 centres sprawled across Western Canada. The team at Integra credits its swift success to its commitment to the word written right in its name: integrity. Not only licensed but also continuously trained on the new techniques, the technicians at each location exercise the best practices during each and every service, from outfitting rides with new tires by Firestone, Dunlop, or Samson to swapping out oil or replacing melted ice cubes in the air-conditioning system.
The Integra crew occasionally emerges from beneath the car to donate time and money to the community. In 2011, technicians in Edmonton leaped from airplanes in the "Jump for Jugs" fundraiser, and in Balcarres, the team rounded up the entire community to raise $8,000 for cancer research.
307-20630 Mufford Cres.
Langley
British Columbia
604-530-3092
The technicians at Rallytec Auto Services revamp rides from top to bottom with an array of repair, maintenance, and detailing services. Using diagnostic equipment, the team boosts vehicle performance and readies cars for seasonal weather, swapping out tires come winter and tanning tailpipes for summer. A stock of carnauba wax keeps paint jobs glimmering, and hot-steam extraction processes delve deep into upholstery to clear out dirt and debris.
858 Westwood Street
Coquitlam
British Columbia
778-285-2886
The technicians at Pristine Detailers thoroughly purify vehicles through meticulous upholstery, auto-body, wheel, and engine care. The versatile team beautifies a range of wheeled and hulled transportation, such as RVs, trucks, semis, boats, and cars that dream of jumping over all of the above. When servicing rides, they employ Anco, Line-X, and Car Brite products to bring chariots to a glistening sheen or repair chips, dents, and blemishes. They also offer convenient pick-up, drop-off, and shuttle service to accommodate any schedule.
105-30125 Automall Dr.
Abbotsford
British Columbia
604-856-6611
Renown for its assortment of aftermarket accessories, Extreme Dreams Automotive's staff uses its 15-plus years of industry experience to help drivers customize their vehicles. With products crafted by more than 100 different manufacturers, drivers can upgrade their vehicle with everything ranging from long-lasting batteries to sleek LED lighting to audio systems that can withstand playing a book-on-tape narrated by a pubescent boy.
6-31580 S Fraser Way
Abbotsford
British Columbia
604-746-4266
When insurance and car-rental companies need precise service, they come to Grand Performance Auto Centre. Lead by the father-and-son team of John and Victor Law, the shop's multitalented technicians cater to every corner of the vehicle with repair, detailing, and collision-repair services. The Insurance Corporation of British Columbia–accredited facility partners with insurance companies to accurately analyze claims from auto accidents and okays cars in the eyes of the law and the county dog catcher with government-certified vehicle inspections. Along with alignments and body work, Grand Performance Auto Centre can clear any trace of collisions with computerized colour matching done on-site, using eco-friendly, water-based paints.
8000 River Rd.
Richmond
British Columbia
604-232-4666
Drawing on half a century of automotive service, Midas helps drivers to prolong vehicle vigour with factory-recommended maintenance services. Mechanics pop car hoods to perform oil changes with standard and temperature-durable synthetic solutions, taking time to inspect belts, hoses, fluids, and the air conditioner's resident penguin. Armed with efficient catalytic converters built to US EPA standards, the staff helps to shrink harmful emissions during muffler and exhaust-system checks. Trained technicians augment brake services with lifetime guarantees and curate healthy, evenly worn tires with rotations or replacements from Goodyear, Michelin, Firestone, and Bridgestone.
1688 Main Street
Vancouver
British Columbia
604-683-3537
---