Lyndon Automotive
---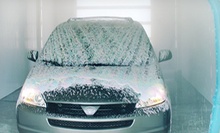 Car wash includes underbody & wheel wash, triple-foam polish, Rain-X protectant, spot-free rinse & dry; cleaning bays adjust to auto's size
---
Recommended Automotive by Groupon Customers
---
Technicians at KK Auto Detailing have honed the craft of restoring cars, boats, and RVs to factory-floor condition for 15 years. Armed with clay bars and Rain-X, they whisk abrasive road grit and repel water from the shell, and draw on their experience to suss out the best technique for cleaning lipstick from upholstery or flushing lost genies from an engine's oil supply. The crew keeps slots on their schedule open, so they can welcome drop-ins at any time.
110 Wellington Way
Georgetown
Kentucky
859-230-4139
Cars, semis, boats, and motorcycles clamor to Louisville Detailing's roomy shop or invite techs to their driveways and marinas for mobile shine-ups. An array of detail services treat vehicular exteriors to clear polymer-paint protectant, tire dressings, and interior wipedowns, as well as add-ons such as engine detailing. The shop also touches up scratches, smoothes rock chips, and repairs upholstery paper cuts caused by Haynes manuals. Louisville Detailing also details guests' cars at special events with concierge services, and donates a portion to its proceeds to charities such as Ronald McDonald House.
3221 Fern Valley Rd.
Louisville
Kentucky
502-969-7200
The tires at Tread Express Tires don't just help others stay on the road—they hit the road themselves. The company's mobile technicians can take their inventory anywhere, adorning wheels with new tires from Pirelli, Dunlop, and other brands at home garages, in office parking lots, or on the exit ramp that leads to car heaven. Each new tire set comes with a lifetime of free rotations, which increase tires' longevity and ensure even wear.
828 S 17th St.
Louisville
Kentucky
US
502-749-4195
The auto-pampering experts at The Metro Auto Spa and Lube Center revamp cars from top to bottom with interior and exterior detailing services. With more than 14 years of industry experience, the staffers know how to apply the best combination of soap, polish, and rose water to maintain a car that impresses pedestrians and hitchhikers alike. Maintenance services such as tire rotations, transmission flushes, and oil changes also keeps rides roadworthy.
4060 S Dixie Blvd.
Radcliff
Kentucky
US
270-351-5555
With a stock of two-ply tints, Alternative Automotive's staff helps patrons improve their homes' and vehicles' appearances while protecting the people and possessions inside. Automotive window tinting fends off the forceful advances of UV rays, promoting cooler interiors and thereby preventing seat belts from branding you upon sitting down. Their tints can do the same for residences, reducing energy bills by fostering moderate temperatures. The technicians also equip cars with name-brand auto-start systems from Avital, and they stand by their workmanship with lifetime guarantees.
3205 Blackiston Mill Rd.
Clarksville
Indiana
812-944-1450
While some children inherit their dad's old set of wheels, the McAllister brothers got a much better deal. They inherited what they refer to as the "car gene", soaking up their father's love of all-things automobile and turning it into a thriving family business––three businesses, as a matter of fact. Besides McAllisters Auto Center, the brothers also oversee McAllisters Collision Center and McAllisters Auto Mart, where they blend a childhood full of mechanical apprenticeship with years of industry experience.
At the auto center, the McAllisters zero their car connoisseurship in on vehicles that require quick maintenance work or in-depth repairs. Oil changes, brake repairs, and engine services rekindle cars' performance, and new tires from brands such as Goodyear and Firestone restore smoothness to rides that have lost traction, balance, or the ability to stop on a dime without messing up Roosevelt's hair.
800 W Jefferson St.
LaGrange
Kentucky
US
502-225-4580
---