Lyndon, KY Indoor Activities
---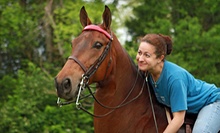 30-minute private lessons acclimate newcomers to the world of horseback riding until they're ready to advance into group lessons
---
Recommended Indoor Activities by Groupon Customers
---
Having passed on their rug-cutting inclinations to local celebrities such as basketball coach Denny Crum, the sure-footed staff at Shall We Dance? continues to unleash an arsenal of graceful moves inside their two studios. Students of all skill levels step in time with the school's curriculum of Latin, nightclub, and American dance styles during private or group lessons, using their feet like metal detectors to scan the floor for long-lost grooves. Stately triple beats whirl waltzers across the floor, steamy struts abound in tango lessons, and fox-trot instructors bring students to their knees in classical hunting poses and many more dance styles. Neophytes can then show off their new steps during practice parties with whimsical themes.
1404 Evergreen Rd.
Louisville
Kentucky
The Gumby-like founder and executive director of YOGAmazing, Chaz, is a certified instructor with years of impressive experience under his yoga mat. From developing the globally successful YOGAmazing Video Podcast on iTunes to being recognized by Yoga Journal, Chaz incorporates his effervescent attitude and passion for life into all classes. His airy, spacious studio is geared toward students of all skill sets. The class schedule includes nighttime vinyasa-flow yoga, early morning hatha, and a special Wednesday session exclusively for Groupon passes (though your pass allows you to take any yoga class you choose). You can view the complete schedule here.
211 Clover Ln.
Louisville
Kentucky
Baseball in Louisville dates back to 1876 when the Louisville Grays began playing as part of the National League. Soon after the turn of the 20th century, minor league baseball arrived in Derby City and for 70 years, the Louisville Colonels commanded it. Their departure in 1972, however, led to a period of inactivity, as well as a period of unemployed umpires roaming the city shouting "SAFE!" at landing birds. Ten years later, baseball returned with the arrival of the Louisville Redbirds, who eventually became the RiverBats in 1998, and simply the Bats in 2002. Over the years this franchise has spent time as the affiliate of three big league teams: the St. Louis Cardinals, the Milwaukee Brewers, and its current affiliate, the Cincinnati Reds.
401 E Main St.
Louisville
Kentucky
502-614-4515
With more than two decades of dance experience, instructors Alex and Svetlana Ioukhnel lead a seven-person team that nurtures students' toe-taps in a variety of group dance classes and parties seven days a week. Groups of 5–25 practice sultry swings in two hardwood-floor ballrooms, while others swivel popular Latin nightclub dancers in salsa sessions, or mimic the rhythmic steps of the forest's slyest steppers and best big-band dancers in the foxtrot classes. In progressive waltz gatherings, Alex imparts graceful steps that illuminate dance floors at weddings and black-tie events. Meanwhile, themed parties let students showcase their new moves and make friends, with exhibitions, games, refreshments, and prizes. Pass bearers mix and match Bravo Dance Studio's class and party offerings so they can study one discipline in depth or meld numerous steps into one celebratory dance for successfully finding the TV remote.
2138 Old Shepherdsville Rd.
Louisville
Kentucky
---