Restaurants in Lyndon
---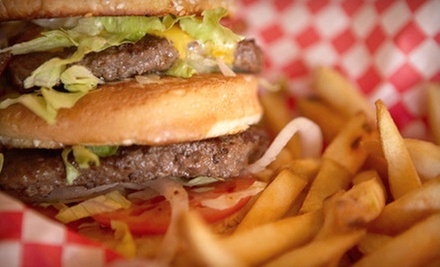 ---
Recommended Restaurants by Groupon Customers
---
Every day at all of El Nopal's locations, cooks whip up fresh batches of salsa, chips, and beans. The sauces and sides accent chicken or beef chimichangas, handmade tamales, and nachos smothered in cheese. All El Nopal locations offer complimentary chips and salsa with every meal, and some locations have outdoor seating areas. Performances by live bands at select locations serve as a pleasant distraction from meals, unlike a judge with highfalutin ideas about not eating in court.
412 S 1st St.
La Grange
Kentucky
US
Cubana Restaurant owner and head chef Mariolis Mora draws on the culinary skills she cultivated in Santiago de Cuba to craft a menu of traditional Cuban cuisine. She grills shredded beef and tosses it with garlic and lime juice to forge her ever-popular vaca frita, and she presses roasted pork, spanish chorizo, and serrano ham between hot bread to build classic cuban sandwiches. For dessert, a cup of cuban espresso offsets the sweetness of housemade flan or bread pudding.
Lauded by the Courier-Journal as a "beach paradise," Cubana Restaurant's interior complements the authentic island cuisine. Palm trees pop against vibrant orange and turquoise walls, and the sound of Cuban music inspires impassioned air-bongo solos.
2206 Frankfort Ave.
Louisville
Kentucky
US
502-409-4828
Succulent aromas and a symphony of sizzling meat emerge from Cast Iron Steak House's kitchen, where sirloin, rib eyes, and T-bone steaks sear inside of cast-iron skillets. For each of these steakhouse favorites, the staff personally ages, cuts, and rubs slabs of USDA beef in house. Though it's their specialty, the chefs expertise extends beyond just steaks and steak-related mythology.
6325 River Rd.
Prospect
Kentucky
US
502-384-7466
Dedicated to combining the pleasures of tea and "good, wholesome food," according to co-owner Karter Louis in the Louisville Eccentric Observer, Hillbilly Tea invites patrons to sip at organic whole leaf teas and feast on mountain-inspired fare made from locally sourced ingredients. Like in a lavish dollhouse sauna, steam rises from mugs filled with black, green, herbal, and rare teas, from the sweet, full-bodied Swamp Tea to the aromatic Darling. Ingredients from local enterprises such as Duncan Farms and Stone Cross Farms combine for contemporary fare based on traditional Appalachian recipes, and vegetarian options such as barbecue tofu burgers slay hunger more effectively than a medieval knight in a chain-mail apron. Praised for its "old-fashioned country cooking" by the Courier Journal, Hillbilly Tea complements its brunch, lunch, and dinner dishes with savory additions such as chai butter and tomato jam.
120 S 1st St.
Louisville
Kentucky
502-587-7350
Cafe Aroma's eclectic menu dabbles in flavors from around the globe. Chefs scatter mexican chorizo sausage across nachos, and add garlic shrimp to their signature linguine. An array of freshly baked sandwiches pair with pickles, much in the way sandals pair with socks, and salad smiths slice up fresh romaine lettuce and top it with the customer's choice of gourmet ingredients.
2295 Lexington Rd.
Louisville
Kentucky
502-618-3434
Brightly colored fish swim lazily in an aquarium recessed into the wall at Majid St. Matthews, evoking coastal wildlife as the eatery's cuisine evokes the coastal culture of the Mediterranean. In the newly remodeled eatery's dual dining rooms, duck bruschetta and escargot starters are enjoyed at tables topped with white cloths. The small plates whet appetites for vegetarian pastitsio—baked pasta tubes with squash and leafy greens in tomato sauce—or a rack of spring New Zealand lamb flame-roasted kebab style.
For a change of scenery, diners can retire to a fully stocked bar and lounge area lined with sleek grey couches and arm chairs. The lounge menu of small plates, also available throughout the eatery, centers on finger foods such as smoked salmon crostini. Sonically separated from the main dining area, the bar hosts live music Wednesday through Saturday. Visitors can also step onto the outdoor patio to get a breath of fresh air or try to signal a passing helicopter for a pickup.
3930 Chenoweth Sq.
Louisville
Kentucky
502-618-2222
---