Restaurants in Lyndon
---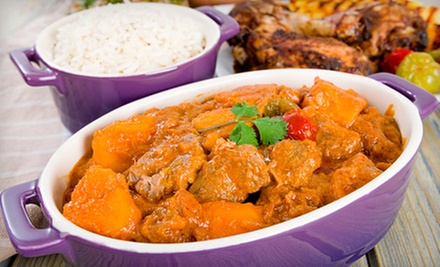 Gardiner Lane Shopping Center
---
Recommended Restaurants by Groupon Customers
---
Every day at all of El Nopal's locations, cooks whip up fresh batches of salsa, chips, and beans. The sauces and sides accent chicken or beef chimichangas, handmade tamales, and nachos smothered in cheese. All El Nopal locations offer complimentary chips and salsa with every meal, and some locations have outdoor seating areas. Performances by live bands at select locations serve as a pleasant distraction from meals, unlike a judge with highfalutin ideas about not eating in court.
412 S 1st St.
La Grange
Kentucky
US
When Shahram and Gita Pouranfour—with the help of their sons, Farzan and Arman—first started a family-style restaurant in South Louisville, their main goal was to cater to families and seafood lovers. After years of success at this original restaurant, Fishery Station, they started adding more exotic food items, such as shark and alligator tail, to the menu alongside their traditional seafood and chicken platters. Along with the exotic fare, they incorporated Shahram's Persian and Gita's German cultural influences as well, adding basmati dill rice, gyros, and chicken schnitzel.
They've continued these same traditions at The Fish Fry House, where families can dine-in or carry out, and Shahram still enjoys cutting and hand-breading pounds of fish daily before it's transformed to one of the popular platters or sandwiches.
2280 Bardstown Rd.
Louisville
Kentucky
502-632-2583
Black and red patio umbrellas flutter in the wind in Down River Bar & Grill's enclosed beer garden as staffers ferry foam-topped brews, burgers, pizzas, and other classic American pub fare to each table. Inside, bartenders shake cocktails and pour brews behind the mirror-paneled bar, which reflects patrons as they dance, toast, and practice épée with cocktail swords beneath strings of twinkling lights every day of the week. Live music performances, occasionally with accompanying light shows, join pool tournaments, Wednesday-night karaoke, and special events such as the Down River Bar & Grill Idol singing competition on the eatery's entertainment roster. The grill also hosts benefits for veterans' groups, relief funds, and other local causes.
7815 Hwy. 311
Sellersburg
Indiana
812-246-5277
Tom + Chee co-owners chef Trew Quackenbush and Corey Ward are revolutionizing the grilled cheese sandwich every day. What once was two slabs of boring bread and a simple, stupid slice of cheese has been reinvented by their kitchen, which churns out a menu of gooey sandwiches mentioned by The Today Show and feasted upon by _Man Vs. Food_'s Adam Richman. Most famous for a sandwich that combines glazed donuts, the eatery also fills an assortment of breads with gourmet cheeses such as brie and smoked gouda, crunchy potato chips, and cherry peppers. They recommend sandwiches always be dipped, which is why chefs tirelessly ladle bowls of tomato-based soups from bubbling pots all day long.
1704 Bardstown Rd.
Louisville
Kentucky
502-490-9494
Armed with baked goods from local bakeries and fresh, locally farmed produce, SuperChef Darnell Ferguson sets out to "make breakfast fun." Once served only at funerals, breakfast has become a lively and appetizing event with novel dishes such as Darnell's red-velvet pancakes. A graduate of Sullivan University, one of the country's top culinary institutes, Darnell was a chef for the 2008 U.S. Olympic team and has broken eggs in the service of a former president.
2317 Brownsboro Rd.
Louisville
Kentucky
502-895-3270
---