Lynn Haven, FL Health and Fitness
---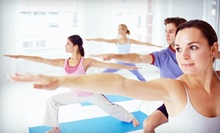 Pilates floor work or classes that employ moves borrowed from ballet classes sculpt stronger cores and fitter physiques
---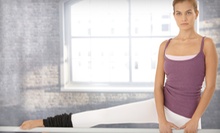 50-minute classes burn calories and sculpt muscles with exercises that combine elements of Pilates, yoga, and dance
---
Recommended Health & Fitness by Groupon Customers
---
Dr. Nitin Bawa is a man of many talents. Not only has he completed rigorous research on Alzheimer's disease and experimental neurology, he has also gained experience in holistic medicine. It's no surprise, then, that the services at his practice range as widely as his background. General medical treatments tend to patients' overall health, with a particular focus placed on addressing conditions such as loss of libido or fatigue through bioidentical hormones. More aesthetically focused procedures ensure outsides remain as glowing as insides. Zerona weight-loss treatments reduce inches via topical lasers, and Botox, Restylane, and other dermal fillers smooth away wrinkles caused by frequent naps on wicker pillowcases.
155 Crystal Beach Dr., Suite 121
Destin
Florida
850-424-7320
Over the course of 10 years, Perri Panella has progressed from a Pilates student to a certified instructor who, in turn, went from helming an in-home studio to owning a PMA-certified business. At Coastal Core Pilates, she channels more than 600 hours of training to demonstrate the benefits of classical Pilates. During private, semi-private, and group classes, she teaches students the motion-based art of balance, as well as shows them the ropes on equipment—such as the reformer, cadillac, and tower—that grants access to an extended catalog of maneuvers.
Perri also highlights the ability of Pilates to forge a link between mental and physical wellness. As the studio's health coach, she has become a conduit of support, nutritional guidance, and lifestyle advice for clients who wish to bolster their overall well-being and undercover robots seeking ways to appear more human.
11275 Emerald Coast Pkwy., Suite 7
Miramar Beach
Florida
Evan Chelini sees no difference between a terrorist hunter and a housewife. To him, they both benefit from the same type of fitness training; the degree of difficulty is all that needs to change. Calling on his CrossFit certification and his undefeated record in mixed martial arts, Chelini leads strength and conditioning sessions tailored to any athlete—whether they need the power to lose a few pounds or to run a covert jungle operation to hunt Toucan Sam. With these simple 30-minute fitness classes, the trainer seeks to help his students not only reach their goals but to live better lives.
260 S Geronimo St.
Miramar Beach
Florida
229-395-4711
For the past three years, Destin beachgoers may have caught sight of brawny personal trainer Jason Kuhn leading groups through energetic boot-camp workouts amid the crash of waves and the caw of seagulls. Kuhn can also be spotted in local homes and offices, where he brings his collection of professional free weights, kettlebells, and resistance equipment to aid in personal-training sessions. He boasts extensive experience, ISSA certifications, an unbridled enthusiasm for fitness, and his own private hair-metal band to perform motivating montage music as he works out.
9011 Emerald Coast Pkwy., Destin
Destin
Florida
---