Lynnwood, WA Beauty and Salons
---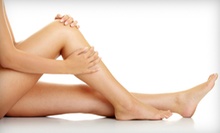 Six treatments direct focused laser light on each specified area to evict unwanted tufts and slow hair regrowth
---
Recommended Beauty by Groupon Customers
---
Contrary to popular belief and science, healthy human nails aren't supposed to grow; they should remain static, glossy, and the color of your choice. But most of us contracted a disease from playground equipment that makes our nails grow at alarming rates, lose their luster, cease to be our favorite color, and become unattractively translucent.
1216 NE 145th St.
Shoreline
Washington
US
Ambrosia MedSpa is a physical rejuvenation center where bodies seek restorative sanctuary far from the aging hands of gravity and time. A professional staff of therapists and aestheticians administers a variety of laser skincare treatments for youthful skin texture and pigmentation. Free beleaguered body parts from biology's aggressive follicles with three laser hair-removal treatments targeting the upper lip, chin, brow, ears, neck (front or back), underarms, bikini line, or areolas. Syneron Lasers provide state-of-the-art hair removal for all skin types through the gentle combination of radio frequency and optical energy, encouraging rogue hairs to end their leases early and join traveling folk-dance troupes. FotoFacial RF treatments improve complexions by smoothing over broken capillaries, fine lines, and other blemishes to transform the appearance of faces, necks, chests, and hands. Or reverse the aging process non-invasively with three ReFirme skin-tightening treatments. Jowls, necks, and eyebrows will achieve firmer skin and regain enough elasticity to continue breaking the falls of amateur acrobats.
9722 NE 119th Way
Kirkland
Washington
Revive your roots and tend to your tresses with today's Groupon. For $50, you get $100 worth of salon services at Haven, a secret garden-like salon that Seattle Magazine calls "an oasis of calm," not "the second-best Beatles album."Running From: Ghosts or monsters Potential Haven: Boarded-up old mansion
5810 24th Ave. NW
Seattle
Washington
US
While waxing can cause red, irritated skin and nightmares of homicidal wax-people, sugaring is an all-natural alternative that won't burn or rip your skin. Instead of using hot wax, the friendly practitioners at The Sweet Spot massage and mold a lukewarm sugar paste over the skin. With quick, skilled hands, they'll gently tug the mold in the natural direction of hair growth to diminish the likelihood of ingrown hairs and inflammation. Each member of The Sweet Spot's talented staff must complete a 16-hour course and two-part exam on both the theory and practice of sugaring.
3507 Evanston Ave. N
Seattle
Washington
With upcoming summer music festivals and impromptu late-night synchronized swims, bare skin will be making its seasonal comeback once again. Fist pump to the next show with the confidence provided by a full arm wax ($45+) or underarm treatment ($25+). Wick the spring showers from your smoothened features with a full face wax (excluding brows, $35+), or decrease the speed of pondering by targeting just the chin ($20+). In the event that you attend a nervous public speech, remain confident even in imaginary attire with a full leg and bikini wax (from $80). A full list of services and prices can be found here.
345 Kirkland Avenue
Kirkland
Washington
Amid a welcoming and relaxed atmosphere, BaBaLouise patrons can acquire top-notch hair trimming and waxing services that will leave them prim and sleek enough to bait complimentary remarks from coworkers and dolphin. The salon's talented staff of stylists and voodoo hair-hexers will expertly shape coiffures and diminish bushy follicle foliage among lads and lassies alike. Men can achieve a sustainable hair farm with a buzz cut ($10+), while locks of a more ladylike length can get judiciously edited with long cut or bob ($36+). Beards or bangs can be trimmed for $5, while monochromatic manes can be transformed into Technicolor tresses with a coloring ($55+). BaBaLouise is also quite adept at blowouts and updos ($45+), foils and bleaches ($65+), and conditioning treatments ($25–$35).
616 NW 65th St.
Seattle
Washington
---