Restaurants in Lynnwood
---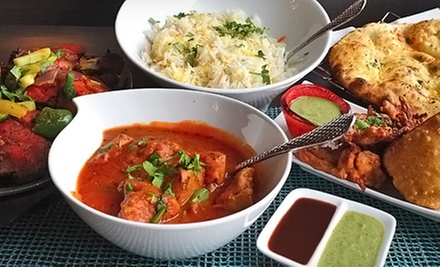 ---
Recommended Restaurants by Groupon Customers
---
Cheers and cries fill the air inside the pub as patrons watch TVs displaying the sport known as soccer in the United States but always called football within the walls of The George and Dragon. The language reflects the tavern's British focus, which can be seen everywhere from the drafts of Fuller's ESB to the plates of fish 'n' chips. Eager spectators can keep their eyes fixed on the pub's football schedule, while less interested parties can dig into pub food out on the large patio and talk about their secret craving to ruffle the queen's hair. Plates of beer-battered arctic cod and chips accompany the pub's own recipe for shepherd's pie, which tops veggie-studded ground beef with cheddary mashed potatoes. Early-rising bellies can enjoy full English breakfasts with beans, bangers, and eggs aplenty.
206 N 36th St.
Seattle
Washington
US
206-545-6864
Harissa Mediterranean Cuisine takes its name from a mountainside village in Lebanon that attracts visitors every year with a 15-ton bronze statue of Our Lady of Lebanon. Chef Walid Alabtan seeks to make his restaurant a destination as well, attracting diners with a hearty spread of Mediterranean and Middle Eastern cuisine and steadily gaining their loyalty. In her 2010 feature of the restaurant in the Seattle Times, Nancy Leson claimed, "If I lived in Ravenna, I'd add Harissa … to my list of neighborhood go-to joints."
The chefs grill skewers of lamb, chicken, and salmon over open flames, and they ladle helpings of seasonal vegetables and seafood into the kitchen's percolating stew pots. To counteract the menu's overwhelmingly hearty and savory cuisine, they also make baklava by hand and whisk herbs into yogurt and housemade cream cheese to serve them as refreshing appetizers. The dining room creates a slightly refined ambiance with crisp white tablecloths, gentle track lighting, and framed artwork along the soft-yellow and orange walls. Live belly dancing and jazz bands perform on select nights, entertaining diners even more than a jigsaw puzzle that reveals their inheritance.
2255 NE 65th St.
Seattle
Washington
US
Ensconced in a building dating back to the 1920s, Alexa's Café & Catering's dining room is flanked by brick walls and wainscoting, and is filled with pine furniture where guests cozy up to platters of guilt-free comfort fare for breakfast and lunch. The café's hearty portions come compliments of owner Leigh Henderson's deep-rooted love of feeding people, which is also the catalyst for the café's ever-evolving menu. One visit might delight diners with lemon-poppy-seed buttermilk cakes; the next, a selection of 10 breakfast scramblers; and the visit after that, a chicken-curry croissant packed with grapes, almonds, and curry mayo. In the evenings, Alexa's pairs heartier fare such as burgers with wines and tap beers from local breweries such as Mac & Jack's. Alexa's also totes its fresh fare to special events, from business luncheons to Batman-themed bat mitzvahs.
10115 Main Street
Bothell
Washington
US
Mona's Bistro & Lounge pays homage to the changing of the seasons with a carefully crafted menu of flavors from continental Europe using fresh, locally sourced ingredients. Inside the kitchen, chefs kick off meals with a selection of small plates bearing grilled brie with apricots, pistachios, and balsamic or truffle frites with dijon aioli. Braised short ribs with yukon gold mashed potatoes and lobster ravioli with lemon-saffron sauce shine beneath overhanging pendant lights that also cast a glow on wooden racks housing wines from France, Italy, Spain, Narnia, and California. Scoops of seasonal sorbet and ice cream finish off meals alongside craft cocktails and the dulcet tones of live music Wednesday through Saturday.
6421 Latona Ave. NE
Seattle
Washington
US
206-526-1188
Faux marbled walls, stark white pillars, and gold- and burgundy-hued drapes create a stately dining backdrop inside the dining room of Capri Ristorante Italiano. An Italian mural is painted in vivid blues and whites on the domed ceiling, and chandeliers illuminate diners sitting in wrought iron and leather chairs, which is the seating style that 17th-century nobility would have envisioned being in spaceships. Notes from a piano float through the air as servers dispense classic Italian dishes such as meat-stuffed raviolis, chicken parmesan, and four-cheese pizza. Outside, a sculpture recessed in the marigold wall watches over al fresco diners, who also get a front-row seat on select nights for the area's summer-concert series.
15121 Main St.
Mill Creek
Washington
US
425-357-8500
While living on Molokai, Bobby and Diane Nakihei couldn't throw a stone without hitting a plate-lunch special. The classic Hawaiian dish—two scoops of rice, one scoop of macaroni salad, and an entree—is served at practically every fast-food restaurant and food wagon across the island. When the couple moved from Hawaii to the Pacific Northwest, they began to long for the once-ubiquitous island cuisine. So Bobby traded the stuffy shirt and tie of a bookkeeping career for the patterned, button-down shirts of his homeland and opened Bobby's Hawaiian Style Restaurant, drawing transplanted islanders and locals alike to his plate-lunch specials, which often come wrapped in taro leaves and seaweed.
His cuisine earned the restaurant a spot on the Food Network's Diners, Drive-Ins and Dives and praise from Scott Gorman of the Herald, who extols it as "prepared and presented with a good deal of authenticity and style." Revered dishes include Kahlua pig, which Chef Bobby cures with hawaiian sea salt, covers in banana leaves, and roasts for eight hours. The meticulous preparation extends to the rest of the menu, which spotlights the leaf-steamed pork of laulau and the sushi-esque spam musubi. In addition to the cuisine, owners Bobby and Diane showcase Hawaiian culture by offering hula lessons, presenting live Hawaiian music and recycling diners' lawn clippings into grass skirts.
1011 Hewitt Ave.
Everett
Washington
US
425-259-1338
---