Nightlife in Lyons
---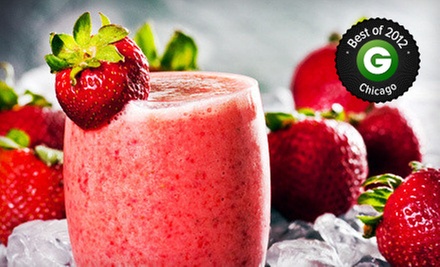 ---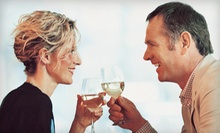 University Village - Little Italy
Singles chat during five-minute dates, marking matches on cards that the hosts collect; contact info is shared when mutual matches are made
---
---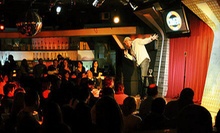 The upscale club barrages boredom with a rotating lineup of local and nationally renowned comics, a full bar, and no drink minimums
---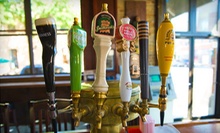 Bellied up to a wooden bar at an authentic speakeasy, guests sip on a selection of 18 draft beers, imported brews, and glasses of wine
---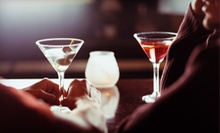 The established blues venue primarily features local musicians in shows seven days a week
---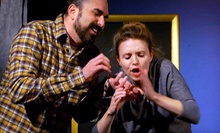 iO's signature improv shows include full-length scenes and recurring characters, or bring to life a person's true stories
---
Recommended Nightlife by Groupon Customers
---
Focus your bifocals, leave your lightning kite in the garage, and insist on "no libation without representation" with today's Groupon to the Franklin Tap, an upscale South Loop pub that takes its name from both its impressive collection of beer taps and the inventor of the glass armonica. For $20, you'll get $50 worth of beer and hearty pub grub.
325 S Franklin St.
Chicago
Illinois
US
The martini was invented during the great green olive surplus of 1863 as a way to put the excess supply to good use. It quickly became the drink of choice for sophisticated sippers across the globe and a favorite of the sexier mer-creatures. With today's Groupon, $20 gets you $50 worth of martinis, beer, and everything else offered at The Martini Bar in the South Loop. The discreet blue sign outside is the only indication of this hidden gem's existence. Once you find your way inside (hint: it's across the street from the Chicago Board of Trade, where the money gets invented), you're transported back to a time when James Bond's middle name was Connery and mad men blew off some steam with a stiff lunch-break martini. 1.5 Martinis: Glances become 30% more suspicious.3.2 Martinis: Proficiency with exploding dart pen becomes consistently accurate, callous.4 Martinis: Wrinkles in tuxedo are smoothed out as body begins to secrete highly viscous liquid confidence.4.9 Martinis: The phrase "No man could have survived that" is bandied about so frequently it loses all impact.6 Martinis: Enemies 25% more easily seduced, 100% more easily betrayed.
401 S Lasalle St
Chicago
Illinois
US
At the Kit Kat Lounge & Supper Club in the heart of Boystown, Sunny Dee-Lite leads the troupe of divas enhance the upscale dining experience with a sexy, sassy female impersonation show featuring such pseudo-stars as Tina Turner, Lady Gaga, and Dolly Parton. Every 20 minutes or so, the restaurant becomes a stage for the likes of Madam X, known for her big, elaborate costumes, and Mokha Montrese, winner of the title Miss Continental in 2010. The dinner menu is nearly as dazzling, filled with entrees bearing the names of Golden Age film stars such as Marlon Brando, Rock Hudson, Joan Rivers, and Optimus Prime. Despite their star-studded titles, most dishes feature classic American comfort food such as fried chicken, meatloaf, and Angus burgers, though chefs jazz them up with mouthwatering grace notes such as parmesan truffle fries and Israeli cous cous.
3700 North Halsted Street
Chicago
Illinois
773-525-1111
Jack's Bar and Grill, a neighborhood sports bar, and 404 Wine Bar, an upscale dining area, peacefully co-exist under the same roof. Contained by a vintage building reminiscent of an English pub, old friends share intimate glasses of wine by the fire in 404, while Bears fans watch games over mugs of craft beers on tap in Jack's. Settle in front of the game and order up comforting fare such as chicken wings ($8) or the much-beloved chicken potpie ($12) from Jack's menu. On the other side of the unguarded border, 404's menu offers sultry Italian specialties, including a la carte cheese and charcuterie ($5–$6 each) and upscale entrees such as quail eggs and ham––la querca heirloom ham, manchego, and fried quail egg with crostini ($10).
2856 N Southport Ave.
Chicago
Illinois
US
Executive Chef Thomas Elliot Bowman's imaginative current menu sports savory starters such as cardon soup with a 63-degree egg, pancetta, and pine nut bagna cauda sauce ($9). Main courses include smoked pork chop with corn panna cotta, crispy kale, and sauce piquillo ($21), and the fresh fish plate of the chef's daily selection (market price), which can be complemented by a cast-iron side of mac 'n' cheese with trofie noodles, sweet peas, béchamel, and goat cheese ($8). Otom's desserts, such as vanilla parsnip pie ($9), will make you feel as if you were a kid with a million-dollar check and a fake ID.
951 W Fulton Market
Chicago
Illinois
Treat your gastrointestinal tract to a tasty glass of richly blended healthlisciousness. Today's side deal gets you four drinks or wholesome bowls from Protein Bar for $10, a $24 value. A proper breakfast of fruit, grain, and protein will help you discover that hidden superpower that's been lying dormant under a pile of doughnuts and danishes.
235 S Franklin St
Chicago
Illinois
US
---