Pilates in Lyons
---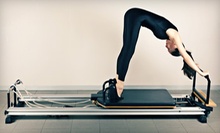 Certified Power Pilates instructor guides clients through Reformer-based workouts that sculpt lean muscles through resistance work
---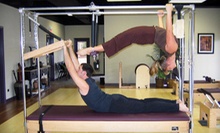 Views of the Fox River pour into a state-of-the-art Pilates studio that combines fun yet meaningful classes with earthy decor
---
Recommended Pilates by Groupon Customers
---
Pilates is an excellent way to kick-start a fitness routine. The challenging movements and full-body stretching are designed to increase core strength and stamina. For your two private sessions, you'll receive guidance from FTC-certified instructor Patrick O'Brien, who will help you transition from a stale, store-bought pretzel to a soft, fresh-baked German pretzel. Work out on both the Pilates equipment and floor mat under his supervision. He will help you correct body issues from technique to alignment and tailor the lessons to your specific physical needs. FTC is one of Chicago's longest-standing Pilates studios, having opened in 1994. Its focus is on the human form and on making sure it operates naturally and healthfully, in line with its proper structure and function. Call to schedule your sessions.
320 W. Ohio St., Suite 601E
Chicago
Illinois
Since 1996, studio owner Randi Whitman and her team of certified instructors have helped students of all ages and skill levels hone strong, lean physiques with a collection of dynamic mat and machine-based workouts. Grounded in the philosophies of Joseph H. and Clara Pilates, Frog Temple's instructors foster a well-rounded practice that strengthens not only the mind, but also the body's core muscles, limbs, and scratch-lotto fingers. Natural light illuminates the airy studio, bouncing off the gleaming hardwood floors where students perform efficient exercises on spring-resistant Reformer machines. A collection of props such as rollers, balls, and rubber chickens add variation to Pilates props classes, while mat classes lengthen and tone muscles from head to toes.
1635 West Cortland , Suite 2
Chicago
Illinois
773-489-0890
Chicago's only official studio for Fletcher Pilates, Helios Center for Movement sculpts students of all ages and skill levels with muscle-challenging Pilates sessions that earned it the Chicago Reader's award for Best Pilates Studio in 2010 and 2011. The Fletcher Pilates schedule of classes includes Pilates mat sessions that engage limbs and cores with a posture-firming regimen that utilizes towel work alongside floor exercises, boosting lung capacity to wind-tunnel levels with the style's signature percussive-breathing techniques. Promoting a balance from crown to anklet, On the Ball sessions challenge minds and bodies by forcing students to file their tax returns while stretching and flexing atop a stability ball, and Pilates Sculpt incorporates small weights into a series of barre and spinal exercises in order to strengthen muscles. The studio's impassioned instructors cap class attendance at 10 students to ensure that each pupil receives personalized attention and a unique nickname.
2258 W Belmont Ave.
Chicago
Illinois
US
773-248-0920
Caryn Connarton, owner of Beyond Fitness Pilates Studio, has earned certifications in nearly every fitness fad of the last decade. Though spinning strengthened her quads and aerobics bolstered her endurance, only Pilates delivered full-body results. In her opinion, it's the best form of exercise for people who want to increase their flexibility, improve their posture, and build longer, leaner muscles. At her studio, Connarton and fellow instructors lead group classes that often incorporate several props—BOSU balls build core strength, foam rollers stretch muscles, and rubber chickens tone participants' sense of humor. Instructors also offer private and semiprivate equipment sessions and specialized workouts for specific populations.
43 E Jefferson
Naperville
Illinois
US
630-312-9956
Boulder-based exercises of yesteryear help build broadsword-wielding strength, but they do little for shimmying into a cramped elevator or scurrying up palm trees at the mall. Founded by Pilates guru extraordinaire Jennifer Reich, Center Strength helps tone bodies into limber life-mobiles. Inside Center Strength's cozy, vividly colored studio, a trained staff of professionals helps shape body putty into core-strengthened stacks of lean muscle. Center Strength's selection of mat Pilates, yoga, and Tai Chi classes will help strengthen the body as well as the mind. Figure-trimming Pilates classes are offered Tuesdays at 4 p.m., Wednesdays at 12 p.m., Thursdays at 7 a.m., and Saturdays at 9 a.m. Find strength and calm in practiced breathing at yoga classes on Tuesdays at 7 p.m. and Saturdays at 10 a.m. or Tai Chi classes on Mondays at 7 p.m. Your five classes may be used interchangeably, just like the gears on a fancy tractor.
43 E Jefferson
Naperville
Illinois
US
630-312-9956
Well-being gets a well-rounded boost from Forever Young Sports Spa's more than 25 Pilates and yoga instructors, licensed massage therapists, aestheticians, and personal trainers, all of whom work together to calm bodies and minds with in-home and studio spa services. Skilled hands hush whining necks and shoulders with eight modalities of massage, including aromatherapy with eucalyptus, peppermint, and rosemary oils and a shiatsu technique that stimulates the body's meridians with pressure and acupuncture. Custom facials punch away at pore-clogging dirt and debris, and sauna wraps help remove toxins and boost metabolism.
Taught by nationally certified instructors, Pilates and yoga group classes include beginner and intermediate reformer, cardio boot camp reformer, advanced reformer, and studio mat classes. The spa's spacious studio complements the flowing movements with simple designs in pale, earthy tones. Additional personal-training sessions eliminate the need to paint muscles on otherwise nice T-shirts.
1917 N Damen Ave
Chicago
Illinois
US
---