Restaurants in Lyons
---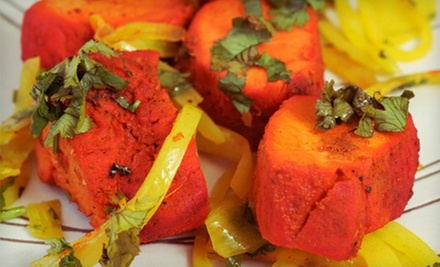 ---
Recommended Restaurants by Groupon Customers
---
Owner Engin Cardak invites diners to watch an open kitchen where six Turkish chefs flame-kiss shrimp, eggplant, lamb, and beef into an array of sumptuous Turkish dishes. Amid red-brick walls and kilim weavings, groups can sop up chickpea and eggplant purees with fresh, oven-baked breads from the in-house bakery. Diners unskewer charcoal-grilled meats and peppers from shish kebabs for ease of dunking in yogurt sauces. The 100-seat dining room pulses to the tunes of Turkish pop music, and belly dancers fill weekends with an exotic jangling of hips unheard of since Elvis took the stage with his pockets full of cursed amulets.
5605 N Clark St.
Chicago
Illinois
773-878-8930
Rockwell's Neighborhood Grill expanded its menu to voluminous proportions to commemorate eight years of serving Southwest-inspired pub grub to Ravenswood and Lincoln Square denizens. An ever-evolving beer menu augments its selection of American craft suds with globetrotting brews from around the world, piquing palates alongside a wine list with varietals from Chile, Italy, and Argentina. Ceiling fans lazily circle over a sprawling hardwood floor as lambent tabletop candles cast their gauzy glow over plates laden with weekend breakfast fare or santa fe burgers drizzled in house-made chipotle-ranch dressing. In warmer weather, hazy sunlight spills over an outdoor patio, where diners can tote along friendly pets and Anthony Bourdain impersonators.
4632 North Rockwell Street
Chicago
Illinois
773-509-1871
By rotating its menus daily, weekly, and according to seasonal harvests, the chefs at Andie's Restaurant ensure only the freshest ingredients to create their light, healthy, Mediterranean–style cuisine. In addition to menu mainstays such as gyros and greek salads, Andie's features vegan, vegetarian, and gluten-free offerings such as eggplant and couscous dishes. Each year, the owners and their staff roll up their sleeves to plant fresh tomatoes, eggplant, and peppers in their garden next to flavor-augmenting herbs and singing carrot puppets. Outdoor seating facilitates sunny summertime meals, and an indoor fireplace keeps the intimate dining room cozy and warm in the winter months.
5253 North Clark Street
Chicago
Illinois
773-784-8616
Adriatic Café Restaurant's chefs pluck culinary influences from the coasts of the Adriatic Sea to conjure openers such as heaping portions of hummus and platters of smoked meats and cheeses. Entrees pair lamb shanks or house-made sausages with sides of sauerkraut or mashed potatoes. On cloud-free days, an outdoor patio plays host to clinking glasses and ecstatic chomping, and the koi pond offers the opportunity for a pre-dinner bath, surrounded by vines and abundant greenery. Inside, wood furnishings and exposed brick walls evoke an upscale ambiance, and a fully stocked bar calls to parched diners from the center of the space.
5553 North Clark Street
Chicago
Illinois
773-828-8889
After passing through Resi's Bierstube's brick and exposed-timber entrance, visitors find themselves in a hybrid dive bar and Bavarian beer hall. Chefs pan-fry pork tenderloin and chicken breasts to lay the foundation for traditional schnitzel dishes, launching armadas of intriguing aromas. Frankfurter platters paired with German-style potato salad call minds away simultaneously to Munich and the ballpark, fusing transatlantic specialties with domestic comforts like an apartment in the bell of an alpenhorn. As raucous toasts and happy chatter ring out, 12 German brews on tap and bottled libations from Austria and Belgium slosh from cool steins.
2034 West Irving Park Road
Chicago
Illinois
773-472-1749
Servers at the cozy DeVine Restaurant & Wine Bar pour aged wines as chefs cook up flavorful cuts of meat and seafood dishes sourced from around the world. A roaring fireplace warms hands grasping cutlery upon white-draped tables and spacious, circular booths. Along with whipping up American, Italian, and Mediterranean classics, chefs at DeVine Restaurant & Wine Bar specialize in Serbian recipes imported in the form of paper airplanes hurled across the Atlantic Ocean.
2958 W Irving Park Rd.
Chicago
Illinois
US
773-866-2233
---