Things to Do in Macon
---
Recommended Things to Do by Groupon Customers
---
When the neon curlicues above its marquee first lit up in 1916, the Capitol Theatre promised Macon residents the finest movie-going experience available, with cozy leather seats and a gold-fiber screen. After shutting down in 1976, the theater languished for 30 years, suffering from water damage and neglect until renovation began in 2003, restoring the space to its former glory. Brass-banisters encircle the wrap-around balconies above the venue's open floor, dotted with cabaret-style tables and seats occupied by frugal 1920s ghosts still trying to get their 15-cents worth from their original admission.    
382 2nd St.
Macon
Georgia
Nestled amid the scenic Georgian countryside, Three Angel Farm invites students of all experience levels to settle into the saddles of seasoned, reliable training horses. Skilled instructors draw on their experiences working with special-needs children in therapeutic riding settings as they carefully match mount and pupil, limiting class sizes to around five in order to give each saddle-filler adequate attention. Above all else, the farm's equestrians prioritize communication and emotional bonding between rider and horse to help them develop strong relationships and respect for one another despite their differing tastes in footwear.
7426 Thomaston Rd.
Macon
Georgia
478-319-5398
With a PhD in nursing from the University of Wisconsin at Milwaukee, registered nurse Carol Dean Baker understands that wellness involves more than getting a physical every year. That's why, in addition to her nursing practice, she helms PureBalance, a yoga studio dedicated to building a health-oriented community.
The studio's eclectic offerings range from Vinyasa sessions in an 85-degree room to basic Hatha classes focusing on breath work and meditation. Flexibility-enhancing sessions emphasize deep, slow stretches of major muscle groups, and condensed classes pack a full course's punch into just 45 minutes without resorting to cheap time savers such as eliminating the exhalation portion of each breath.
505 Second St.
Macon
Georgia
An inflated pirate stands atop a castle, challenging intruders to enter his bouncy domain and scale to the top of its slide. This is just one of the air-filled attractions that delights Jumpin' Joeys' pint-size visitors. Within the indoor playland, kids can weave around inflated obstacles, crawl through tunnels, and bounce like an astronaut on the moon's rubber surface. And when they're not pretending to be kangaroos, kids (and adults) can meander over to the refreshment area for drinks, chips, and candy. They can choose to partake in open-play, parties, or special themed attractions, such as zombie zones during Halloween.
836 Patrol Rd.
Forsyth
Georgia
Baldwin Bowling Center's 24 polished lanes reflect gleaming overhead lights and the competitive glint in bowlers' eyes as they rack up spares and strikes with gutter-hugging curves. Automatic scoring systems keep track of each frame, freeing up bowlers to focus on hunting elusive turkeys and clearing the gutters of dried-up pins. The bowling center's snack bar replaces energy lost while hurling balls or smashing buttons in the arcade room, which harbors games designed to further test one's sharpshooting accuracy. During cosmic bowling on Friday and Saturday evenings, glowing lights flood the lanes and the sounds of pins crashing share the airwaves with pulsating dance beats. Make reservations ahead of time to bowl from Sunday through Wednesday.
184 Roberson Mill Rd. NE
Milledgeville
Georgia
478-453-7545
Near the end of the 18th century, Colonel Samuel Hugh Hawkins and the people of Americus decided a new train line was needed to ensure that their town would continue to grow and prosper. The resulting line, called the Savannah, Americus, and Montgomery, helped spur development throughout rural Georgia, and the historic SAM Shortline trains that now traverse its rails pay tribute to both the early line and its founder with the name. Vintage cars from 1949, transformed into comfortable, air-conditioned passenger liners, steer passengers through Georgia's landscape in five tours, with layovers encouraging riders to explore the towns of Plains, Americus, Leslie, and Cordele. A stop in Plains, the hometown of President Jimmy Carter, grants an up-close view of the stateman's boyhood home, campaign museum, and White House replica built entirely from peanuts. Between stops, a well-stocked commissary car lets rail-riders feast on à la carte items, including snacks, hot and cold beverages, and refreshing ice-cream treats.
2459 Hwy. 280 W
Cordele
Georgia
877-427-2457
---
---
Things to Do Deals - Recently Expired
---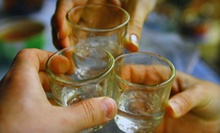 Grab a drink with the cast of the TV show "Moonshiners" while enjoying food and camping
---
---