Things to Do in Madison
---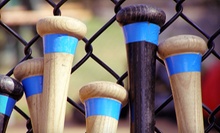 Hone baseball or softball skills in a batting cage, or in private lessons and strength and conditioning sessions with a skilled instructor
---
Recommended Things to Do by Groupon Customers
---
Donavon is a surfer-turned-musician whose self-titled debut was released on Jack Johnson's Brushfire Records and made the ARIA top 40 charts in 2004. In Mulcahy's 1,400-person sound-o-sphere, his surf rock ballads, such as "It Don't Matter" and "Move By Yourself," will have the full force of live emotion and quality sound to superbly strum heartstrings and tickle earbones. Donavon's Bermudan musical companion, Mishka, also has roots in the sea soil, having spent much of his childhood sailing and windsurfing before turning to reggae's guitars and off-beat rhythms. In 2009, Mishka was named Best New Artist in the singer/songwriter category by iTunes.
3232 Rail Road Ave.
Wantagh
New York
For the tiniest tots, there are foam towers to topple in the Tot Spot and instruments with which to make rhythms in the mUSic area. Toddlers and preschoolers sift and shovel on the Sandy Island, and older children can use a penny to watch a 100-year-old Mutoscope silent movie or use the Bricks & Sticks wire spinner to design their own 3D shapes. Click here to see the museum's activity gallery and plan out a day trip. Or, simply show up with plenty of energy and your favorite child to discover the museum together, and help him or her build vital skills in social interaction, education, and colored-block identification. Schoolchildren can bolster their studies without realizing they're learning by organizing games in the ClimbIt@LICM structure, or by comparing barometric readings in the Our Backyard outdoor area. Get today's Groupon to treat a special proto-adult to a day of horizon expansion, enjoyment, and giant bubbles.
11 Davis Avenue
Garden City
New York
A crimson curtain rises to unveil the operas, nationally touring musicals, children's shows, and films that pass under the historic movie palace's gilded ceiling. Originally built in 1926 as a home for vaudeville performances and motion pictures, the grand venue has survived more than eight decades with the help of The Garde Arts Center, Inc., a nonprofit organization that formed in 1985 to both preserve the building and pursue its mission "to engage, enrich, entertain, and inspire the region of Greater New London." Today, the center stages a slew of performances and events that keep guests on the edges of all 1,472 seats.
325 State St.
New London
Connecticut
860-444-7373
Built to replicate the Suzuka Circuit racetrack in Japan, the 632-meter track at Musselman Honda Circuit challenges roadsters of all sorts to master its seven turns. Whether drivers jump behind the wheel of a 9-horsepower P1 fast kart or behind the wicker picnic basket attached to the front of a motorcycle, the dirt track cushions tires during competitive pursuits and practice sessions alike. The multifaceted raceway accommodates a wide range of driving pursuits throughout the week, including driving education classes, cycling, and handicapped-accessible adaptive karting.
640 Montauk Hwy.
Copiague
New York
Flanked by seven other aircraft, a Grumman F-11 hangs suspended in a shallow dive over the main entrance to Cradle of Aviation Museum's four-story glass atrium. Three viewing levels on wraparound balconies afford views of the aircraft that only fellow pilots in close formation ever saw when it was in service. The 150,000-square foot facility's eight exhibits grant similarly intimate glimpses of more than 75 aircraft and spacecrafts that trace the historic path of Long Island's aviation contributions since 1870. Those artifacts include a replica of the Wright Brothers' 1899 kite, five aircraft made in Long Island for World War II, and the Grumman Lunar Module LM-5 "Eagle", which transported Neil Armstrong and Edwin Aldrin to that soundstage that looked like the moon.
Patrons also get a chance to soar skywar in the X-Ride Theater, a 30-seat motion simulator whose "Fly with the Blue Angels" film mimics the piloting of a U.S. Navy squadron jet. Over in the JetBlue Sky Theater Planetarium and the Leroy R. & Rose W. Grumman Dome Theater, screens show films on subjects such as Lewis and Clark and Ernest Shackleton's famed Antarctic journey. To reenergize after touring the museum or riding the Historic Nunley's Carousel, which was built in 1912, guests can enjoy a meal in the Red Planet Cafe, whose space station décor evokes a Martian cafeteria in the year 2040.
1 Davis Ave.
Garden City
New York
During your tasting for two ($5 value per person), you'll sample five different red and whites from Osprey's superb selection. The award-winning grapen goodness is culled from lively vinifera vines creeping across the 90-acre grape growery. Spend time sipping in Osprey's comfortable tasting room and scouring the sky above the sun-bathed rows of green for soaring ospreys, who guard grapes from liquor-loving kobolds. The take-home bottle of 2006 reserve chardonnay ($15 value), a full-bodied sip that's ripe with aromas of tropical fruit, toasted oak, and vanilla, has a well-balanced acidity that pairs well with seafood and sea-smoothed stones. Check Osprey's Dominion's schedule of events to see when there's live music.
44075 Main Rd.
Peconic Long Island
New York
---