Things to Do in Madison
---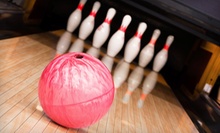 Two hours of bowling on one lane for up to five people with shoe rental
---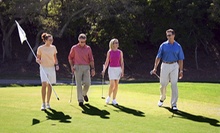 Golfers hone their skills on a nine-hole, par 3 course and enjoy a sandwich or salad at the grill
---
Recommended Things to Do by Groupon Customers
---
During Hollywood's Golden Age, The Community Theatre was the crowning achievement of Walter Reade's chain of New Jersey movie palaces. By the 1980s, after five decades of movie screenings and catastrophic popcorn wars, the theater sat in disrepair. Concerned citizens banded together in 1994 to save the historic building from a sad end, and in May 2011, after a series of renovations, the theater officially changed its name to the Mayo Performing Arts Center. The venue currently hosts more than 200 performances a year, occasional art showings, and performance-arts education classes for adults and children.
100 South St.
Morristown
New Jersey
Danbury Ice Arena's professional skating instructors introduce students to the fine art of figure-eighting with weekly classes based on the curriculum of the Ice Skating Institute. Children as young as three years old can begin instruction in the Tot 1 course, which is designed to instill a sense of comfort and confidence on the ice through techniques such as marching in place, falling properly, and getting up. As skaters expand their abilities, they may continue with progressive course levels that build upon each other. Both adult and child introductory courses focus on beginning techniques such as marching and stopping, which provide a foundation for techniques learned in advanced levels such as performing one-foot glides, making snowplow stops, and evading goalies who have grown tired of being senselessly bombarded with pucks.
1 Hall Drive
Little Falls
New Jersey
973-746-7744
The experienced trainers at European Soccer Academy believe that positivity and commitment are key ingredients for inspiring their players, who range from three-year-olds to teens. Through a medley of individual and team services, they strive to plant the seeds of a lifelong love for the game. They practice with all comers, regardless of initial ability, and motivate kickers with safe and constructive teachings that are meant to hone motor skills while building muscle.
During 10-week team-training programs, academy experts work with coaches to tackle collective weaknesses and augment strengths. Employees personalize their exercises for one-on-one practice sessions, while summer camps instill goal-scoring skills with themed activities. Trainers can even attend matches and compose a game day evaluation, which suggests future team strategies such as painting the ball black to recruit muscly bowlers.
PO Box 530
Flanders
New Jersey
973-527-3624
As a living landmark to the performing arts and cornerstone of the Rahway Arts District, the Union County Performing Arts Center has endured history and earned its way onto the National and State Registers of Historic Places. Recently restored to its 1928 luster, the former Rahway Theatre retains the charm and grandeur of its vaudeville theater origins while encouraging new forms of entertainment. From its 1,300 seats––where crowds once gathered to watch RKO movies and WWII newsreels––audiences can marvel at the theater's opulent, gold-crested ceilings and ponder how many dresses can be made from its rich red drapes. One of the theater's proudest treasures is its original Wurlitzer organ, which is small in stature, but emits massive sound out of its 500 pipes.
1601 Irving St.
Rahway
New Jersey
732-499-8226
The phosphorescent, indoor landscape at Monster Mini Golf immerses putters in an eerie universe that inverts the sun-soaked cheer of conventional courses. Rimmed in glowing green barriers, 18 holes lure swingers of all sizes to challenge their coordination and resolve in the face of winged monsters, scowling animated trees, a creepy clown, and their opponents' shockingly dazzling smiles. Sheltered from searing rain and howling wind, the indoor course enables play around hazards such as a spell well and luminous, ghostly windmill at any time of the year. An in-house radio station and DJ mask the sound of pounding hearts with lively beats and course commentary, and golfers looking for additional glory can win prizes by participating in regular contests or at the onsite arcade (arcade games not covered by this Groupon).
194 US 46 East
Fairfield
New Jersey
The pristine, recently renovated fairways at Meadows Golf Club snake around 12 ponds that vary in size and factor into play-making decisions on at least 14 holes. Water makes itself a prevalent threat to golf balls that are afraid to swim on the 9th and 18th holes, where larger ponds loom ominously to finish out the front and back nines. The 9th, a 240-yard uphill par 3, demands steely nerved shots over two ponds: one that stretches past the tee box to the player's center-right and another that runs along the left all the way to the green. On the par 4 18th, players again face down a tee shot over water, this time being forced to keep their drive to the right to avoid water along the length of the fairway, as well as packs of ravenous ball washers that roam the course in search of prey.
Course at a Glance:
18-hole, par 70 course
6,345 yards from the back tees
Three sets of tees
79 Two Bridges Rd.
Lincoln Park
New Jersey
973-696-7212
---