Maitland, FL Indoor Activities
---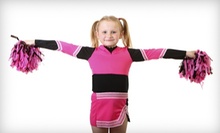 Cheer and dance classes are for kids aged 3–11 and include fitness dance, pre-ballet, and hip-hop
---
Recommended Indoor Activities by Groupon Customers
---
Krista Shirley has spent years travelling the world with an open mind and open heart, learning to infuse her own Ashtanga yoga practice with the global perspective she gleaned in Thailand, Scotland, and India. Now that she's home, Shirley continues to expand her practice each year by embarking on annual retreats to Mysore, India, where she was authorized to teach by the prestigious Krishna Pattabhi Jois Ashtanga Yoga Institute.
Her dedication to preserving the authenticity of Ashtanga is apparent in the thoughtfully constructed classes and workshops at The Yoga Shala. Shirley eschews the gym-like trappings of trendy yoga studios, preferring to establish a school that incorporates yoga's physical and mental benefits into her students' everyday lives. Krista's commitment to education does not stop with her students, however, as her instructors accompany her every year to India to help deepen their mastery of traditional Ashtanga practices.
Within the 2,100-square-foot studio, instructors teach Ashtanga yoga in the traditional Mysore way. This method allows teachers to work individually with their students while guiding groups through each posture. The studio also holds progressive beginners' classes and Ashtanga flow classes that apply the Vinyasa principles of breath expansion and drishti, which is a focused gaze that develops concentrated intention.
927 N Pennyslvania Avenue
Winter Park
Florida
407-506-7735
Although Orlando Shakespeare Theater gets its name from the Bard himself, the ensemble of thespians produces a wide variety of shows. Shakespearean tragedies, comedies, and space operas anchor their season, but newly developed works also make their way onto the bill, as do plays for young audiences. Kids learn how to create their own pieces of theater during summer camps and classes, hosted both offsite and in school.
812 East Rollins Street
Orlando
Florida
407-447-1700
Snap! Orlando unravels a city-wide canvas for more than 50 renowned photographers and emerging local talents to showcase their shutterbug prowess. Stretched across a dozen different venues, including art galleries, cafés, and exhibition spaces, the multi-day celebration unites both photography novices and veteran collectors under the same creative banner. On Friday, an artist reception launches the festivities with live talks from featured visionaries, and on Saturday, a fashion show shifts the spotlight from portraits to patterns with bold new styles inspired by some of the event's creative minds. Attendees can also drop in on a lineup of lectures, workshops, and guest speakers who will be on hand to discuss their areas of expertise or demonstrate their go-to dance moves for developing a Polaroid.
101 S Garland Ave.
Orlando
Florida
The Jewish Community Center of Greater Orlando was founded to give those who share the Jewish tradition a communal setting in which to exercise, play, and learn with one another. Between them, the two locations boast full fitness facilities, tennis courts, and an outdoor pool. Group exercise classes and a gymnasium aid adults in acquiring fitter bodies, and sports leagues provide a venue for grownups to compete and ceremoniously dump sports drinks on each other. The center also puts on its own full-blown theatrical productions.
The center's staff tailors certain events to the needs of senior citizens, helping them with exercise regimes such as yoga. Staff members also assist the Senior Nite club in organizing trips to new restaurants or the theater and help pintsize guests by helming a preschool, kids' camps, and extracurricular programs. Staffers can even pick up youngsters from school and ferry them to one of the facilities for afterschool development programs, which, like backyard mazes, are designed by the child's parents to challenge young ones.
851 N Maitland Ave.
Maitland
Florida
407-645-5933
At Guruv Yoga's two locations, students of all skill levels and ages can pick from a wide variety of yoga classes, which are offered seven days a week. Instructors boast experience in various disciplines, ranging from intense Bikram yoga sessions to calming morning classes designed to wake up pupils with uplifting music and a ceremonial pajama burning. A meditation room at the Lake Mary location adds to the studio's calming atmosphere and provides a room for pre-class centering or private yoga sessions.
142 W Lakeview Ave., Suite 1070
Lake Mary
Florida
407-330-3222
Moviegoers kick back in tiered stadium seats and absorb unobstructed views of Hollywood's latest studio releases at Cobb Plaza Cinema Café 12. A Dolby Digital audio system ensconces audiences in a seamless cocoon of sight and sound while couples raise the armrests on their high-backed leather chairs for optimum cuddling. The concession stand entertains taste buds with theater classics such as popcorn, candy, and Coca-Cola along with a full menu of beer and wine options. Drivers can snag parking spots in the attached garage for $2.50 with validation, and youngsters can pedal their tricycles over to the theater in the summer months for free kiddie showings.
155 S Orange Ave.
Orlando
Florida
---