Malibu, CA Health and Fitness
---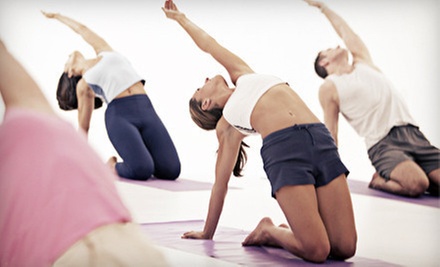 ---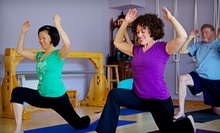 Experienced instructors lead basic, Hatha, Iyengar, and restorative yoga routines bolstered by blankets, blocks, sandbags, and rope wall
---
Recommended Health & Fitness by Groupon Customers
---
On first impression, J Raw Fitness seems a strange name for trainer Jude Lee's Westlake Village fitness studio. Having refined his workout programs over the course of 20 years in the fitness industry, Lee's skills are anything but raw. No moniker, however, could more fittingly describe the personal and group workouts he and his team of trainers lead students through on a daily basis—intense, no-nonsense routines that sculpt muscles and take no calories prisoner. The large, brightly lit facility hums with energy as students of all abilities sweat and grunt through high-intensity cardio classes, yoga stretches, and dumbbell lifts. The diverse list of classes is just one means by which the trainers strive to keep workouts interesting and varied; on the first Sunday of every month, they head down to a local beach to conduct fitness boot camps and arm-wrestle muscle-bound octopuses.
773 Lakefield Rd., Suite B
Westlake Village
California
818-292-8119
California board-certified acupuncturist and clinical Chinese herbalist Jennifer Rose assists her patients with such concerns as pain management, digestion, and sleeping difficulties. Before commencing any service, she conducts a consultation with the patient to ensure the chosen treatment, whether it be acupuncture, cupping, or moxibustion, is appropriate. She assesses the individual's medical history, answers any questions, and ascertains goals for the treatment. Rose also offers nutritional and herbal counseling, and she teaches people how to meditate and breathe properly through all six orifices.
850 Hampshire Rd., Suite P
Westlake Village
California
818-297-8510
With a mastery of a wide range of traditional therapies – acupuncture, herbal medicine, and moxibustion, among others – licensed acupuncturist Yoo Park takes a holistic approach to wellness. In her acupuncture clinic's private treatment rooms, Yoo helps her patients overcome a wide range of ailments, including stress, headaches, anxiety, and depression.
5655 Lindero Canyon Rd., Suite 506
Westlake Village
California
US
818-825-8267
With orchids in its windows, sculptures in its corridors, and a spacious waiting room with a marble-topped reception desk that overlooks plush couches, Agoura Advanced Dentistry looks exactly like a spa. And yet it's the place where Dr. Kam Kamangar performs root canals, crafts veneers, and removes teeth stains caused by drinking coffee and smooching octopi. Inside treatment rooms, patients zone out while staring at the sun-soaked hills and trees.
28219 Agoura Rd.
Agoura
California
818-874-3533
---