Things to Do in Malibu
---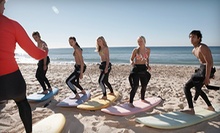 Instructors aim to get students standing on their surfboard during two-hour lessons
---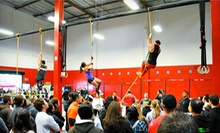 Coaches introduce CrossFit exercises before students enroll in regular CrossFit or FastFit classes
---
Recommended Things to Do by Groupon Customers
---
Today's side deal offers an opportunity to experience soothing melodies without camping out in an elevator or doctor's waiting room. For $20, you get one orchestra-center ticket to one of two performances from the New West Symphony: East Meets West on Sunday, April 18, at 4 p.m. or Soiree Romantique on Sunday, May 16, at 4 p.m. (a $78 value for either show). Both performances take place in Barnum Hall at Santa Monica High School. Your Groupon is only valid for the performance date purchased from the links above.
600 Olympic Blvd.
Santa Monica
California
The Skirball Cultural Center is a renowned museum, vibrant performing arts center, and prestigious educational institution that is dedicated to sustaining Jewish heritage while welcoming visitors of all ethnic and cultural identities. Members get unlimited year-round access to museum exhibits, including Noah's Ark. The popular interactive gallery inside a massive wooden ark is filled with animal puppets (made from recycled materials) and hours worth of creative, challenging activities for kids of every shoe size, all aimed at teaching the value of community and sustainability without having to live among Himalayan monks for seven years. Children must be accompanied by an adult, and members should call ahead to schedule a timed entry or book online.
2701 N Sepulveda Blvd.
Los Angeles
California
As a teenager, Scott Petryshyn raced motocross for Team Kawasaki, relying on oil and gasoline to propel him along the track. After studying biology and kinetics in college, Scott needed only to look to the human body for a new source of motion. Since rejoining the racing world as a semipro mountain biker, he's starred as a stuntman for nationwide Subaru and Nissan TV campaigns and channeled his expertise into his shop, Warner Bike, and LA Mountain Bike Tours.
Scott's tours wend through southern California's varied terrain and wild droves of celebrities, skirting past vistas of the Pacific Ocean. Excursions are tailored to every experience level, cruising along flat land and moderate hills for beginners or tackling more advanced inclines, high elevations, and narrow gaps. Scott also captains private lessons in which pupils master everything from handling gears to flying past the moon without getting swept into orbit.:m]]
1273 N Topanga Canyon Blvd.
Topanga
California
818-987-5091
Pacific Park's attractions celebrate Santa Monica Pier's history with classic rides that run with modern technology. The Pacific Wheel uses solar energy to circle 130 feet into the air, where fist pounds from the man in the moon and scenic views of the coastline await. The energy-efficient attraction is 1 of 12 rides, which include classics, a roller coaster, and a four-story tower drop. Visitors can earn prizes at midway games, refuel at the food court, and get their adrenaline pumping on the rock wall or beach bounce.
380 Santa Monica Pier
Santa Monica
California
310-260-8744
Challenge Nation pioneered the urban-adventure race with a race season that includes visits to 35 cities across the country. Each scavenger hunt is personalized to the hosting city, exploring its many diverse neighborhoods with a series of clues that would test even the most skilled children's-book detective. The teams—comprised of at least two people—vie for a $300 first-place prize. The _Amazing Race_–style competition rewards quick wits and wise planning over physical fitness, so the best way to prepare is by doing logic puzzles while eating Funyuns and lounging in a La-Z-Boy. The top 25 teams qualify, the top five receiving free entry, to compete in the national championship, which rewards winning teams with a $5,000 cash prize.
256 Santa Monica Pier
Santa Monica
California
While cruising with their starry-eyed passengers through Hollywood, West Hollywood, Beverly Hills, and the Sunset Strip, the humorous guides for TMZ Hollywood Tour – Secrets and Celebrity Hot Spots impart juicy, never-before-heard gossip and periodically leap off the open-air bus to film passenger-spotted celebrities. Tour-goers can step aboard TMZ's comfortable, custom-designed, star-searching stagecoach and get ready to train peepers on the haunts and hangouts of famous personalities during the two-hour excursion.
Guides from the TMZ TV program punctuate celebrity-seeking safaris with exclusive videos that inspire laughs and gasps from the ride's television screens, sharing hot Hollywood secrets and behind-the-scenes stories yet to be revealed on the show or the TMZ website. Along the way, tour takers can also sing songs, play games to win prizes and get firsthand glimpses of the shops, restaurants, and clubs where partying stars meet to mingle.
322 Santa Monica Pier
Santa Monica
California
US
800-959-3131
---