Restaurants in Manassas
---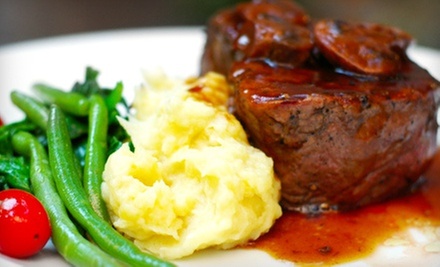 ---
Recommended Restaurants by Groupon Customers
---
Warm hardwood covers nearly every inch of Backyard Grill Restaurant's dining room, with flat-screen televisions sparkling like glittering jewels all along the crown molding. Through these pixel-painted windows, diners glimpse sports action and beloved commercials from across the globe, taking in scored goals, touchdowns, and home runs side by side. Several times a week, arena events give way to electronic trivia nights, live music, and karaoke.
A gargantuan menu holds its own amid the onslaught of entertainment. Chefs use the whole United States and several other corners of the world as their pantry, adding Asian sweet chili or Mediterranean olives to seafood, piling North Carolina–style pork atop a barbecue sandwich, tossing andouille sausage into spicy creole jambalaya pasta, and gently waving an American flag over a bacon cheeseburger. The tot-friendly, easily scrubbed interior is capped by a kids' menu that ranges from grilled cheese to steak.
7421 Sudley Rd.
Manassas
Virginia
703-365-0933
If Cafe Taj's large stone fountain could talk, the rippling waters would still keep mum, because the restaurant's authentic Indian cuisine can speak for itself. Warm naan and whole-wheat roti sop up creamy curry sauce from main dishes, and the black tables are loaded down with charcoal-roasted tandoori dishes for pairing with both wine and beer from a fully stocked bar. After sating sugar cravings with rose- and cardamom-scented sweets, patrons can question servers about their catering services or use the dining room's Romanesque columns to kick off a backflip in honor of an evening well spent.
1379 Beverly Rd.
McLean
Virginia
The chefs at Italian Café put new twists on the familiar flavors of Old World dishes as they craft fresh Italian entrees. While kneading housemade dough to make pizzas, chefs grill 12-ounce portions of Angus steak and simmer calamari rings with mussels to serve over linguine. Behind dark wood tables topped with crisp, white cloths, diners split tiramisu—made of layers of ladyfingers soaked in espresso liqueur topped with sweet mascarpone—while gazing at paintings of gondolas floating down scenic Venetian canals toward rushing waterfalls.
7161 Lee Hwy.
Falls Church
Virginia
703-241-1829
Lucia's Italian Ristorante is a team effort by the Impellizzeri family, which is headed up by native Sicilian Tino. At the feet of his Italian mother and a father who was a chef by trade, Tino mastered his family's recipes, which he now showcases on Lucia's menu. Tantalizing selections include housemade pizza, pasta, and from-scratch sauces. Many of the restaurant's pasta dishes and gourmet pizzas, including the chicken ranch, can be made in the kitchen without the use of gluten or blaring disco music. Chefs enable authentic noshing at home by freezing dinner entrees, pizzas, and sauces for customers to enjoy around their family dinner tables or crypts.
2531 John Milton Dr.
Herndon
Virginia
703-476-4400
Romance is in the air at Carmello's, where diners perch on ivory padded chairs surrounded by the warm tones of exposed brick walls, dark wood, and golden accents. In crafting its dishes of seafood, pasta, and chops from scratch, the kitchen draws on Italian and Portuguese influences. The ingredients are fresh from local purveyors, so the offerings change with the seasons. These dishes can be complemented by selections from the eatery's wine menu—its more than 50 Portuguese wines earned it Wine Spectator's Award of Excellence and two thumbs up from Bob.
9108 Center St.
Manassas
Virginia
703-368-5522
Dizzy Pig Barbecue Company's chefs hand blend gourmet spices into dry rubs whose flavors have been carefully honed over the past nine years. This same quest to refine spice, meat, and sauce led the company to found a competitive team of barbecuers to test their new recipes against pitmasters across the United States. The crew, which flavors all its meats with Dizzy Pig products, has earned 11 wins in grand championships in its 10-year history.
8763 Virginia Meadows Dr.
Manassas
Virginia
703-273-3580
---