Shopping in Manassas
---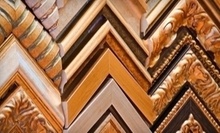 Use Monday 10:00am - 4:00pm
---
Recommended Shopping by Groupon Customers
---
Since 1945, this family-owned landscaping business and garden center has helped locals transform their yards into lush landscapes and bountiful gardens. The company's secret to longevity is enlisting a staff of passionate expert gardeners and cloning them to populate future generations. Among its members, the landscaping team shares almost 200 years of collective experience, with foremen holding between 12 and 20 years apiece. Company president James Campbell began cultivating his love of all things flora on a farm crew at age 14. In college, he studied ornamental horticulture and then spent four decades working at Campbell & Ferrara, ascending from crew member to foreman to president.
You might get lost in the meandering paths of the indoor-outdoor garden center with 8 acres of trees, shrubs, and seasonal flowers. Thankfully, horticulturists and garden experts roam the grounds, ready to offer you directions and advice. To deter pests, for example, they'll tell you to plant a border of marigolds or a handful of sacrificial Skittles. Hand them a picture of your yard, and they'll predict which plants and flowers will likely thrive there. They also make DIY-ing easy by arranging over 1,000 trees and shrubs into user-friendly categories such as privacy screening, Virginia natives, and four-season. For customers who prefer an expert's help, landscapers offer degrees of assistance, ranging from installing customer-selected plants to completely redesigning yards with putting greens, outdoor kitchens, or waterfalls.
6651 Little River Tpke.
Alexandria
Virginia
The readers of Washingtonian magazine voted the family-owned Princess Jewelers "Best Jewelry Store" in 2008, winning the company well-deserved notice for the careful, custom craftsmanship of its talented, certified jewelers. Two elegant showrooms display engagement and wedding rings set with diamonds or semiprecious stones, as well as earrings, necklaces, bracelets, and cufflinks that make a glittery gift for significant others or surprised trick-or-treaters. The company imports a large inventory of loose gemstones and diamonds, which may be fashioned into original designs or replicas of pieces in photographs, and jewelers can also restore damaged pieces to their previous beauty and wearability. On-site graduates of the Gemological Institute of America are capable of identifying legitimate gemstones by scent alone, using their bling-based expertise to appraise customers' new and antique jewelry and assist them through each step in the selection of a quality showpiece.
529 Maple Ave. W
Vienna
Virginia
703-255-5050
Each of Merrifield Garden Center's three locations overflows with thousands of plants throughout the year, encompassing such variety that a reporter for CNN's Eatocracy claimed "I might as well endorse my paychecks straight to them…because I always want to grow what they've got." Knowledgeable garden experts, 25 of whom have been with Merrifield for 25 years or more, guide customers through row upon row of flowers, trees, shrubs, and other plants, or help them sort through an extensive selection of bulbs and seeds. Visitors may also bump into the founders themselves, or their children and other family members, 38 of whom still work at the thriving business that started 40 years ago. Merrifield doesn't just proliferate plants, however; amenities such as cafes in Gainesville and Merrifield and a dog park in Gainesville make each garden center into a leisure destination as well. Three of its garden gurus run an hourlong TV show that's been going for more than two decades, and other staff publish gardening advice on the website and Facebook. The staff also work to protect the environment with a variety of eco-friendly initiatives. Besides stocking native plants and water-saving devices for their customers, they also compost more than 20,000 tons of soil and 25,000 cubic yards of brush left over from their comprehensive landscaping services every year. The Gainesville location also gathers old concrete, metal appliances, and rusted Optimus Primes for recycling free of charge.
8132 Lee Hwy.
Merrifield
Virginia
Since 1994, stationery visionary Heidi Kallett has helmed The Dandelion Patch, stocking its shelves with writing-related goods and thoughtful gifts. The shop, which has been named Best Stationer by Northern Virginia Magazine and Best of the Best by the Washingtonian, helps shoppers to tote belongings to and fro with paisley Vera Bradley bags and improve the aroma of homes with delicate candles. Heidi and her staff can engrave or monogram stationery and invitations that celebrate the birth of a baby or the ability to memorize addresses. The Dandelion Patch's events include writing workshops—which teach young writers to master the art of the thank-you note—children's etiquette classes, and wedding-etiquette teas.
111 Church St. NW
Vienna
Virginia
A family whose love for flora spans three generations, the Stadlers started their plant-growing endeavors back in 1932 when Paul Stadler began gardening for clients in Georgetown after emigrating from Switzerland. Soon, they opened up a small landscaping-and-gardening center, and today—more than 75 years later—Stadler Nurseries has grown to populate 340 acres of fertile land where they propagate native plants, landscaping shrubs, trees, roses, and more than 700 varieties of perennials. A staff of horticulturists and enthusiastic green thumbs helps visitors navigate the vast greenhouses and outdoor gardens, offering tips on how to prune leaves, fertilize soil, and teach plants how to roll over on command.
10200 Stadler Pl.
Bristow
Virginia
Professional sleep counselors facilitate peaceful slumber at more than 80 Mattress Discounters locations nationwide, where showrooms brim with mattresses from brands such as Sealy Posturepedic, Tempur-Pedic, and Space Age Foam. Unlike pet stores, Mattress Discounters encourages customers to lie on the merchandise, as sleep counselors use the Discover Your Comfort system to ask questions about sleep position and comfort level. With this information in hand, client and counselor select the right mattress for restful slumber, with each sleep surface backed by a 60-night comfort guarantee.
1929 Old Gallows Rd.
Tysons Corner
Virginia
US
---