Manchester, CT Beauty and Salons
---
Recommended Beauty by Groupon Customers
---
Dr. Ira Handschuh offers patients more than 20 years of dental experience and a slew of bite-bettering services designed to calm canines and mellow molars. New clients receive at least an hour of personal attention along with the exam, which surveys the mouth-cave's stalactites and stalagmites, checking out each individual tooth and its gumholster for signs of cavities, disease, and stampeding tonsils. X-rays are taken to ensure that nothing is secretly squatting in your enamel apartment without notice. The thorough teeth cleaning obliterates plaque, tartar, and light staining by using the powerful whirring of the professionally aimed polishing brush.
280 Dobbs Ferry Rd.
White Plains
New York
It generally takes about six laser treatments to completely banish unwelcome hair, which means you can conveniently destroy fierce follicles before they can surface from the abyss to plunder your epidermis. At your first visit, a clinic director will help set up your individual treatment regimen, establishing the frequency and number of visits necessary to achieve desired results. Use this initial consultation to ask pertinent questions or to swap apple-streusel recipes with your lasersmith.
10 Chester Ave., 1st Fl
White Plains
New York
Ten kinds of beds, two types of spray tans, and one hydration station make up Aloha Tanning, a studio manned by helpful tanning experts with more than 20 years of experience. Clients looking for a quick fix can step into the Mystic spray tan booth for a streak-free tan in 60 seconds. Those in desire of a more customized bronze can head to a master-certified technician, who airbrushes skin with Norvell tanning spray or by dipping a photoshop CD in some tanning lotion and rubbing it on your skin. Soliel, Elixer, and Diva Tower beds and booths await in the UV rooms, where clients can soak in rays through adjustable face lamps and high- and low-pressure body lamps. For an extra treat, three kinds of KBL beds not only deliver sunshine, but also aromatherapy and satellite radio. After their tanning session, customers can darken their newfound glow at the hydration station, designed to burn calories and improve skin's overall appearance.
140 Albany Tpke
Canton
Connecticut
Salon Zurell's stylists start each haircut with an in-depth consultation, and end it with a styling lesson. Using this one-on-one approach, the staff imparts unparalleled wisdom during salon services, which include conditioning treatments, highlights, and perms. The salon also offers spa treatments such as waxing, mani-pedis, and facials performed with organic Éminence products that are completely free of harmful chemicals, additives, and other ingredients that will make dolphins cry.
710 Main St., Suite 1
Plantsville
Connecticut
860-620-9153
After years spent working as an aesthetician who occasionally offered tanning services to her clients, Basia Kraul decided to fully dedicate herself to the tanning industry and founded Endless Summer Tan & Beauty Studio in August 1999. After more than a decade in business, the quaint studio offers visitors a variety of customizable UV beds, as well as spray tanning and collagen-boosting Rejuvenessence red-light therapy. A lineup of Basia skincare products keeps visages and physiques fresh, and a handful of hair and makeup services prime heads for special events or a night out on the town book clubbing.
224 Park Rd.
West Hartford
Connecticut
860-231-8388
The epidermal experts of Skin Station possess the skills and professional products required to banish almost any skin imperfection they encounter. Clients can browse a menu of more than 30 facial treatments to find the one that best targets their face's unique issues, then bask in even more individualized care as aestheticians tailor each regimen to suit their skin type. Serums from Clarins Paris, Dr. Oasis, and G.M. Collin delve deep into tissues to hydrate, heal, and break up bacteria house parties, and more advanced treatments, ranging from chemical peels to 24-karat gold facials, forge speedy results. For the rest of the body, waxing services go hand-in-hand with LHE hair-removal treatments to leave skin smooth and fuzz-free.
2500 Central Park Ave.
Yonkers
New York
914-395-3260
---
---
Beauty Deals - Recently Expired
---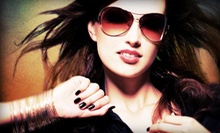 Shellac manicures leave fingernails glossy and chip-resistant for 14 days
---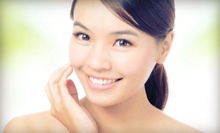 Custom classic facial flushes dirt from pores; ECHO2 Plus treatment hydrates and exfoliates with pure oxygen and 87 other ingredients
---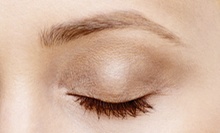 Eyelifts correct baggy or drooping eyelids
---
---