Manchester, TN Outdoor Activities
---
Recommended Outdoor Activities by Groupon Customers
---
When surveyor Aaron Higgenbotham discovered Cumberland Caverns in 1810, he couldn't see its majestic pillars of dripping rock, its flowstone curtains, or its subterranean waterfalls. Stuck on a small ledge in the dark, Higgenbotham was as blind to the cave system's features—one of them a 2,000-foot-long cavern hall—as the eyeless crayfish that live there. His initial discovery nevertheless paved the way for nearly 200 years of speleological findings. Today, guides preserve this 32-mile National Landmark cavern by leading daily tours through its passages.
During tours, guides point out artifacts left by pre Civil War–era saltpeter mines, tunnels filled with rare gypsum deposits, and mysterious inscriptions reading "Shelah Waters - 1869" and "Millard Fillmore + Stacy." They lead guests among stalagmites and stalactites to a sound-and-light show that dramatically retells Bible stories, or into a domed hall that houses a hand-cut crystal chandelier rescued from a historic Brooklyn theater. It's in this last space that staffers organize banquets, weddings, and monthly live bluegrass concerts, or hold burial services for broken fax machines. They also lead visitors through the tight passageways of lesser-seen cavern segments during daytime or overnight spelunking trips.
1437 Cumberland Caverns Rd.
McMinnville
Tennessee
With Cumberland River Cruises, water travelers will enjoy scenic vistas of the Cumberland River and Old Hickory Lake from the deck of Discovery, a red-, white-, and blue-topped pontoon boat operated by Jesse Caskey. The company's river tours treat hungry eyes to the naturally lovely sights of nature, like a full moon's reflection in the river's shimmering looking glass, the beautiful reds and bruised pinks that suffuse Old Hickory Lake when the sun sets the horizon on fire, and—in autumn—a symphony of falling gold-red and butter-yellow leaves as majestic flocks of Major League Baseball teams fly south for the winter. Most tours operate from Thursday through Sunday and are tentatively scheduled for 3 p.m., 5 p.m., and 7 p.m., although schedules will vary based on sunset time. All tours include water and soft drinks.
450 Cherokee Boat Dock Road
Lebanon
Tennessee
Since settling into his first saddle at the age of 8, Josh Guin has dedicated his life to understanding and training horses, and helping others do the same at his scenic 76-acre ranch in Nolensville. Years of studying equine management, nutrition, and advanced training methods helped Josh craft his T.R.U.E. horse training philosophy, which is an acronym for trust, respect, unity, and expectations. After gaining the trust and respect of the horse, Josh establishes a bond with the beast, always keeping high expectations for the horse so it can live up to its potential. During lessons, Josh shows students how to approach horses with a similar mindset.
1875 Burke Hollow Rd.
Nolensville
Tennessee
615-818-7101
Professional anger and guide Mike Davis picked up his first fishing pole in his hometown of Orlando, Florida, where the swampy surroundings provided ample opportunities for reeling in scaly specimens. After high school, Mike fulfilled his childhood dream of being a meteorologist before serving a combat tour in the Persian Gulf during Desert Storm, and once back in the States, he was selected as a member of the National Weather Service. While his head was in the clouds, his heart remained by the water, and he ultimately decided to make his passion for fishing his life's pursuit. Today, Mike resides in Nashville where he leads guided fishing tours on Old Hickory Lake, helping anglers of all ages and abilities catch bass, crappie, catfish, and the rare yet inedible rubber fish.
200 Odoms Bend Rd.
Gallatin
Tennessee
615-513-2667
---
---
Outdoor Activity Deals - Recently Expired
---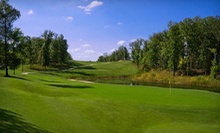 Elevation changes, challenging doglegs, and strategically placed bunkers characterize a course that adopts beauty from natural surroundings
---
---