Manchester, TN Outdoor Activities
---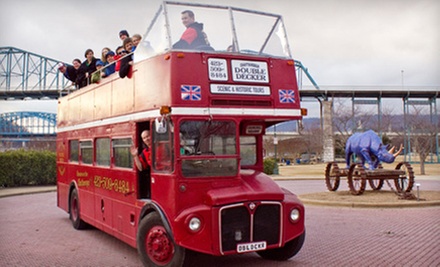 ---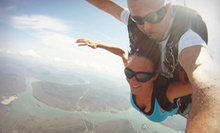 Professionals pair with clients in a tandem jump over Sequatchie Valley and capture the flight on a digital video recording
---
Recommended Outdoor Activities by Groupon Customers
---
When surveyor Aaron Higgenbotham discovered Cumberland Caverns in 1810, he couldn't see its majestic pillars of dripping rock, its flowstone curtains, or its subterranean waterfalls. Stuck on a small ledge in the dark, Higgenbotham was as blind to the cave system's features—one of them a 2,000-foot-long cavern hall—as the eyeless crayfish that live there. His initial discovery nevertheless paved the way for nearly 200 years of speleological findings. Today, guides preserve this 32-mile National Landmark cavern by leading daily tours through its passages.
During tours, guides point out artifacts left by pre Civil War–era saltpeter mines, tunnels filled with rare gypsum deposits, and mysterious inscriptions reading "Shelah Waters - 1869" and "Millard Fillmore + Stacy." They lead guests among stalagmites and stalactites to a sound-and-light show that dramatically retells Bible stories, or into a domed hall that houses a hand-cut crystal chandelier rescued from a historic Brooklyn theater. It's in this last space that staffers organize banquets, weddings, and monthly live bluegrass concerts, or hold burial services for broken fax machines. They also lead visitors through the tight passageways of lesser-seen cavern segments during daytime or overnight spelunking trips.
1437 Cumberland Caverns Rd.
McMinnville
Tennessee
Boasting five all stars in the 2011 Prospect League, the Nashville Outlaws look to continue their ascent toward the top spot in the West Division. With the season coming down to the wire, contests against the first-place Quincy Gems (August 1–August 3) and league rivals the Dubois County Bombers (August 5–August 6) take on playoff implications, their stakes raised like a flag made of filet mignon. The slugging showdowns throw down at the recently renovated Dugan Field, where muscles flex under brilliant stadium lights on turf handsomely outfitted in team colors. Munch on two included hot dogs as the athletic action picks up speed, or use the meaty cylinders to get in some batting practice of your own, swinging at the nearest pair of disco-ball earrings.
2600 Jess Neely Dr.
Nashville
Tennessee
With Cumberland River Cruises, water travelers will enjoy scenic vistas of the Cumberland River and Old Hickory Lake from the deck of Discovery, a red-, white-, and blue-topped pontoon boat operated by Jesse Caskey. The company's river tours treat hungry eyes to the naturally lovely sights of nature, like a full moon's reflection in the river's shimmering looking glass, the beautiful reds and bruised pinks that suffuse Old Hickory Lake when the sun sets the horizon on fire, and—in autumn—a symphony of falling gold-red and butter-yellow leaves as majestic flocks of Major League Baseball teams fly south for the winter. Most tours operate from Thursday through Sunday and are tentatively scheduled for 3 p.m., 5 p.m., and 7 p.m., although schedules will vary based on sunset time. All tours include water and soft drinks.
450 Cherokee Boat Dock Road
Lebanon
Tennessee
---
---
Outdoor Activity Deals - Recently Expired
---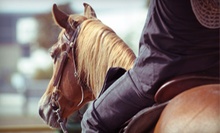 Facility has 144 acres of trails, pens, and an all-weather arena to teach saddle-seat, hunt-seat, and Western riding
---
---