Education & Classes in Manchester
---
Education & Classes Deals
---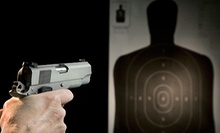 Armed with a replica pistol that fires laser beams, take aim at targets and scenarios that unfold on a 70-inch high-definition video screen
Use Today 8:00pm - 9:00pm
---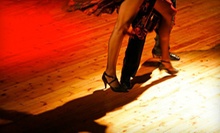 Use Today 10:00am - 6:00pm
---
Recommended Education & Classes by Groupon Customers
---
Sharing a single art studio with 65 other artists, while inspiring, can get a bit crowded. So when the owner of the renovated factory building in the South End decided to renovate another nearby building, bead crocheter Andrea Garr put her dreams of opening her own studio and bead store into action, and Bead + Fiber was born. Wielding multihued beads and jewelry-making materials picked up from her travels around the globe, Garr both sells her creations and instructs students on how to make their own, whether it's a pair of elegant earrings for a wedding or a retractable necklace for a fashion-forward pet turtle. A lifelong artist, Garr revels in the rhythm and meditative vibe of crocheting beads as well as the seemingly endless possibilities of making your own jewelry.
460 Harrison Ave.
Boston
Massachusetts
617-426-2323
With a springy-cork floor spattered with nontoxic paint, Mama & Me's facilities encourage tots to explore and create. Classes offer options for students age 6 months to 3.5 years and boost creativity and exercise motor skills in a variety of play structures and arenas. In the Little Movers course, rugrats romp across brightly colored foam obstacles. Parents can also participate in classes, helping tykes build social groups and remember what their invisible friends wore to last season's tea party.
284 Armory St.
Jamaica Plain
Massachusetts
617-372-7448
The low thrum of an electric bass. The clean jangle of an electric piano. At School of Groove, owner Christopher Vuk presides over instructors as they fill the space with music and help students through scales, rhythms, and eventually full pieces on a wide range of instruments. The teachers have played music alongside musicians including Herbie Hancock, John Mayer, and Paul Simon, and guest rock musicians occasionally lead sessions to impart their skills or explain why they think every smashable guitar is full of candy. In private lessons and group sessions, hands-on practice illuminates the processes of improvising, writing, and recording music. Students at the school can also join a band, where they'll write their own music, build teamwork skills, and perform at venues such as Hard Rock Cafe and Ryles Jazz Club.
883 Cambridge St.
Cambridge
Massachusetts
617-868-1118
Artepicure spreads the skills of cooking to Massachusetts microwave-dependents with an array of hands-on cooking classes that emphasize how the techniques of professional chefs can be transferred to home kitchens. Satisfy rabid Roman herbivores with Mediterranean Vegetarian, featuring meatless summer soups, spaghetti, and a crêpe cake in its curriculum, or meal-mallet gastronomic glockenspiels with Authentic German Cooking, touching upon Teutonic treats such as potato pancakes and pork schnitzel. Artepicure's Knife Skills class teaches slicing, dicing self-defense against invading tomatoes and radishes, whereas French Brasserie Dinner teaches students classic Parisian fare such as onion soup au gratin, mussels Normandy, and beef burgundy. At the end of the class, students will dig into their culinary creations, an academic output far tastier than the edible diorama of the assassination of Archduke Franz Ferdinand from third grade. New classes are added monthly, so check the schedule to see what nourishing knowledge waits in the weeks ahead.
1 Fitchburg St.
Somerville
Massachusetts
Situated on 24 acres of woods and meadows in central Massachusetts, Cornerstone Ranch allows riders to savor New England's breathtaking foliage year-round with lessons, camps, and rides through scenic terrain. Owner Sue Connell and her family prep their fleet of horses with exhaustive training and pesticide-free fly-control practices, making the steeds even safer to ride than Smokey the Bear. Sue steers horse-drawn sleighs during winter months and gangs astride steeds during warmer weather, leading fellow riders through a labyrinth of woodsy trails. She and an equally experienced instructor helm riding lessons for all levels year-round and fold the same principles into weeklong summer camps. The camps cater to beginner and advanced equestrians alike, teaching kids how to catch, lead, tie up, groom, and outfit horses with bridles and saddles before mounting and riding them into kid-sized sunsets. Daily schedules consist of two rides, including group excursions and trail jaunts. At week's end, equestrians flaunt their new skills at a horse show for friends and parents.
29 Dowds Ln.
Princeton
Massachusetts
978-464-4570
A mosaic of metal parts forms a silver metal dog standing on its hind legs as it appears to catch a frisbee, while behind it, a brown dog, also made of various metal parts, stares attentively with ears up. These are just two of the sculptures outside the brick confines of Stonybrook Fine Arts, a celebrated studio where both teachers and students invent their own inimitable creations, whether they be jewelry, stone carvings, sculptures, or models for robot minions. Small group classes pepper the schedule, with rare selections such as foundry classes, which teach students to pour molten bronze into ceramic molds, and welding workshops, which inform all levels how to fuse and cut metals with gas torches and plasma cutters. Within the workshop, students are immersed in the entire metal-casting process, pouring and finishing their pieces under the watchful eyes of professional artists-instructors.
24 Porter St.
Jamaica Plain
Massachusetts
---