Massage in Manchester
---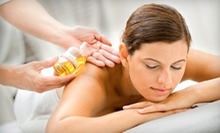 Use Tuesday 10:00am - 6:00pm
---
Recommended Massage by Groupon Customers
---
When she established Health & Healing Massage Therapy, owner and licensed massage therapist Karen Nugent envisioned a place where clients could maintain all facets of their health—mind, body, spirit, and eyebrow flexibility. In service of this dream, she assembled a team made up of seasoned massage therapists, a Native American shaman, and an acupuncturist, who now flaunt their skills in a unique assortment of therapeutic treatments ranging from therapeutic massage to craniosacral therapy to reflexology. Several of the therapies can even be merged in tandem sessions in which two therapists and four hands combine massage with reflexology, reiki, or finger-puppet therapies.
16 Austin St.
Worcester
Massachusetts
508-963-0865
Licensed massage therapist Victoria Wintersteen breaks down knots and tension with a full menu of massage techniques. Before kneading and mollifying muscles and clearing minds of stressful launch codes, Victoria consults with clients and helps them select from such modalities as deep tissue, Swedish, and reflexology. Victoria customizes strokes to accommodate individual body types as she glides her soothing strokes through high-quality lotions and massage oils, leaving backs more relaxed than a weeping willow in a hot tub.
167 Main St.
Rowley
Massachusetts
978-273-0144
Licensed massage therapists Joanna and Tiffany—whose nimble minds and fingers form the basis of Healing Angels Bodywork's 10 massage modalities—first met during training at the Salter College Massage Therapy Program. Their mutual appreciation for healing bodywork blossomed into a close friendship, and the two continue to alleviate chronic pains and soothe stresses at the business they founded together. Joanna and Tiffany practice their craft within the private treatment rooms of Adesso Salon & Day Spa, whose mint-green walls ensure that the air remains cool and fresh during traditional Swedish, Thai stretching, or post-operation massages. Their talents converge during the signature Healing Angel massage, which doubles the relaxation with a series of four-handed strokes.
108 June St.
Worcester
Massachusetts
508-933-1057
The piney hills surrounding Route 2 conceal the cozy sanctuary of Attaviano Spa. In private quarters at the back, aesthetician Sarah Rattet reinvigorates her clients with destressing massages. She cultivates an outer as well as an inner glow with waxing from brow to bikini line and specialized facial salves rich in vitamin C harvested from the smoothest-skinned oranges. The spa keeps hours from Tuesday through Saturday.
166 Hamilton St.
Leominster
Massachusetts
310-614-5418
From a spa inside Eye Candi, Essential Massage's licensed therapists treat clients with a variety of massage treatments to promote wellness and better health. They soothe knotted muscles with deep-tissue and hot-stone massages, and they marry techniques from two modalities to create optimum relaxation during the combination massage. Their range-of-motion treatments release joint restriction and increase flexibility, and their Revitalize Five treatment works to exfoliate the back while invigorating hands and feet that are sore from too much high-fiving.
119 Main Street
Salem
New Hampshire
603-898-0773
After seven years of retirement, former chiropractor Joanne Paquette realized that something was missing from her life: She wanted to help people again. Knowing that her days of cracking backs and lecturing crooked vertebrae were behind her, she chose instead to become a licensed massage therapist and reflexologist.
Today, as the owner of Back to Nature Massage and Reflexology, Joanne uses her medical knowledge and nimble hands to soothe tense sinews with deep-tissue, Swedish, sports, and pregnancy techniques. She can even flush away toxins with lymphatic drainage, a modality that incorporates gentle pressures and a modified plunger.
16 Austin St.
Worcester
Massachusetts
774-314-1562
---