Restaurants in Mandeville
---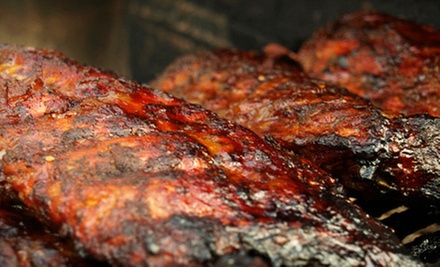 Pontchartrain Landing RV Resort and Marina
---
Recommended Restaurants by Groupon Customers
---
Disappointed by the "formica-clad" chain restaurants he often dined in after moving to the Southeast, entrepreneur Ron E. Green left his corporate job to found The Broken Egg in a refurbished turn-of-the-century cottage. Today, tables swathed in checkered cloths and colorful floral bouquets receive plates of brunch fare at the original Mandeville cafe, which has spawned more than 15 additional locations spread throughout seven states. Despite this rapid expansion, the menu of omelets, benedicts, and scrambles stays true to its southern roots with Cajun-inspired ingredients such as pan-seared redfish and andouille sausage trussed in Mardi Gras beads.
200 Girod St.
Mandeville
Louisiana
985-231-7125
The only full-menu vegetarian restaurant in andouille-stuffed New Orleans, Café Bamboo features a playfully eclectic menu of Thai-, Latin-, and Cajun-inspired dishes. The gloriously alliterative caramelized cauliflower crustini ($5) tops crunchy french bread with a sweet browned-onion and cauliflower salad, which pairs wonderfully alongside a coconut-blended tomato-anise soup ($4 cup/$6 bowl) with assorted vegetables. The sampler rice bowl ($13) is a veritable United Nations of flavor, featuring Creole tofu in tomato and pepper sauce, peanuty West African mafe, green Thai curry, and vindaloo over a bowl of white or brown rice. Veggie and meat eaters alike can get a taste of southern soul food with the Sol Chik'n Dinner ($13), savory fried soy "chicken" served with Sol bell-pepper relish, cornbread, and mashed potatoes with mushroom gravy, just like your alternate-universe vegetarian grandma used to make. Night owls will enjoy the late-night menu's selection of fingerfuls of fried favorites such as mozzarella sticks (4 for $5/6 for $6), Chik'n nuggets ($6), and mini egg rolls (4 for $5/6 for $6).
435 Esplanade Ave.
New Orleans
Louisiana
Summon the senses out of bed with the efficiency of a rooster with an alarm clock with Oceana's kicky menu of morning tastes. Try the Cajun omelette ($12.50), with spicy seasonings, mushrooms, and onions, or maw maw's Cajun breakfast ($12), packed with bacon, ham, shrimp, eggs, and rice. Crêpes ($15–$18) call out to lovers of foldable fare with the St. Marie (spinach, cheddar, chicken, and hollandaise) and the St. James (shrimp, crabmeat, onions, red peppers, and cheese). Midday grub includes fried-catfish po' boys ($9.50), classic cheeseburgers ($9.50), and crab-cake burgers ($9.50). Louisiana-style dinner entrees such as the grilled ahi-tuna "la boheme" topped with barbecued shrimp and served with sautéed veggies ($20) and smoked duck sided with potatoes and vegetables ($21) take care of heartier appetites.
739 Rue Conti
New Orleans
Louisiana
The chefs at Cucos Mexican Cafe plate up Louisiana-Mex lunch and dinner fare to feed hungry dining duos any time of day. On weekdays until 3 p.m., the lunch value menu sports selections such as three tamales, two spinach enchiladas, or two tacos, each accompanied by a cavalry of black beans, mexican rice, mexican corn, or fries. Among the half-dozen hefty 2-pound burritos, the Burrito Gigante holds both beef and chicken, along with chili, beans, rice, and cheese, while the fajita burrito emits advice when held against the ear like a seashell. The chimichanga, one of Cucos' classico combos, fills a lightly fried tortilla with seasoned beef or ranchero chicken, and the honorable El Presidente platter bursts with two chimipoquitos, a beef taco, two enchiladas, and a side of guacamole molded into the likeness of Felipe Calderón sipping a margarita.
2766 Belle Chasse Hwy.
Gretna
Louisiana
504-393-7766
Seven on Fulton's menu is loaded with classic New Orleans character, while offering upscale, modern twists on traditional southern and Creole breakfast, lunch, and dinner. Midday masticators can sink their incisors into refreshing salads, hearty soups, entrees, and sandwiches. Follow up a steaming cup of seafood gumbo ($6) or a plate of fried haricot verts ($7) with the herbivore-friendly chef's vegetable pasta, a tempting concoction of house-made noodles, fresh veggies, and tarragon cream sauce ($10). For dinner, 7 cranks the elegance notch up to 11 with delicate delectables from the deep. Twilight tasters can tie their appetites up in a bandanna and hop a Cajun flavor-train with a starter of Louisiana crawfish pie with seared foie gras ($12) before heading to the coast with seared scallops alongside braised short ribs, truffle whipped potatoes, and bacon jus ($25), while land-meat lovers can indulge the savory rack of lamb with spicy boudin ($29). Evening edibles can be partnered with winsome selections from the thoughtfully coordinated wine list, or after-dinner pick-me-ups like the espresso crème brulee tini ($9).
701 Convention Center Blvd.
New Orleans
Louisiana
---