Dance Lessons in Mango
---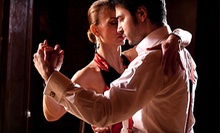 Professional dancers lead students of all levels through Latin dance moves in small groups
---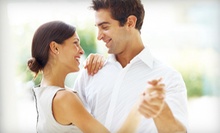 Dances taught range from the fox trot, rumba, tango, and polka to salsa and country-Western dances
---
Recommended Dance Lessons by Groupon Customers
---
When discussing his teaching philosophy with reporters from Central Florida Lifestyle, the owner of Salsa Heat quipped, "if you can walk, you can dance." He himself didn't know much about dancing when he took his first salsa class in the early 90's, but he caught on after just a few sessions, falling in love with the dance's energetic spins and rhythmic movements.
Today, a team of professional dance instructors teach salsa spins and footwork to students of all experience levels. Zumba and bachata classes provide tutoring in other Latin dance styles, and salsa classes for kids teach youngsters dance fundamentals that hone coordination and motor skills. Throughout the year, the staff hosts special events on their spacious dance floors, such as salsa socials, salsa Christmas parties, and salsa-infused celebrations of Robert Heinlein's birthday.
634 Eighth Street
Clermont
Florida
321-297-8677
The experienced instructors at Beyond Dancing guide students through all styles of ballroom and Latin dancing, including waltz, salsa, tango, cha-cha, swing, and hokey pokey. Private and group classes are held in a spacious studio with gleaming wood floors.
7313 International Pl., Suite 100
Sarasota
Florida
941-907-8183
Helmed by an owner with 20 years of dance experience and a BA in dance education, Dance Arts Center's instructors motivate bodies into motion with more than a dozen dance styles. They lead adult hobbyists and career-minded 3-year-old dancers alike in styles including classical ballet, tap, jazz, and acrobatics. In kids' classes, instructors teach sprouts up to 18 years old the fundamentals of dance techniques in a non-competitive environment and challenge more advanced students to join the performance team, which takes to the stage at competitions, community performances, and workshops. Students in both the regular classes and the performance team gather to showcase their moves during the center's annual concert, which is one of the last remaining dance events in the country without a panel of sneering celebrity alien judges.
In addition to ballroom, hip-hop, and flamenco dance classes, staffers lead adults in yoga and Pilates regimens to help whip them into peak performance shape.
1924 Oak Grove Blvd.
Lutz
Florida
813-907-0990
At 17 years old, David Pearce spent his nights dancing and DJing in a slick Seattle club. When his best friend recognized his skills and suggested David join him as a daytime ballroom-dance instructor, he was unenthusiastic⎯until a visit to his friend's studio made David realize that ballroom dancing involved nothing but sleek movements and squiring ladies across the floor. He's been hooked ever since. David opened The Studio with his wife, Jackie, who leads belly and hula dancing, and the pair demonstrates swing, Argentine tango, and other American ballroom dances with help from four other instructors.
Private lessons begin with David's signature teaching style, which condenses every ballroom step into four basic movements and instills the fundamentals of leading and following before finally acquainting students with the dance style of their choice. Meanwhile, group lessons introduce hoofers to new moves in a lively and relaxed social-dancing atmosphere. Monthly parties, which often follow elaborate themes—such as a luau with leis, photo props, and decorations dappling the studio's baby-blue walls—invite couples to twirl, sip refreshments, and eventually follow fellow revelers to nearby nightclubs or a Disney prince's ballroom to show off their versatile moves in a real-world setting.
7119 U.S. Hwy 19
New Port Richey
Florida
727-505-4266
---