Mango, FL Spa and Massage
---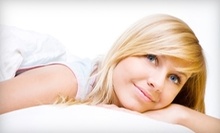 Skin savants design 50-minute purification program to compliment skin type & cap visits to 1,500 sq. ft. spa with positive-thought cards
Use Monday 10:00am - 6:00pm
---
Recommended Spa & Massage by Groupon Customers
---
Cypress Wellness & Spa's team—made up of massage therapists, acupuncturists, and aestheticians—help renew clients using a diverse palette of services. They reduce circumferences using FDA-approved VelaShape technology, and smooth out dermal expanses with waxing sessions and body scrubs. Nail technicians harness the power of Shellac to give digits up to two weeks of chip-free color. The spa's slate of relaxing services, including acupuncture, ultrasound, and massage therapy, help enhance circulation and unwind tense muscles more effectively than a universal remote.
3249 W Cypress St., Suite C
Tampa
Florida
813-876-4686
With a sprawling front porch, 10-foot ceilings, and a dramatic interior archway, the Craftsman-style bungalow that shelters this beauty oasis hasn't lost any of the charm it has cultivated since its construction in 1908. Red and blue trim adorns the outside, mirroring the beauty found within in the form of hardwood floors, decorative wood molding, antique furniture, and a fireplace.
The experienced aestheticians of Forever Beautiful Salon & Wine Spa, the house's current tenant, tend to nailcare, massage, hairstyling, and skincare services amid the splendid architecture, which is illuminated by chandeliers in every room. These spa specialists tackle skin and hair woes armed with elixirs from Obagi, Redken, and Paul Mitchell, and beautify clients with permanent cosmetics and mineral makeup—mined in Sri Lanka's famed lipstick caverns. Sometime in the near future, spa patrons can head to the attached two-story structure, a former garage apartment built in the '30s, and unwind further with little treats from the soon-to-be dessert café and coffeehouse.
5137 N Florida Ave.
Tampa
Florida
813-231-3378
Willow Tree Healing Arts's licensed massage therapist customizes treatments to each individual's requests and needs. When clients arrive, the staff chats with them to find out what type of massage will be ideal as well as what they ate for lunch. Those with recurring pain can turn to deep-tissue techniques for relief, and mothers-to-be can treat themselves to a gentle, safe prenatal massage. Sessions can be used to target a wide range of pains, from headaches and lower-back pain to fibromyalgia and stress caused by postural misalignment.
MA59185 and MM18194
4043 Henderson Blvd.
Tampa
Florida
813-770-6409
Licensed massage therapists Diane Johnston Souza and Margie Johnston know the human body the way a child knows the worry lines on his teddy bear's face. During each massage, they draw on their knowledge of massage and reflexology and several years working with clients from all walks of life. Through massage therapy, they can help alleviate discomfort caused by stress, extreme sports, or losing your watch during DIY appendectomies. As a skincare specialist and reiki master, Diane can perform skin and energy therapies to help her clients improve their own overall well-being and natural beauty. Diane also performs custom airbrush tanning for those looking for a safe sun-kissed glow and Margie also specializes in haircare and waxing for both men and women.
713 W. Platt St.
Tampa
Florida
813-777-0456
Essentials Massage & Facials' licensed professionals relax weary bodies with a collection of therapeutic services. Soothing massages employ a collection of kneads, strokes, and manipulations to reduce tension and disentangle body knots, with luxurious add-ons such as paraffin treatments and aromatherapy. The skin-savvy techs also rid frames of unwanted stubble with waxing services, smooth out wrinkles with chemical peels and microdermabrasion, and soften countenances with GM Collin skincare products during facials. While engaging in services, clients may nourish interiors with a selection off the spa's à la carte menu, which features fruit, vegetable, and cheese platters, as well as a chocolate fondue station for delectable dipping or timed relay races.
12936 N Dale Mabry Hwy
Carrollwood
Florida
813-644-7205
Using mainly natural, hand-blended products, the aestheticians of Believe Day Spa give faces a rosy glow, make hands and feet softer with mani-pedis, and remove unwanted hair via sugaring—an ancient art that uses a sticky paste to whisk away strands without adhering to skin. Customizable facials use organic, cruelty-free Éminence products, inspired by Hungarian-spa culture, fresh produce, and the traditional gazpacho baths of Europe.
6902 W Linebaugh Ave.
Tampa
Florida
813-444-2583
---