Hair Salons in Manhattan Beach
---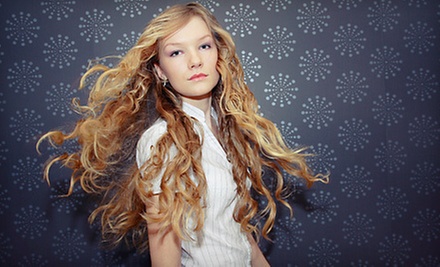 ---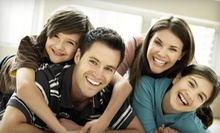 Stylists shampoo and snip hair on ladies, lads, and kids
---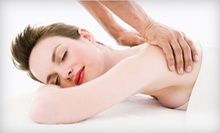 Swedish massages ease tension and relax bodies with long, flowing strokes; lemon body polish exfoliates expired cells and softens skin
---
Recommended Hair Salon by Groupon Customers
---
The salon's name is pronounced shin-eh, a Gaelic phrase meaning "that's it." Potential interpretations and applications of this phrase are as varied as the services offered within Sin É's hallowed halls. Let the trained and talented hands of a stylist dissect and rearrange tangled follicles, determining where to snip, where to snap, and where to apply streams of vibrant color. Women's haircuts cost $70, and similar services for the closer-cropped gentleman are $50. A blow dry and style runs between $45 and $55, depending on length, thickness, and whether your hair is the source of your power. Revivify dull, ennui-riddled locks with a single-color process ($70) or partial highlights ($110). Or, treat rough patches to a mane-soothing treatment with products from Redken or Pureology ($25).
12021 Ventura Blvd.
Studio City
California
Overseen by a sports-tuned TV and dotted with random snacks, the private Suite Twelve is intimate, relaxing, and welcoming. In addition to being well versed in sports and other man-talk, stylist Katie has specialized in men's haircuts for a decade. Not only will she get your hair in pristine shape with a stylish cut, she'll also skillfully validate your parking, creating a most convenient haircut experience. This cozy salon space is open Monday through Thursday from 10 a.m. to 8 p.m. Same-day appointments are available for last-minute brush-ups and spur-of-the-moment makeovers.
9911 Pico Blvd.
Los Angeles
California
At Bree Salon, a talented group of steady-handed stylists meticulously trims unruly noodle-nests into sculpted coiffures using top-notch beautification services. A woman's haircut ($65+) or men's haircut ($35+) adds a dash of glance-baiting pizzazz to scalp farms while carefully clipping away baseball-sized wads of gum. Faces weathered by exposure to the salty seas can clear their cheek barnacles with a facial ($75+) or a full makeup application ($80) before achieving torpedo-like levels of aerodynamics with a lip wax ($10) or chin wax ($10). Applying your Groupon to more involved treatments, such as full highlights ($120+) or a Brazilian blowout ($200–$300), will give you more time to soak up Bree Salon's relaxing atmosphere, which boasts a striking décor of rustic dark wood furnishings and fetching chandeliers that glitter with diamonds compressed from Matthew McConaughey's golden locks.
12180 Ventura Blvd.
Studio City
California
Leaning on a strident application process, Beverly Hills Color Bar recruits stylists for their artistic handling of complex color treatments, expertise with all types of hair, and their outgoing personalities. Colorists work outside the boundaries of traditional highlights as the quirkily named services denote, splashing hair with spots of color during the You've Been Punk'd, or making eyes pop by highlighting a few strands up front with the Face Framer. Notable for its industrial aesthetic and splashes of color, the airy salon looks like it was designed to house the minimalist sculptures of Donald Judd, and like any good contemporary-art exhibit, the salon's black-wood color bar displays a meticulously arranged spectrum of hair-dye products. Carefully smeared black paint gives texture to the poured-concrete floor, and geometric, gray leather salon chairs offset full-length mirrors rimmed in vibrant tangerine.
9885 South Santa Monica Boulevard
Beverly Hills
California
310-772-0070
Natural light pours in through large windows beneath lofty vaulted ceilings at The G Spa Salon, glinting on the glowing skin and locks of clients as they enjoy signature hair, nail-, skin-, and body-care treatments. As a full-service Aveda concept salon and spa, The G Spa Salon performs each service with products derived from pure flower and plant essences. In addition, the staff's hair services include complimentary Aveda rituals including mini facials, firming eye treatments, scalp-and-neck massages, and cups of comforting tea. Aveda's products also kiss hands and feet like a comforting Mother Earth during select nail services such as Green Science anti-aging manicures. True to Aveda's eco-friendly philosophy, The G Spa Salon does not distribute literature about its services on paper and offers guests an iPad to entertain them during services.
15617 Ventura Blvd.
Encino
California
888-406-6401
When owner Linda Rich designed Ankh Studio, she wanted a contrast to the enormous, impersonal salons where she trained. "[I] wanted something that felt like home," she says—an understandable sentiment after years of traveling the world as a stylist with Sebastian Professional. As she mulled over the details of salon decor, she gravitated toward the center of all homesteads: the fireplace. Ankh Studio's classically styled mantle is painted a chic black and white, anchoring tile mosaics and mirrors with wrought-iron borders.
Rich operates the salon with a team that includes one stylist whom she's worked with for more than 35 years. She's chosen the new stylists with care, auditioning them with trial styling jobs and spirit quests to trim the pelts of mountain lions. Each stylist uses products from Paul Mitchell in the pursuit of the most flattering cuts.
17000 Ventura Blvd., Suite 100
Encino
California
818-907-0575
---