Restaurants in Manhattan Beach
---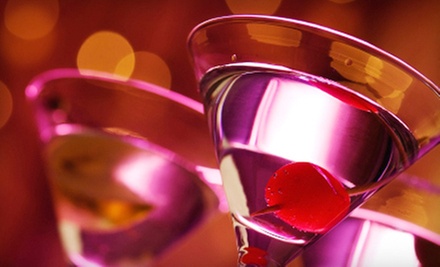 ---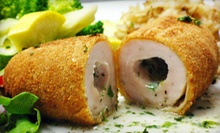 Meat or cabbage fill potato cakes drizzled with mushroom sauce, and provolone bakes over beef and onions blanketed with cream reduction
Use Today 3:00pm - 8:30pm
---
Recommended Restaurants by Groupon Customers
---
In 1984, Greg and Rose Tcholakian decided that, in order to truly share their traditional Middle Eastern eats with the world, a bigger kitchen was in order. That led them to open Carousel Restaurant in an intimate storefront. In 1998, they passed the business to their son, Mike, who expanded upon his parents' growing legacy by moving to a larger location, where he could incorporate more of his family's culture into every detail. He enhanced the eatery's decor with traditional artwork and decorative scimitars, and put together a live band to back up a large belly-dancing troupe on Fridays and Saturdays. Over the years, Mike has also added to the menu, which now includes more than 50 appetizers in addition to his parents' signature kebabs and pilafs. Today he still helms the business, steering it toward its 30th anniversary and millionth belly shaken as his guests continue to come nightly for a taste of his family's food and culture.
304 N Brand Blvd.
Glendale
California
The kitchen staff at Got Kosher? sidestep preservatives when making their daily yield of international kosher cuisine that includes French, Moroccan, and Tunisian dishes. Under the watchful eye of the onsite mashgiach, they prepare pulled beef brisket, Tunisian couscous, rotisserie chicken, Neshama gourmet kosher chicken, and turkey sausages served on pretzel rolls. Their flavorful fare has caught the attention of LA Weekly's Linda Burum, who calls the brik a l'oeuf—a deep-fried crepe folded over egg, capers, and tuna—"one of the world's great feats of culinary alchemy." In addition to a full slate of Ashkenazi and Sephardic dishes and a well-stocked deli case, Got Kosher? dispatches its full-service caterers to serve meals and resolve family feuds during weddings and special events.
8914 W Pico Blvd.
Los Angeles
California
310-858-1920
Nonna's Empanadas adds a signature flair to its namesake dough morsels, filling them with globally-inspired ingredients such as tomatoes and basil or chicken and jalapeños before emblazoning each toasty exterior with the stately block-letter initials of its unique filling. Nonna's draws upon international culinary traditions from all over the world, including countries such as Spain, India, Pakistan, Argentina, Korea, Mexico, Italy, and the Philippines. Influences from Central Asia, for example, shine in an empanada stuffed coriander, beef, and lemon, and the Cuban empanada mimics the traditional sandwich with pickles, pork, and mustard. Patrons lounge indoors and out, noshing from the menu of indulgent bistro cuisine.
8570 W 3rd St.
Los Angeles
California
310-385-0445
Everything about Layla's Cafe & Catering is designed to create a sense of communal enjoyment. The menu features plenty of tapas and appetizers for sharing, including fresh caprese salad with burrata cheese, heirloom tomatoes, and basil pesto, and grilled kebabs that can easily be divided among friends. Within the quasi-outdoor seating area—which is kept warm by cozy heating lamps—the bottom of one wall is lined with green plants and tiny orbs of strung lights float overhead. A gently murmuring water fountain invites guests to toss in pennies and make wishes, or toss in silver dollars and watch their friends jump in after them. The restaurant also caters for special occasions and hosts private parties.
11906 West Wilshire Boulevard
Los Angeles
California
310-310-2999
---