Restaurants in Manhattan Beach
---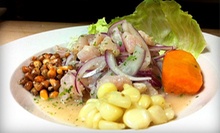 Andean chili peppers, onions & lime in authentic ceviche along with aromatic Peruvian dishes & red & white wines from South America & Europe
Use Today 3:00pm - 5:30pm
---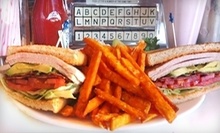 Nostalgic Route 66 diner evokes yesteryear with '50s memorabilia & serves breakfast all day & blue-plate specials & shakes at lunch.
Use Friday 7:00am - 5:00pm
---
Recommended Restaurants by Groupon Customers
---
The towering neon sign above Rosalind's Ethiopian Cuisine points down toward the eatery's entrance, where live Ethiopian music and aromas of Ethiopian, Ghanaian, and Nigerian cuisines escape into the air. Though bands gather only on the weekends, the kitchen staff serve their menu of steamed vegetable, lamb, chicken, beef, and seafood dishes daily until 2 a.m. Their house specialty is the special tibs entree, showcasing spicy beef served atop charcoals in a traditional Ethiopian pot. Servers encourage diners to eat their dishes by hand, resulting in fingers speckled with nutmeg and games of Paper, Rock, Scissors with plantains.
Thatched roofs hover above the eatery's dining areas, which include booths, tables, and traditional Ethiopian mesobs—woven tabletops with woven lids that are surrounded by stools to facilitate easy communal eating. African decor and saturated yellows and reds permeate the entire space and enclose the full bar, and a scattering of TVs helps diners stay up-to-date with local sports even as their taste buds trot the globe.
1044 S Fairfax Ave.
Los Angeles
California
323-936-2486
Within CrêpeStudio's elegantly aged brick building in Old Town Pasadena, bakers follow an old family recipe when whipping up batter daily and shaping it into crêpes. Plates land on tables loaded with 24 varieties of sweet, savory, or breakfast crepes, which wrap around an array of grilled meats, cheeses, and vegetables or fresh berries and ice cream. Salads and paninis made to order house greater portions of ingredients without forcing vegetables to protect themselves against the elements by piling inside a sliced-open tomato. The studio surrounds its guests with modern décor, such as sleek wood paneling, exposed-brick walls, and colorful illuminated signs.
99 E Union St.
Pasadena
California
626-844-8810
In 1984, Greg and Rose Tcholakian decided that, in order to truly share their traditional Middle Eastern eats with the world, a bigger kitchen was in order. That led them to open Carousel Restaurant in an intimate storefront. In 1998, they passed the business to their son, Mike, who expanded upon his parents' growing legacy by moving to a larger location, where he could incorporate more of his family's culture into every detail. He enhanced the eatery's decor with traditional artwork and decorative scimitars, and put together a live band to back up a large belly-dancing troupe on Fridays and Saturdays. Over the years, Mike has also added to the menu, which now includes more than 50 appetizers in addition to his parents' signature kebabs and pilafs. Today he still helms the business, steering it toward its 30th anniversary and millionth belly shaken as his guests continue to come nightly for a taste of his family's food and culture.
304 N Brand Blvd.
Glendale
California
---