Fitness Classes in Manhattan
---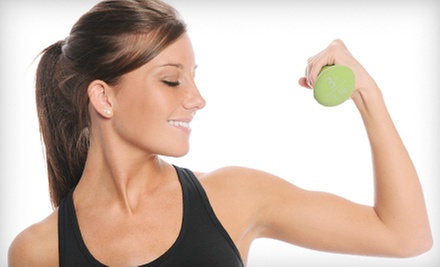 ---
Recommended Fitness Classes by Groupon Customers
---
The lime-green and grape-purple walls perfectly echo the vivacious spirit of classes at The Mind, Body & Soul Studio. Instructors lead everything from boot camps and core-strengthening workouts to Zumba and belly dancing, and the intimately sized space fosters a supportive rapport in virtually every session. These classes help attendees live healthier and more active lives by incorporating cardio work instead of just showing them places to abandon vegetables on the edge of town.
2031 Forest Ave.
Staten Island
New York
718-727-9862
For the past decade, founder Billy Macagnone has helmed Body Evolutions, New York's largest Gyrotonic studio. Macagnone—one of the workout system's authorized master trainers—personally schools many of his staffers in Gyrotonic movements, which combine elements of gymnastics, swimming, ballet, and yoga to enhance strength and freedom of motion. Macagnone possesses firsthand knowledge of the novel regimen, as he learned its techniques directly from Gyrotonic creator Juliu Horvath.
Per Horvath's vision, specialized equipment lines the walls of Body Evolutions' newly renovated studio. Machines range from a pulley tower that generates smooth and constant resistance to an archway whose ladder-like structure works otherwise difficult-to-access muscle groups. Athletes mount the equipment during classes and training sessions that span several levels, stretching their muscles in circular exercises that facilitate total freedom of movement, much like owning an invisible airplane.
266 E 10th St.
Manhattan
New York
212-375-0430
VFitness Boxing's trainers believe that boxing is best taught by boxers, which is why all teachers come with their own competitive-boxing backgrounds. They draw on these in-ring experiences during private, 90-minute boxing lessons, where they pass on hard-won knowledge about perfect punching form and impenetrable defensive techniques. Most importantly, they teach the specifics of footwork, making sure their students have strong bases and never get caught on the back foot.
During their indoor and outdoor boot-camp-style group classes, instructors extend their attention to multiple students, helping them torch calories with boxing-style conditioning exercises. Class styles vary—some are coed, some are women-only, and some are kid-friendly—but instructors supply all students with everything they need on the first day, including gloves and the instruction booklet to Mike Tyson's Punch-Out!!. They also run advanced group classes, where students sporting headgear, gloves, and hand wraps engage in moderated sparring.
251 5th Avenue
New York
New York
718-801-5969
After fist-punching his way through the U.S. Army's basic training program, bobbing and weaving through an amateur boxing career, and drop-kicking every last test that stood between him as his law degree, the poet-warrior Edward Rush opened a commercial gym in Washington, DC. He soon grew tired of folding towels for patrons who only wanted to use his gym as a place to read magazines or watch TV while they jogged, so he closed up shop, moved to NYC, and opened a personal-training gym and fitness laboratory. There, he earned the nickname "The Mad Scientist" for his grueling, inventive, and rewarding training method, called IFS.
For a quick, intense workout, students can turn to the gym's CrossFit classes. CrossFit incorporates a fusion of strength and cardiovascular conditioning exercises that grant bodies with sculpting, toning, and endurance-boosting benefits in less than an hour. In fact, many members hustle through the retinue of handstand pushups and Olympic-style power cleans on their lunch hours via the gym's power lunch program, which includes a paleo-diet meal delivery when the workout is completed. Whether over lunch, early in the morning, or at the end of an office day, students can attend classes up to six days a week and retire to well appointed locker rooms equipped with showers, towel service, and complimentary grooming products.
22 W 19th St.
Manhattan
New York
212-727-7627
Founded by champion kickboxer Josef Stritmator, Eastside Training provides personalized instruction via small boot-camp and martial-arts classes. Stretched across 1,200 square feet on the Upper East Side, the fitness arena stocks rows of kettle bells, TRX suspension equipment, and heavy bags. Enthusiastic and highly trained instructors lead daily sessions, helping students to shed unwanted pounds, tone torsos, and bench-press rowdy roommates. During a kids' conditioning class, youngsters practice martial-arts disciplines such as karate and tae kwon do to build the strength, character, and concentration needed to beat one's own reflection in a staring contest.
960 Madison Avenue
Manhattan
New York
212-510-7260
An accomplished track athlete in her native England, Carol "Kick Fever" Glasgow discovered martial arts upon her emigration to the U.S. She eventually earned a third-degree black belt and started teaching cardio-kickboxing classes that help students develop proper form and real self-defense skills as they pound away at heavy and speed bags. Her high-energy workouts burn calories and sculpt the body of each participant while improving flexibility, coordination, and balance. Carol also shepherds students through personal-training sessions that include a medical evaluation and fitness assessment and also serves as a personal shopper with a right cross ready for surly mannequins.
475 Atlantic Avenue, Floor 2
Brooklyn
New York
347-909-0914
---