Restaurants in Manhattan
---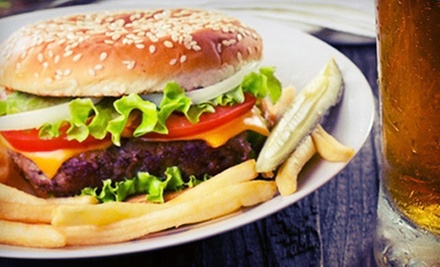 ---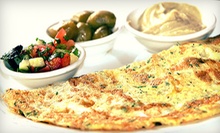 Druze culture snags the spotlight as tongues delight in feasts of hummus tahini, grape leaves, and lamb kebab concluded with baklava.
Use Today 4:00pm - 11:00pm
---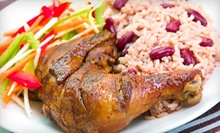 Use Sunday 11:00am - 7:00pm
---
Recommended Restaurants by Groupon Customers
---
Big Nick's Pizza and Burger Joint, a family-owned eatery, has slung pies and beef patties on the Upper West Side since 1962. Owner Jimmy Galanopolous slays appetites with a copious menu that encompasses breakfast classics as well as authentic Italian and Greek cuisine. Patrons populate cozy booths amid the long dining area's exposed-brick walls and wood-grain tables as handsome as George Clooney in a tuxedo made of mustaches until the wee hours. 4 a.m. crowds can chomp on both evening- and morning-themed menu items such as buttermilk pancakes, sweet-potato fries, giant hot dogs, and eggplant-parmigiana hot subs.
70 West 71st Street
New York
New York
212-799-4444
Chef David Burke studied at the prestigious Culinary Institute of America before earning a glowing reputation as chef at the River Café and later the Park Avenue Café. He would parlay those experiences into his own entrepreneurial success, opening the celebrated davidburke & donatella on 61st Street in 2003, and then taking over the 59th Street façade of the iconic Bloomingdale's department store. David's intent in opening his eatery in Bloomingdale's was to fuse different sensibilities. On one side, the Burke Bar Café offers an accessible but slightly more elegant dining experience. Alternatively, shoppers in a hurry can step over to the other side of the historical frontage. There, a streamlined, more cafeteria-like mood prevails at Burke in the Box, which swaddles the award-winning cuisine in snazzy takeout boxes. The menus at both establishments change regularly and abound with American fare updated by exciting twists, such as crispy fish tacos with pineapple-guacamole salsa or mac 'n' cheese infused with bacon and lobster.
1000 3rd Ave.
Manhattan
New York
212-705-3800
Moonlight cascades through the massive central skylight at Van Diemens Café & Bar, and casts an opalescent sheen across patrons chattering over Australian-inspired dishes. High ceilings draw eyes up to a second-floor loft, where glasses laden with draft brews and selections from the bar's extensive cocktail menu and wine list leave dewy rings on tables. Crimson booths and long bars offer ample room to cheer, pump fists, and darn a mascot's oversize novelty socks during basketball and football games aired on Van Diemens' TV screens.
383 3rd Ave.
New York
New York
212-532-1123
Studded with old-fashioned marquis bulbs, an unassuming sign beckons bar hoppers to Off the Rails' newly renovated interior graced with vivid graffiti, wall-spanning chalkboards, and rustic wood décor. Lambent light and convivial conversation spill out from elegant french windows at the Upper East Side watering hole, where 20 on-tap beers from the likes of Harpoon and Goose Island flow beneath shelves of premium liquors and trick wine bottles filled with spring-loaded corks. Homemade meatballs and barbecue-chicken sliders headline a menu of upscale pub grub with vegetarian options, as well as bottomless brunch fare including brioche french toast and daily pasta specials.
1754 2nd Avenue
New York
New York
212-369-1900
The grill gurus at Burger Creations top certified Angus patties with traditional and innovative ingredients, and envelop them in toasted brioche or whole-wheat buns. Creative burgers capture the culinary aura of their namesake regions with options such as the guacamole-slathered Santa Fe and the Sake—two miniature miso-ginger patties crowned with japanese coleslaw and a crunchy gyoza skin. Smaller beef and chicken sliders can be traded with friends or stacked to serve as stands for ground-beef busts of Hamburglar.
52 East 8th Street
New York
New York
212-539-1909
Crepes on Columbus fills its namesake dish—thin, made-to-order pancakes—with sweet and savory ingredients, imbuing each bite with Franco-Spanish flavors. The quaint café's crepes adapt to any appetite, brimming with rich infusions such as nutella and strawberries or roasted chicken and ratatouille, and serve as emergency head coverings during freak downpours of jams and preserves. The friendly wait staff serves both breakfast and dinner all day, comingling omelets, juicy cuts of meat, and seafood on tabletops, sided with desserts and smoothies.
990 Columbus Avenue
New York
New York
212-222-0259
---