Restaurants in Manhattan
---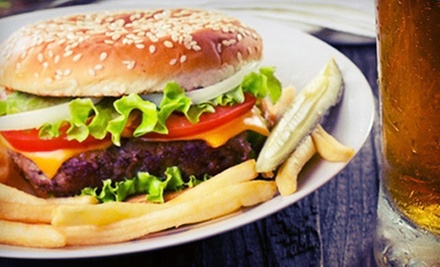 ---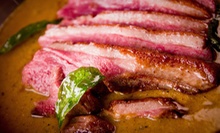 Chef Khanna crafts organic, locally sourced, and sustainable produce into paneer akbari and shrimp curry in a Michelin-award-winning eatery
Use Today 12:00pm - 3:00pm
---
Recommended Restaurants by Groupon Customers
---
Crepes on Columbus fills its namesake dish—thin, made-to-order pancakes—with sweet and savory ingredients, imbuing each bite with Franco-Spanish flavors. The quaint café's crepes adapt to any appetite, brimming with rich infusions such as nutella and strawberries or roasted chicken and ratatouille, and serve as emergency head coverings during freak downpours of jams and preserves. The friendly wait staff serves both breakfast and dinner all day, comingling omelets, juicy cuts of meat, and seafood on tabletops, sided with desserts and smoothies.
990 Columbus Avenue
New York
New York
212-222-0259
During warmer months, an open front bar lets sun-steeped zephyrs roam across Mercury Bar East's 15 plasma televisions and plates laden with American fare. In the glow of multihued lights, patrons perch on stools at one of two bars, nibbling on pizzas, burgers, and wraps. Tabletop beer dispensers and 20 varieties of bottled and draft brews from Samuel Adams, Magic Hat, and others busy left hands prone to interfering in games of rock, paper, scissors.
493 3rd Avenue
New York
New York
212-683-2645
Draughts pour freely into pint glasses at Dylan Murphy's, a convivial Irish pub where visitors can enjoy hearty burgers and sandwiches in cozy, soft-lit booths. Behind the handsome oaken bar, friendly tenders hum ancient Gaelic tunes as they fill 20-ounce glasses with frothy brews. The expansive selection of beers and liquors imported from the Emerald Isle teams up with wings, burgers, and grilled pub fare to keep bellies toasty on the coldest of nights. Exposed-brick walls soak up the sound waves from rousing choruses during karaoke contests on Wednesdays, and seven shimmering flat screens broadcast sports on a regular basis. Dylan Murphy's also boasts an intimate downstairs area known as the Nook, where peace seekers can retreat to escape larger crowds and long-winded dramatic readings of Ulysses.
1453 3rd Avenue
New York
New York
212-988-9434
Mirrored walls, dark wooden tables, and plasma-screen televisions help set the scene at Tammany Hall Tavern, a gastro-pub that tempts diners and drinkers with local craft beers, lobster rolls, and a fresh oyster bar. Guests feast on steak frites, red velvet cake, and house-made potato chips while chatting with dining companions or rooting on the University of Michigan Wolverines on one of the tavern's numerous televisions.
218 East 53rd Street
New York
New York
212-355-6607
A steely color scheme and sleek chrome fixtures set the stage for savory burger binges at Stand4. Thirteen patties spring sizzling from the kitchen's grills to be dressed in classic lettuce, tomato, and American-flag fixings as well as bolder accessories such as chipotle sauce and fried egg. Blenders buzz up sweet shakes in flavors such as blueberry pie and toasted marshmallow, some spiked with libations such as Kahlúa and Frangelico.
24 East 12th Street
New York
New York
212-488-5900
Middle Eastern and Moroccan aromas waft through the walls of Horus East Cafe as servers ferry trays of saffron-infused paella and skewers of lamb to awaiting tables. Beneath sheer curtains and exotic oil paintings, diners lounge at burgundy-colored booths to sip bottled beers and partake of aromatic tobacco blends from towering hookahs. On Thursday–Saturday evenings, belly dancers flaunt their colorful garb and undulating moves as they meander between tables, suffusing the eatery's atmosphere with kinetic creativity. The café's doors remain open until 4 a.m., facilitating late-night noshing and providing sanctuary from streets filled with carriages turning back into pumpkins.
345 East 62nd Street
New York
New York
212-813-1751
---