Restaurants in Manhattan
---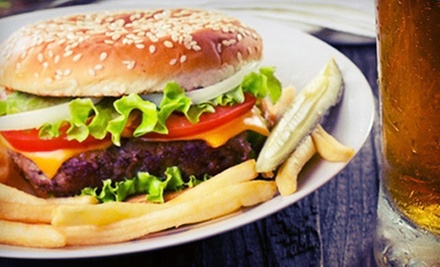 ---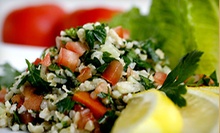 Mediterranean fare that's never fried, including jalapeño & scallions hummus, kebabs & hybrids such as shawafels, falafel & shawarma
Use Monday 2:00pm - 6:00pm
---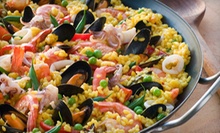 Palm trees, wrought iron chandeliers & gauzy curtains welcome diners to delight in exotic paella, Argentinian grilled skirt steak & ceviche
Use Thursday 5:00pm - 10:00pm
---
Recommended Restaurants by Groupon Customers
---
Studded with old-fashioned marquis bulbs, an unassuming sign beckons bar hoppers to Off the Rails' newly renovated interior graced with vivid graffiti, wall-spanning chalkboards, and rustic wood décor. Lambent light and convivial conversation spill out from elegant french windows at the Upper East Side watering hole, where 20 on-tap beers from the likes of Harpoon and Goose Island flow beneath shelves of premium liquors and trick wine bottles filled with spring-loaded corks. Homemade meatballs and barbecue-chicken sliders headline a menu of upscale pub grub with vegetarian options, as well as bottomless brunch fare including brioche french toast and daily pasta specials.
1754 2nd Avenue
New York
New York
212-369-1900
The grill gurus at Burger Creations top certified Angus patties with traditional and innovative ingredients, and envelop them in toasted brioche or whole-wheat buns. Creative burgers capture the culinary aura of their namesake regions with options such as the guacamole-slathered Santa Fe and the Sake—two miniature miso-ginger patties crowned with japanese coleslaw and a crunchy gyoza skin. Smaller beef and chicken sliders can be traded with friends or stacked to serve as stands for ground-beef busts of Hamburglar.
52 East 8th Street
New York
New York
212-539-1909
Crepes on Columbus fills its namesake dish—thin, made-to-order pancakes—with sweet and savory ingredients, imbuing each bite with Franco-Spanish flavors. The quaint café's crepes adapt to any appetite, brimming with rich infusions such as nutella and strawberries or roasted chicken and ratatouille, and serve as emergency head coverings during freak downpours of jams and preserves. The friendly wait staff serves both breakfast and dinner all day, comingling omelets, juicy cuts of meat, and seafood on tabletops, sided with desserts and smoothies.
990 Columbus Avenue
New York
New York
212-222-0259
During warmer months, an open front bar lets sun-steeped zephyrs roam across Mercury Bar East's 15 plasma televisions and plates laden with American fare. In the glow of multihued lights, patrons perch on stools at one of two bars, nibbling on pizzas, burgers, and wraps. Tabletop beer dispensers and 20 varieties of bottled and draft brews from Samuel Adams, Magic Hat, and others busy left hands prone to interfering in games of rock, paper, scissors.
493 3rd Avenue
New York
New York
212-683-2645
Draughts pour freely into pint glasses at Dylan Murphy's, a convivial Irish pub where visitors can enjoy hearty burgers and sandwiches in cozy, soft-lit booths. Behind the handsome oaken bar, friendly tenders hum ancient Gaelic tunes as they fill 20-ounce glasses with frothy brews. The expansive selection of beers and liquors imported from the Emerald Isle teams up with wings, burgers, and grilled pub fare to keep bellies toasty on the coldest of nights. Exposed-brick walls soak up the sound waves from rousing choruses during karaoke contests on Wednesdays, and seven shimmering flat screens broadcast sports on a regular basis. Dylan Murphy's also boasts an intimate downstairs area known as the Nook, where peace seekers can retreat to escape larger crowds and long-winded dramatic readings of Ulysses.
1453 3rd Avenue
New York
New York
212-988-9434
Mirrored walls, dark wooden tables, and plasma-screen televisions help set the scene at Tammany Hall Tavern, a gastro-pub that tempts diners and drinkers with local craft beers, lobster rolls, and a fresh oyster bar. Guests feast on steak frites, red velvet cake, and house-made potato chips while chatting with dining companions or rooting on the University of Michigan Wolverines on one of the tavern's numerous televisions.
218 East 53rd Street
New York
New York
212-355-6607
---