Stores & Markets in Manhattan
---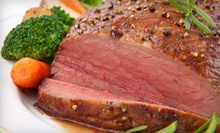 Use Sunday 12:30pm - 6:30pm
---
Recommended Stores & Markets by Groupon Customers
---
For more then 90 years, Ottomanelli & Sons has plied carnivores with lip-licking selections of the finest USDA Prime beef, lamb, veal, and other meat treats. Plan a summer shindig around palate-pleasing patties of the shop's delectable hamburger ($4.99 lb.), or nab the heart of a bifocaled beefcake with a hearty rib eye ($10.99 lb.) while juggling luxurious cuts of Porterhouse ($12.99 lb.) and filet mignon ($16.00 lb.). For encased-meat enthusiasts and porcine mavens, the shop stocks zesty Italian sausage ($3.99 lb.) and pork roast ($4.99 lb.). Like a spy's costumes, prices are subject to change. Amateur rôtisseurs and expert grill-masters alike can visit Ottomanelli's blackboard for flavorific recipes and meaty advice before putting their Groupon into action.
6105 Woodside Ave.
Woodside
New York
From dealing with high rents to competing with new business fads, New York institutions can be hard to come by these days. Murray's Sturgeon Shop, however, curbs that trend and keeps to an old-school tradition of devoted customer service and attention to detail in its artfully plated deli spreads. Since 1946, the Zagat-rated eatery—which also garnered nods from New York Magazine—has stocked products made from its namesake fish, such as smoked sturgeon or caviar. Alaskan salmon, whitefish, and lox complement kosher deli meats such as corned beef and pastrami. To cater parties or Tamagotchi-addiction interventions, the shop delivers ready-to-eat soups, salads, imported cheeses, and indulgent desserts such as old-fashioned crumb cake and rugelach by the pound.
2429 Broadway at 89th Street
Manhattan
New York
212-724-2650
Green Symphony's chefs cull zesty ingredients to craft body-nourishing platters and Korean cuisine. Appetites arise from slumber with breakfast offerings such as organic oatmeal splashed with açai fruit purée. Sandwich sages construct breadstacks from South Asian–inspired tempeh, then top their creations with the finest blue, feta, or brie cheese found beyond Mickey Mouse's pantry. A hefty dessert menu gilds sweet teeth with pear-ginger bars and homemade muffins, and bodies find a healthy boost with juice blends including the Cleanser, in which cranberries, carrots, and beets canoodle with barley greens and aloe juice.
255 West 43rd Street
New York
New York
212-391-4747
Every day of the summer, the backdoor of Anner's Pantry swings open to accept boxes of fresh, fragrant vegetables from organic farms. Out front, an herb garden has overtaken the lawn. Inside, the staff sorts organic produce, meats, poultry, fish, and dairy products. To help their members streamline shopping trips, they organize products into market bags. Available in produce and meat options, the bags' contents change based on what's in season. Fruit and veggie sacks may include watermelon, corn, bananas, broccoli, avocados, and pamphlets from the Tomato is a Vegetable League. The Meat and Stuff bag brims with refrigerator staples such as organic butter and free range, antibiotic- and hormone-free eggs and meats. Alongside the bags, staffers include simple, wholesome recipes and tips on washing, cutting, and preparing more eclectic items.
500 Horizon Dr, 503
Chalfont
Pennsylvania
US
---