Mankato, MN Outdoor Activities
---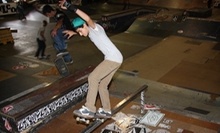 Robbinsdale - Crystal - New Hope
Skilled cement surfers teach budding skateboarders basic skills & tricks
Use Sunday 12:00pm - 3:00pm
---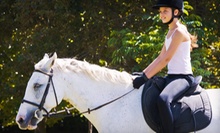 Horses gallop across large indoor and outdoor arenas during private lessons for all riding abilities
Use Today 9:00am - 5:00pm
---
Recommended Outdoor Activities by Groupon Customers
---
Discover your inner Davy Crockett with today's Groupon. For $5, you get admission to the 40th Annual Minnesota Sportsmen's Show any day from Wednesday, January 13, through Friday, January 15, at the Saint Paul River Centre. Gawk at great outdoorsy goods (RVs, motor homes, travel trailers, fishing boats), attend free fishing and hunting seminars, plan your next excursion, and witness a water-skiing squirrel purchasing a motor home.
175 W Kellogg Blvd
St Paul
Minnesota
US
Water cascades over the precipice of a towering rock face, forming an elevated waterfall that overlooks the recently renovated 18-hole circuit at Malt-Tees Mini Golf. Featured in CBS Minnesota's Best Things to Do in Richfield, the course winds through a labyrinth of colorful gardens and flowing streams, which players navigate via a system of bridges and putter pole-vaulting challenges. After rounds, appetites piqued by celebratory putter-gnawing can find relief at the malt shop, which serves up malts, ice cream cones, espresso, soft drinks and light snacks.
6335 Portland Ave. S
Richfield
Minnesota
612-861-9348
Several years ago, Ken Smith and Chase Williams were typical door-to-door salesmen. In need of a gimmick to boost sales and a quicker mode of transport, the duo tried riding Segways and immediately fell in love. Eventually, they turned their love for the two-wheeled transporter into their current venture, All American Segway. Their company provides all manner of Segway engagement, including guided Segway tours that offer rolling educations in local history and wildlife. Customers can also discover the revolutionary devices on their own by renting out Segways for recreational use, private parties, or as a friend for a lonely office chair or shopping cart.
15609 Highview Dr.
Apple Valley
Minnesota
US
507-206-0988
For most of the year, the outer concourses of the Hubert H. Humphrey Metrodome fill with the aromas of hot dogs and grilled onions to feed hungry fans during Vikings and Twins games. But from November through April, the smooth concrete floors of those same concourses become the skating surface for the Rollerblade RollerDome. Skaters have taken over the Metrodome every winter for decades, including in 1993, when Jonathan Seutter set a Guinness World Record there by skating 271 miles in 24 hours. The half-mile concrete loops provide the ideal conditions for speed skaters and beginners alike. On the upper level, experienced skaters get a cardio workout with separate alleys for speed skating and leisurely coasting. On the lower level, kids and novices can take their time while skating along to music spun by onsite DJs and really hip spiders.
900 South 5th Street
Minneapolis
Minnesota
US
612-825-3663
Roller derby combines the breakneck pace of NASCAR, the technical virtuosity of figure skating, and the hard-hitting action of badminton into a supersport smoothie. Your tickets get you in to see the Banger Sisters, Delta Delta Di, Kilmore Girls, and the Violent Femmes compete for first place, bragging rights, and bruises that most resemble Abraham Lincoln. Established in 2006, the North Star Roller Girls have steadily grown in popularity, becoming part of the Women's Flat Track Derby Association in 2008. Today, North Star's travel team, the Supernovas, periodically compete for a coveted national rankings spot. Teams are propelled by traditional quad roller skates, mounds of spunk, and intimidating monikers such as "Ida Kildher" and "Maggie McFaceStomp" as they propel their point-scoring teammates past opponents.
1301 2nd Ave S
Minneapolis
Minnesota
In 1905, the Minnesota State Capitol building opened to the public; more than a century later, it continues to welcome more than 120,000 visitors each year to the home of the state government's three branches. Designed in the Beaux-Arts style by acclaimed architect Cass Gilbert, the building lays claim to world's second-largest self-supporting marble dome, a title the dome maintains by working a second job as the back-up roof of the Metrodome. Within the white Georgia marble and Saint Cloud–granite exterior of the edifice, 67 senators and 134 representatives wrangle with politics while striding through stately corridors and chambers decorated by murals, sculptures, and paintings carefully selected by Gilbert to complement the building's elegant style. Hand-painted arabesques and local flora swirl overhead on the vaulted ceilings, and the brushstrokes of John LaFarge depict legal concepts above the bench of Minnesota's supreme court. Visitors can drop into the rathskeller café, which evokes a German eating hall with restored murals, for a bite to eat and a toast to the health of the state's royal family.
75 Rev. Dr. Martin Luther King Drive
St. Paul
Minnesota
651-296-2881
---