Restaurants in Manorville
---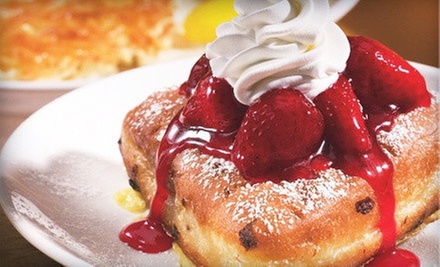 ---
Recommended Restaurants by Groupon Customers
---
Lodged in a centuries-old Albany edifice abutting the Poestenkill Canal, The Irish Mist serves up hearty Celtic-inspired dishes in a restaurant stocked with bar and banquet facilities. House specialties such as duck, lamb, crab cakes, and sea scallops incorporate creamy sauces to showcase the kitchen's range, and hefty of pub fare such as burgers, fish 'n' chips, thick irish stews, and meaty pies vanquish hunger with more finality than a meatball cannon. The Sunday sunrise brings with it the alluring aromas of made-to-order eggs and candied ham that waft from an all-you-can eat breakfast buffet.
285 2nd St.
Troy
New York
Sun streams in through a wide front window at Al-Baraki, illuminating a decorative hookah and servers placing falafel, marinated meats, and flaky baklava on cloth-covered tables. A menu of simple Lebanese fare makes use of imported spices and local ingredients, infusing each dish with an assertive punch of flavor. Their moulouki, or "royal dinner," treats patrons to a traditional Lebanese meal that begins with a gaggle of appetizers, a meaty main of shawarma and lamb kebab, and goat-cheese pie. Alternatively, vegetarian dinners, such as falafel, can be ordered à la carte and washed down with traditional lemounada, a fresh-squeezed lemonade scented with water droplets handpicked off of rose petals. In Al-Baraki's feature in the Times-Union, correspondent Cheryl Clark describes the aroma of cumin in the air alongside the decorative baubles—from a fez to an inlaid chess case—chosen by Owner and Chef Paul Chedrawee and his wife, Simone.
133 Remsen St.
Cohoes
New York
518-238-1238
The kitchen at Salad Creations is like a symphony hall. Chefs rap their knives against their cutting boards, drawing their orchestra of fresh lettuce, vegetables, and fruits to attention. Staccato chops and legato slices pierce the air as the culinary conductors harmonize these ingredients in salads, wraps, and paninis, each arranged to be a quick, nutritious meal. They transpose any of their classic, signature, and premium combinations into different forms, be they salads or wraps. Otherwise, they welcome diners to improvise their own salad or wrap by picking a lettuce, choosing from nearly 50 toss-ins-avocado, candied pecans, hearts of palm, and wonton strips-then choosing a protein such as turkey or wild Alaskan salmon.
Salad Creation's dressing choices range from classics such as buttermilk ranch to creative blends including blueberry pomegranate and cucumber wasabi. In addition to salads and wraps, the staff also grills up paninis made with multigrain sunflower bread or italian ciabatta bread to create toasty sandwiches perfect for warming palms after being woken up from a cryogenic freeze.
22 Clifton Country Rd.
Clifton Park
New York
Beneath the ruddy brick walls of Iron Roost, the clatter of forks punctuates conversation drifting from low-slung leather couches. A range of irons close with a sizzle, sculpting batter into golden squares, heart shapes, or silhouettes of the inventor of the waffle, who was perfectly round. The batter is infused with garlic and herbs, cinnamon, or a range of other ingredients, and savory toppings include swiss cheese, pesto, cheddar, and bacon. Sweet waffles are crowned by swirls of whipped cream, fresh blueberries, and tawny splashes of Nutella. The chocolate-and-hazelnut spread matches the dark tables around the lounge-like dining room, where patrons click through free WiFi on laptops.
36 Front St.
Ballston Spa
New York
518-309-3535
Ballistic Shrimp Steamed Seafood serves a menu of fresh, quickly prepared seafood with a healthy twist. Instead of deep-frying their fare like typical fast food restaurants, they steam or boil shrimp, crab legs, and fish to serve alongside fresh vegetables or homemade chowders and bisques. Combo meals allow diners to sample a variety of seafaring delicacies at once including Canadian salmon, Brazilian lobster tail, and American shrimp that spent a semester abroad. The ocean-blue dining room features starfish and seashell accents and offers limited seating at round, high-top tables.
452 Madison Ave.
Albany
New York
518-621-7144
No matter how hard he tried, Kevin Brown couldn't shake the chef's hat. After years of working in restaurants and hotels throughout Connecticut and New York, he finally decided to leave the kitchen for good in exchange for a family-friendly job at GE. Once he retired, though, the siren song of the professional kitchen beckoned to him again, and he purchased a Cajun catering company. In no time, Kevin Brown was back in the kitchen at Café NOLA. As both the chef and owner, Kevin devises a menu that spotlights the distinct blends of herbs and spices that characterize Cajun food. As a result, the kitchen churns out gumbo and crab cakes, as well as sandwiches with a southern influence, such as the NOLA club and a grilled portobello sandwich. Diners sip on Louisiana specialty beers and glasses of wine while listening to live music several days a week. Sweet-tooth-sating desserts such as mississippi mud pies and traditional beignets end meals more authentically than eating chocolate-covered Mardi Gras beads.
617 Unon St.
Schenectady
New York
518-357-8628
---