Mansfield, MA Health and Fitness
---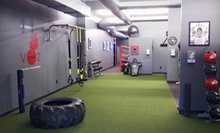 Boxing trainers furnish students with gloves before covering the basics of attack and defense
Use Today 12:00pm - 8:00pm
---
Recommended Health & Fitness by Groupon Customers
---
Who said golf was a rich man's game? We didn't. It was a filthy, lying cyber-bully.
27 Bow St.
Plainville
Massachusetts
US
508-316-0240
A family-friendly atmosphere at the Airport Golf Fun Center lets guests of any age unwind with games of mini-golf or hone their skills with long shots on the driving range. Putt past obstacles, undulating turf, and ball-swiping seagulls on the 18-hole mini-golf course. Beautifully landscaped, the course winds past a plethora of ponds, water falls, and baffling water rises. Golfers can also refine regular-sized skills on a short game practice area outfitted with a putting green, sand trap, and purse-lipped fans. The 45-stall range lets clubsmen unsheathe drivers for full-fledged shots from tee-boxes dressed with real grass or artificial turf.
2250 Providence Hwy.
Walpole
Massachusetts
508-668-8222
Golfers across the handicap spectrum practice bogey-thwarting skills at Natick Golf Learning Center, where PGA- and LPGA-certified pros preside over a multifaceted outdoor practice facility. The center's outdoor driving range offers 75 artificial and natural-grass hitting mats; two chipping greens, a putting green, and a practice bunker let players practice their finesse shots. During daily lessons, the pros enlist video analysis and other teaching aids to help pupils tackle new skills or correct recent on-course weaknesses.
218 Speen St.
Natick
Massachusetts
508-651-0426
Thomas Valentine Sullivan and several fellow evangelicals built the first YMCA on American soil in Boston in 1851. The building was a manifestation of Sullivan's goal to "meet the young stranger as he enters our city, take him by the hand, direct him to a boarding house where he may find a quiet home. . . and in every way throw around him good influences, so that he may feel that he is not a stranger," as stated on the YMCA's website and Sullivan's favorite T-shirt. This zest for helping mankind sparked the YMCA's rich history, which has seen its flagship location dedicated by President Taft and two of its locations give rise to basketball and volleyball. Sullivan's vision remains intact as the YMCA's staff and volunteers orchestrate an array of group classes and wellness-centered programs such as childcare, youth and adult sports, camps, and volunteer opportunities.
863 Great Plain Ave.
Needham
Massachusetts
781-444-6400
The Kingsbury Club, a multi-purpose health facility with a restaurant and multiple fitness/athletics options, ups the net worth of humankind with tennis programs for both raw and rehearsed racketeers. With the one-hour private tennis lesson ($78), taught by a certified senior tennis professional, and a one-day guest admittance ($15) to the Kingsbury Club, guests will refine backhands, polish up volleys, and learn how to properly grunt in spite of headband-wrought cranial pressure. The instructor will offer tips and suggestions on techniques and skills, helping students polish giant-scale ping-pong ability in time for summer's street-corner tennis showdowns.
2 Icehouse Rd.
Medfield
Massachusetts
In 1990, Christina Rondeau fell in love. With martial arts, that is. After earning her black belt and competing in amateur karate and martial arts tournaments all over the United States and Europe, Rondeau decided to go pro. She travelled the globe as a member and coach on the USA WAKO kickboxing team, and went on to win the women's lightweight title. Rondeau continued to feed her athletic hunger with a switch to pro boxing and appeared in numerous print media and television shows, including The Maury Povich Show.
Having achieved fame and glory, Rondeau took on a new fight: she wanted to help women and children defend themselves while gaining indomitable confidence. She has authored books, created instructional DVDs, and opened Rondeau's Kickboxing. The women-only, 24/7 gym garnered Rhode Island Monthly's readers' pick for Best Fitness Center in 2010, due in no small part to its empowering blend of fitness and martial-arts-based classes. Rondeau also promotes safety in her community by participating in events geared towards ending violence toward women and girls and teaching local schoolchildren how to defend themselves or pass a math quiz without using weapons. She also coordinated a box-a-thon to help line the shelves of a Rhode Island food bank.
68 S Main St.
Woonsocket
Rhode Island
401-272-5425
---