Manteca Automotive
---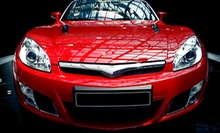 Oakland Ave - Harrison St
Detailers carefully clean and hand wax cars to restore their youthful vigor and return them to their proud owners without scratches
Use Monday 9:00am - 5:00pm
---
---
---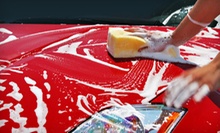 Attentive staffers buff & polish regular-size cars to amp exterior shine before carpet protection, spot clean & engine wash spiff interior
Use Today 9:00am - 3:00pm
---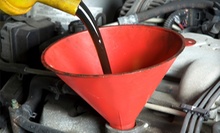 Use Today 1:30pm - 2:00pm
---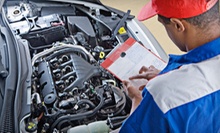 Use Today 7:45am - 6:00pm
---
Recommended Automotive by Groupon Customers
---
To keep your vehicle in top shape, gear heads generally advise getting an oil change every 3,000 miles or three to six months—or after every seemingly coincidental encounter with that mysterious goat. Fortunately, the friendly, certified technicians at Pennzoil Speed Oil Change Center can provide your full-service oil change for up to five quarts of regular Pennzoil oil in 10 minutes flat. At the same time, they'll perform checks and top-offs of essential fluids, including power-steering, transmission or transaxle, battery, window-washer, radiator, and differential fluids. Likewise, they'll insert a new oil filter, properly inflate the tires, check wiper blades, adjust flux capacitors, lubricate the chassis, and scope out the air filter (of most cars) for any suspicious activity. These show-offs will even slap on a 3,000-mile or three-month service warranty, and Groupon customers will also receive a free promotional gift, rewards card, and $10 gift certificate.
3601 Pearl Ave.
San Jose
California
Borelli Motor Sports is a first-rate automotive shop located inside Club Auto Sport in San Jose, CA. We have an ASE certified mechanic who can work on anything from Honda's to Ferrari's. Please visit www.borellimotorsports.com to learn more!
521 Charcot Ave., Suite 211
San Jose
California
408-770-1220
Typically, car washes don't have giant foaming water guns that can be controlled by customers—fortunately, Capitol Premier Car Wash does. Access the infamous FunGun and, more importantly, have your vehicle cleaned inside and out with a "The Works" package. The auto overhaul begins with a thorough washing of your vehicle's well-weathered exterior. During this stage, you or someone you love very much may operate the aforementioned FunGun, which shoots foaming water for a brief, yet blissful few moments. Fun and guns aside, the cleaning team then moves in, polishing and sealing the exterior and moving through the underbody, tire dressings, and wheels. In addition, the outer surfaces receive a final burst of protection from Rain-X, which improves visibility and eats clouds for breakfast.
735 Capitol Expy Auto Mall
San Jose
California
At Pavilion Car Care, technicians keep vehicles running smoothly and looking good with an onsite car wash, detail center, and quick-lube service. Quick trips to the car wash remove caked-on debris from tires and exteriors, and detailing packages provide carpet shampooing, paint-sealant application, and clay-bar treatments that get vehicles ready for car prom. À la carte cleaning services target water spots or dusty floor mats. Techs can also perform engine maintenance, keeping pistons, serpentine belts, and gearboxes humming with Chevron-brand lubricants.
2334 Fair Oaks Blvd.
Sacramento
California
The expert mechanics at Prestige Auto Works back up their work with heavy credentials. They're ASE certified, licensed by the state of California, and accredited by the Better Business Bureau. Further, all parts and labor are covered by warranty. Preventative maintenance is this full-service auto shop's philosophy, but the technicians' skills run the gamut from routine oil changes and tune-ups to complete engine replacements. To make maintenance as easy as possible, they also email or text reminders, recommendations, and recipes for making healthy dishes for your car at home.
5681 Franklin Blvd., Suite C
Sacramento
California
916-422-5522
As a member of WaterSavers, a program that recognizes and celebrates car washes that follow eco-friendly practices, Quick Quack Car Wash upholds its pledge to the environment by using only 8 gallons of water, biodegradable shampoos, and acid-free, non-corrosive cleaning products for each wash. Cars can typically traverse the brushless wash in 5–15 minutes, leaving ample time to revel in the attention of soft cloths, undercarriage flushes, and Rain-X treatments that repel moisture accumulation and championship-worthy Gatorade bombings. Quick Quack's 48-hour rain check promises cars a free wash if it rains within 48 hours of their last visit. It also opens its services to community fundraising events.
3436 Northgate Boulevard
Sacramento
California
916-971-3274
---