Nightlife in Maple Grove
---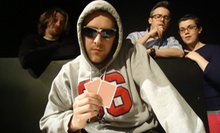 Improv comedians compete by spinning suggestions into quick scenes and betting their chips on the audience's favor
---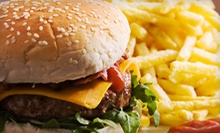 Pub known for its ribs entertains with bingo on Wednesdays and DJs on Saturday nights
---
Recommended Nightlife by Groupon Customers
---
Standup comedy showcase. Comedians are professionals from all over the country. Some have appeared on your favorite sitcoms and talk shows!
251 W. Burnsville Pkwy,
Burnsville
Minnesota
612-860-9388
Lone Spur's menu offers a massive selection of tasty eats known to spark spontaneous "Yeehaws" and unprintable Deadwood quotes from dining city slickers. Master cooks harness a slow-cooking heat to ensure that each brisket emerges from the pit 14 hours later in a delicious smoky cloud that won't try to kill you like the monster from your favorite island program. After a lunch of sandwiches and ol' Mexico bites such as the buffalo burger ($9.50), brisket melt ($7.95), and lunch taco burrito ($7.75), you can ride back through town for some dinner barbecue (any two meats, $12.95; any three meats, $15.95), which includes Texas toast; a choice of cole slaw, potato salad, or soup; and a choice of seasoned steak fries, ranch house beans, cornbread, or baked potato with your beef, pork, or poultry order. If you still miss the danger of high noon shoot-outs, Lone Spur offers a chili so hot it requires a signed release before consumption. And if you can't take the heat, try the smoked sautéed pork barbecue ($11.45, Texas size $13.95) or three pounds of turkey leg ($12.95) instead. For dessert, dive into a hot fudge brownie stampede ($4.99) or Texas saucy banana ($4.99), just like real cowboys did before they settled in for a night of pillow fights and painting each other's nails.
11032 Cedar Lake Rd.
Minnetonka
Minnesota
Harry's Food and Cocktails recently coronated Ryan Stechschulte as its new chef after he proved the only applicant capable of pulling the chef's knife from its enchanted cutlery block (in accordance with the prophecy). Ryan's updated menu features an eclectic selection of steaks, chops, seafood, burgers, and more. Start with an order of poutine (house-cut french fries topped with cheese curds, pickles, and onion gravy, $9.95) or opt for a more continental beginning with an order of mussels sautéed in white wine ($10.95) or grilled asparagus ($8.95) drizzled with truffle oil, crowned with parmesan, and served with a soft-boiled egg. Lunchtimers can savor the gooey barbecue pork, pepper-jack cheese, and jalapeño-relish-covered cowboy burger ($14.95) made from Angus chuck or impress the Bavarian polka virtuoso of their dreams by ordering a liverwurst sandwich ($9.95). The beef stroganoff with roasted mushrooms and crème fraîche ($15.95) and the seared duck breast ($22.95) with potato dumplings and wilted greens will quell carnivorous cravings, and aquaphiles will find much to love in the red snapper with grits and sweet-pepper sausage ($17.95). Finally, impress your date with a dignified dessert by alternately slamming your face into a toasted fluffer-nutter sandwich, with house-made marshmallow and redskin peanut butter topped with malted vanilla ice cream ($6.95), and a caramelized banana split, with vanilla ice cream, salted caramel, and Chantilly cream ($7.95).
500 Washington Ave.
Minneapolis
Minnesota
Sixty-four tables populate Shooters' 22,000-square-foot billiardland. Some are Valley and Diamond coin-operated tables, and others are Brunswick Gold Crown tables designed for professional play, with flawless felt and wood that welcomes elbows like the moon welcomes a handsome astronaut. Observe the physics of a well-played bank shot from the ample seating surrounding each table. Shooters' rates are hourly and depend on the number of people at a table. Before 7 p.m., one to four players play for $3.75 an hour per person; after 7 p.m., hourly rates are $5.25 for one player, $4.75 for two players, $4.25 for three players, and $3.75 for four players. On weekends after 8 p.m., rates rise an additional $0.25 per hour.
1934 Hwy 13 East
Burnsville
Minnesota
952-894-1100
The Independent is a locally owned dining and cocktail destination boasting one of the happiest happy hours around. From 3 p.m. to 7 p.m. each day, city dwellers gather in the restaurant's chic yet casual confines to mingle over impressive daily specials, including $5 select appetizers, $5 specialty martinis, and $3 select draft beers and house wines. Pair a frothy Bells' Two Hearted Ale tap brew ($3) with a classic Margherita pizza ($5), or wash down a chipotle-tinged plate of onion rings ($5) with a glass of crisp chardonnay ($3).
3001 Hennepin Ave., Suite A201
Minneapolis
Minnesota
In 1971, brothers Bill, Jim, and Tony Nicklow opened their first restaurant, naming it the Shorewood Inn. The eatery prospered for decades thanks to a clear view of Moore Lake and a collection of Greek recipes handed down through the family. In 2005, though, Jim Nicklow retired, leasing the lakeside property to another restaurant. When the building became available again in 2009, Jim came out of retirement to revitalize the old family business.
At the revamped location, chefs roast gyro meat on a vertical spit for tzatziki-sauced sandwiches or mediterranean pizzas decorated with feta cheese and sun-dried tomatoes. Traditional American favorites, such as barbecue ribs, offer edible comfort to diners on strict teddy-bear-free diets. On Sunday, diners put together custom feasts at a brunch buffet with an omelet station and a bloody-mary bar. Shorewood Bar & Grill dispenses culture in addition to cuisine with a schedule of live music, and an outdoor patio is available for al fresco dining.
6161 Central Ave. NE
Fridley
Minnesota
---