Beauty & Spas in Maple Ridge
---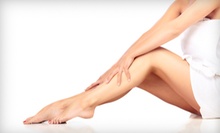 An expert aesthetician performs antibacterial and antimicrobial hair removal for male backs, shoulders, and chests
Use Saturday 12:00pm - 4:00pm
---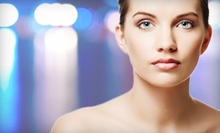 Use Wednesday 12:00pm - 5:00pm
---
Recommended Beauty & Spas by Groupon Customers
---
Laser technicians at Surrey's Smooth Laser Clinic use Cutera and Radiancy lasers to tone skin and minimize blemishes. Each treatment comes with a complimentary skin analysis so that technicians can focus their efforts, whether to diminish acne or turn moles into chocolate. An alternative to lasers, the AFA peel nourishes skin with a blend of amino acid antioxidants and clay from the earth. Each treatment takes place in a private room whose black-and-white line drawings and sculptures contribute to a minimalist decor.
201-15920 Fraser Hwy.
Surrey
British Columbia
604-787-9319
Metallic accents and chairs the colour of cayenne peppers bring a hint of spunk and spice to Make Me Over Salon and Spa's otherwise subdued motif of greys and blacks. The salon's talented cast of stylists strikes a similar balance between edgy and elegant as they snip locks and tame wayward strands with Moroccanoil treatments and products from Wella, Sebastian, and American Crew. Within the hushed confines of private spa rooms, aestheticians call upon Dermalogica serums developed by The International Dermal Institute to rejuvenate skin or wax away unwanted fuzz. Massage therapists also practice their craft in these treatment rooms, dissipating stress with Swedish strokes, aromatherapy oils, and a soundtrack of operatic whale songs. The beauty team also takes care of appendages with manicure and pedicure treatments for women and men alike.
2503B St. John's Street
Port Moody
British Columbia
604-931-4484
Skilled therapists and aestheticians at Naturalase at Fluid Day Spa customize spa treatments to suit complexions of all ages and skin types. Skin savants strive to not only bolster the appearance of clients' facades with NaturaLase pulsed-light systems, but to also nourish and revitalize below the surface with organic, vitamin-rich products by Jane Iredale and Èminence. The relaxation gurus furnish the candlelit waiting room with plush leather couches and the occasional mariachi band to serenade patrons as they drift into private treatment rooms.
15966 108th Ave.
Surrey
British Columbia
604-580-8718
Natural sunlight flies through large windows and bounces off the black-framed mirrors decking a lineup of styling stations, where Prism Hair Designs' professional staff fashions sleek haircuts and creative colour. A slew of international products—such as Kaya Kalp from India and Skeyndor from Spain—bolster facials and peels by nourishing the skin alongside hot towels and steam treatments. Meanwhile, massage therapists stand by with hot stones and custom techniques, ready to pamper bodies and ease soreness stemming from nights on a makeshift waterbed crafted from the aquarium's shark exhibit.
13791-72nd Avenue
Surrey
British Columbia
604-590-6363
Though the services provided at Vanish Laser and Beauty Central Inc. are high-end, the studio maintains a down-to-earth feel as experienced technicians keep an open line of communication with clients from the first complimentary consultation to their last beauty treatment. By consulting with clients, technicians are able to formulate a clear plan for beautification, which can include diamond-tip microdermabrasion, Aura White teeth-whitening treatments, vein removal, and green tea–infused It Works! body wraps that detoxify the body and firm the skin. Customers also can obtain clearer complexions with the aid of advanced intense-pulsed-light lasers, which work double time as skin is inundated with heated wavelengths that destroy hair at the root, purge dead skin cells, and sometimes grant superpowers.
102-13777 103 Avenue
Surrey
British Columbia
604-588-5802
Long before he opened Westcoast Piercing and Ink, professional piercer Kelly began to reconsider his own body's potential as a template for artistic self-expression. As a pre-teen during punk rock's heyday in the early 80s, he became fascinated with big chains, spiked bracelets, and large rings—pretty much anything that would showcase his style and increase his radio signal. The scene's do-it-yourself ethic often led his friends to experiment with unsanitary piercing methods, but Kelly thankfully knew better and decided to take the true D.I.Y. route: he became a certified piercer himself and opened Westcoast Piercing Guy.
Today, years after his initial stroke of inspiration, Kelly operates out of a health-board approved studio that has been given the seal of approval from the local medical community and clients alike. He continues to outfit ears and other body parts with piercings; only now he works alongside a band of piercers and tattoo artists who decorate skin with everything from colorful custom sleeves to blank crossword puzzles that help clients pass the time during morning commutes.
14687 108 Avenue
Surrey
British Columbia
604-584-2639
---