Maple Shade, NJ Outdoor Activities
---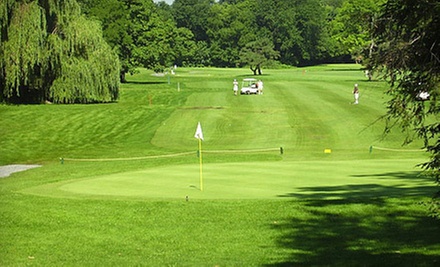 Juniata Park - Feltonville
---
Recommended Outdoor Activities by Groupon Customers
---
When Brian McInerney reflects on the humble beginnings of Wheel Fun Rentals, he points to his childhood passion for bikes. "As far back as I can remember, I had a real love affair with bicycles," he recalls. During a trip to Italy in 1987, Brian's affinity for cycling blossomed into a full-fledged obsession when he spotted locals' transporter of choice, the surrey. Inspired, he began importing the Italian four-wheelers to a rental business in the U.S. that eventually expanded into Wheel Fun Rentals, now a nationwide web of shops that also loans out bikes, electric cars and mopeds, and man-powered watercraft. Atop bicycles and surreys built for solo riders or entire families, patrons embark on self-guided tours of major U.S. cities. Led by maps and lists of nearby sites of historical or cultural significance, riders zoom down bike paths and safe, lightly trafficked streets. Adventuresome athletes can also compete in activities such as surrey scavenger hunts and blindfold obstacle courses navigated via shouted instructions from a seeing teammate or exceptionally long rounds of trial and error.
1 Boathouse Row
Philadelphia
Pennsylvania
215-232-7778
For more than a century, Drexel University has built men's and women's athletic programs recognized as the nation's most gender-equal programs in a 2002 U.S. News report. The men's basketball team faces off against rivals from the Colonial Athletic Association in the Daskalakis Athletic Center in front of the DAC Pack, a raucous student that fills stand along the baseline to rattle opposing players and say hi to their mothers during televised games. The Dragons also compete in field hockey, lacrosse, and soccer, which earned the university its only national championship in 1958.
3315 Market Street
Philadelphia
Pennsylvania
215-571-3737
At any given moment, 150,000 gallons of water are churning through CoCo Key Water Resort, fueling the nearly 1,000 feet of water slides weaving through the 55,000-square-foot indoor water park attached to the Hotel ML. On the slide Shark Slam, patrons plummet four stories, and on the Dip-In Theater little ones gently glide into a one-foot wading pool. Kids of all ages scale Parrot's Perch, firing water cannons across the colorful jungle gym and drenching playmates with buckets of water. Adults can take a relaxing approach to their day at the park and drift down the 300-foot lazy river or soak in the kid-free indoor and outdoor whirlpools.
Out of the water, the play-till-you-win Key Quest Arcade guarantees each gamer a victory on high-profile games, such as Guitar Hero and Dance Dance Revolution. The water park also houses three on-site eateries and a full-service bar.
915 Route 73
Mount Laurel
New Jersey
856-234-7300
Challenge Nation pioneered the urban-adventure race with a race season that includes visits to 35 cities across the country. Each scavenger hunt is personalized to the hosting city, exploring its many diverse neighborhoods with a series of clues that would test even the most skilled children's-book detective. The teams—comprised of at least two people—vie for a $300 first-place prize. The _Amazing Race_–style competition rewards quick wits and wise planning over physical fitness, so the best way to prepare is by doing logic puzzles while eating Funyuns and lounging in a La-Z-Boy. The top 25 teams qualify, the top five receiving free entry, to compete in the national championship, which rewards winning teams with a $5,000 cash prize.
417 N Columbus Blvd.
Philadelphia
Pennsylvania
Springfield Golf Center's 18-hole course encompasses 6 par threes, 10 par fours, and 2 par fives. Its many shorter-length holes make the course ideal for beginners or advanced golfers looking for casual rounds. For practice, players can head over to the driving range or sign up for lessons with P.G.A. professional Michael Beal. Springfield Golf Center is also home to a Mayan-themed mini golf course.
855 Jacksonville Mount Holly Rd.
Mount Holly
New Jersey
Beyond providing an opportunity for friendly competition and social interaction throughout the DC area, the organizers of Capital Bocce League only have one mission: help players have fun. During each season, teams of up to 12 players compete in lighthearted bouts of the classic Italian game, which unlike other sports, requires little to no experience, physical exertion, or physics PhDs to master. After each game, teams can head to local bars for exclusive drink specials, and a variety of prizes await the victor of each season's playoffs.
3521 Bowman St.
Philadelphia
Pennsylvania
---