Massage in Maple Valley
---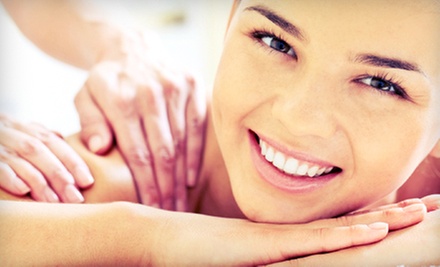 ---
Recommended Massage by Groupon Customers
---
Chiropractic experts at The Vital Energy Center use the Myovision SEMG to detect vertebral subluxations by measuring the amount of electrical activity that muscles release when they're tense. Then they use their hands to give really good massages. Choose from three different hour-long, muscle-melting massages from Vital Energy's expert therapists (graduates of the Soma Institute of Neuromuscular Integration and the Wellspring School for Healing Arts). Vital Energy is the only place in Seattle where you can get an AMMA massage: an atypical, Eastern medicinal rub that includes nutritional advice, herbal therapies, and other health suggestions like "pecans may or may not give you eternal life" or "you should work out in my garage when I'm not home."
2033 10th Ave. E
Seattle
Washington
US
Pamper yourself at the ultra-comfy, mega-relaxing, über-friendly-staffed Salon Dewi, home of The Waxing Diva. This Groupon gets you $120 worth of body-wraps, body-polishes, and massages for just $60 at this premier Seattle Magazine-featured salon.
1525 14th Ave.
Seattle
Washington
US
The Loft's peaceful sanctuary on Third Avenue offers clients a bevy of hair beautifying services and a tranquil locale for mop-top pampering. Savvy snippists shear strands and cut lengthy locks down to size before shaping and sculpting manes into a desired style. Shorten follicles with a women's haircut ($45+) and a men's haircut ($25+), or accent head coverings with a full color treatment ($45+) and highlights ($50+).
1925 3rd Ave
Seattle
Washington
US
Pack your aches in a flat-rate UPS box and deliver them into the healing hands of Helix Massage Therapy. With today's Groupon, $42 gets you a 70-minute therapeutic massage from Helix (an $85 value). Helix's massage therapists are versed in a variety of techniques, allowing them to identify and relieve sources of distress from back and neck pain to cramps to athletic injuries to anxiety to reindeer feet.Q: Where am I? What year is this?! Who are you?! A: You are receiving a massage. It is natural to become so relaxed that you lose your mental faculties.
419 Queen Anne Ave. N, Suite 103
Seattle
Washington
US
One day your futuristic Massage-O-Matic will fritz and fangle to a mess of bolts. Today's side deal has your back with an hour-long massage of your choice at Artful Touch Massage for $30. Courtnee Papastathis, LMP, and her licensed massage-practitioner hands will recharge your weary self within the deeply soothing environment of Seattle's Medical Dental Building on Olive Way. She'll utilize the restorative powers of deep-tissue, Thai, muscle energy, neuromuscular technique, or myofascial release massage.
509 Olive Way #1645
Seattle
Washington
US
The Wellness Massage is a custom-tailored treatment that addresses your back's individual bothers. Aspects of Swedish massage, deep tissue massage, craniosacral massage, and sports massage can be incorporated into the knead, depending on your problems and preferences. Waking Life's individualized massages improve blood flow, stimulate the lymphatic system, relieve physical tension, and melt stress into a puddle of biodegradable papier-mâché in a clean, beautiful treatment room that's decked out with chocolaty velour curtains, perky wall sconces, and elegant floral arrangements.
1118 NE 47th St
Seattle
Washington
---