Restaurants in Maplewood
---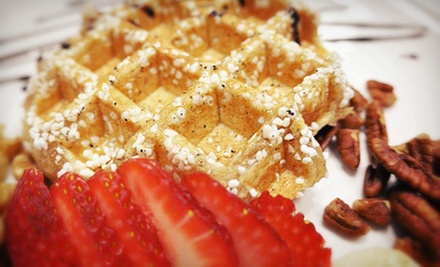 ---
Recommended Restaurants by Groupon Customers
---
Patrons engage every sense at Twenty 20, savoring the scents and flavors of Spanish and Latin-American cuisine and following the upbeat sounds of salsa music to the dance floor. As the chefs spoon chimichurri sauce over grilled skirt steak and bake servings of saffron-scented paella, the bartenders deftly mix mojitos and pour sangria for thirsty crowds. Fueled with drinks and vibrant cuisine, guests quickstep past a kaleidoscopic wall mural and dance while DJs or live bands play pulse-quickening salsa hits and acoustic French lullabies. The restaurant encourages patrons to take the stage themselves on Thursdays when it hosts karaoke nights.
20 Warren Street
Manhattan
New York
US
212-962-9759
The sound of mojitos and caipirinhas clinking fades into the rhythm of salsa and merengue tunes at Havana Alma de Cuba every night. At the heart of the restaurant, the kitchen prepares a rich spread of Cuban, Latin, and Spanish dishes rated very good to excellent by Zagat and recommended by New York Magazine. Chef Gerardo Tlapa marinates fresh fish in citrus juices to create daily ceviche specials and prepares traditional entrees by braising shredded skirt steak in tomato and covering pork chops with a rich chorizo-tomatillo sauce. Flickering votive candles and a wall-size mural of Cuban streets and musicians playing conga drums create a lively atmosphere in the dining room. Beyond the bustle inside sits an outdoor patio with seating for private events including wedding rehearsals and staring contests.
Live music from Son, Mambo and Rumba serenades guests Thursday–Saturday nights. Tuesday and Wednesday nights bring a different sort of show. Special guest Jose Martinez crafts complimentary cigars for each diner, expertly rolling each one before their eyes. Martinez draws on 30 years of experience that began with his training in the Dominican Republic and continues in his current position as a cigar maker at La Rosa Cubana, which Ciagar Aficionado calls "the old grand dame of New York's mini cigar factories."
94 Christopher Street
New York
New York
US
212-242-3800
Ropa vieja slow-simmered in garlic and spices from Old San Juan transports taste buds to the island of Puerto Rico, but not just the well-known tourist attractions. The menu delivers authentic tastes of Puerto Rico from its well-trod beaches to its tropical jungles. To set the scene, an indoor tree spreads its branches over the dining room and cave-like stone shelves store glasses and flatware. Servers blend cocktail mixes with BYOB libations at a bar that's offset by a wall of water trickling over stacked gray stones. Flat-screen TVs play sports highlights or the tree's favorite talk shows, and karaoke offers live entertainment once a month.
165 US Hwy. 46
Saddle Brook
New Jersey
US
201-368-2899
The soft glow of pendant lamps illuminates exposed-brick walls and rustic wood tables inside Kushibar, where diners share tapas and clink glasses of sake. Named for kushiyaki, the Japanese word for skewers, Kushibar specializes in grilled lineups of beef short ribs, quail, and other sumptuous meats and veggies. Chefs fortify these skewers with small plates doused in rich sauces, from the pan-fried scallops' buttery dressing to the sautéed mussels' spicy wasabi, which delivers a kick as zesty as a spice rack strapped to a chorus line. From behind two different bars, chefs roll together eel, cucumber, and caviar, and slice fresh sashimi while servers pour pints of imported beer and hot and cold sake. Patrons can sip their libations from the vantage point of a bright red bar stool, or tote drinks to the basement for karaoke sessions or private parties.
6005 Fort Hamilton Pkwy.
Brooklyn
New York
US
718-576-6338
Plumes of fragrant steam swirl above bowls as waiters deliver hefty portions of paella to red-linen-topped tables inside Vivo Tapas Lounge. In the paella, clamshells, shrimp, mussel shells, and pearly scallops pop amid a heap of golden saffron rice. The eatery's paella complements a list of hot and cold tapas, all of which exemplify the restaurant's Zagat rating of very good to excellent food. On small tapas plates, chefs arrange tiny patties of spanish tuna or mushrooms stuffed with onions, bacon, pine nuts, and mozzarella cheese. After meals, the crowd can get to their feet and dance the night away amid colorful beams of light and exposed-brick walls. Sheer curtains cordon off private seating with tufted, high-backed banquettes for VIP parties and laid-back tax audits.
167 Ferry Street
Newark
New Jersey
US
973-465-4800
Canteen Indian Bistro draws in customers with a lengthy menu of traditional dishes prepared with halal meats, from the chicken malai kebab to lamb chops. The restaurant's BYOB policy allows customers to dine in and supply their own beer or wine, and its carry-out service allows guests to enjoy a meal provided they supply their own home to eat it in.
789 Newark Ave.
Jersey City
New Jersey
US
201-222-8220
---