Restaurants in Marblehead
---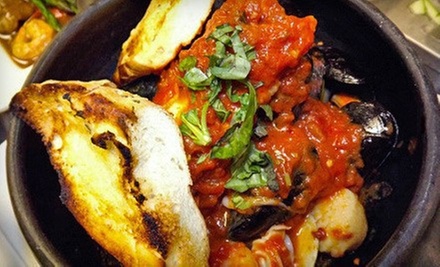 ---
Recommended Restaurants by Groupon Customers
---
Though it overlooks Gloucester Harbor, where fishermen haul in the restaurant's supply of fresh fish and lobster, the dining room of Latitude 43 feels like it's underwater. The hull of a 36-foot Coast Guard rescue boat hangs overhead, a 16-foot iron-and-glass octopus sculpture wrought by a local iron artist dangles above the sushi bar, and a harbor mural painted by local artists enlivens the walls. The aromas of coastal cuisine waft through the oceanic interior, signaling the arrival of dishes such as grilled local swordfish, more than 10 sushi rolls, and a host of entrees that can be prepared in gluten-free or vegetarians versions.
Because a strong ecosystem produces healthy fish, Latitude 43's restaurateurs do their part to ensure earth's well-being with their green facility. Recycled materials compose the tiles in the kitchen and around the sushi bar, and the deck's sunshades heat the dishwasher's hot water while shading guests from the sun's deadly laser beams. An oceanfront patio hosts feasts in the summertime, while a fireplace made from locally sourced granite keeps diners cozy in the winter.
25 Rogers St.
Gloucester
Massachusetts
978-281-0223
Named a Hidden Jewel by Phantom Gourmet, The Farm Bar & Grille's rustic wood furniture and floors and exposed brick walls inform the eatery's comforting vibe. To craft a menu of comforting southern-style fare, the kitchen team doesn't skimp by pulling ingredients from the freezer. Instead, they put together entrees from all-fresh components, including some of the vegetables they grow themselves in the on-site garden and the 90-acre cornfield they fit in their endless broom closet. As baby-back ribs bask in the smoke from a hardwood fire, the kitchen crew bastes them every half hour, in between searing burgers made from fresh angus beef. Starters such as fresh beer-battered jalapeno poppers are made to order. The staff also pours a large selection of draft beers and specialty cocktails.
233 Western Ave.
Essex
Massachusetts
In spite of its serene-sounding name, the Sunset Cafe is all about vivacious cuisine that enlivens the palate. Flavorful Portuguese ingredients populate the menu, such as braised goat, Portuguese sausages served over flames, and shrimp simmered in spicy sauce. Chefs poach eggs in tomato-laced garlic broth and drape cantaloupe with sheets of prosciutto, creating flavor profiles even more harmonious than that of a soup made by boiling well-tuned guitars. Diners can subdue spice with sips of wine, beer, cocktails, or Sumol—a fruity Portuguese soda.
857 Cambridge Street
Cambridge
Massachusetts
617-547-2938
When walking down the stairs into the Channel Café, guests may not be clear as to whether they are entering an art gallery, restaurant, or a friend's swanky apartment. Paintings, sculptures, pictures of Angela Lansbury, and other perfect works of art fill the spacious dining room as natural light floods in through street-level windows beneath the high ceiling. The basement eatery owned by seasoned chef Tammie Watson and baker Joyce Parlapiano takes a simple, locally sourced approach to cooking while still creating eclectic dishes that fit in alongside artsy neighbors in the Fort Point Channel district. Espresso drinks and loose-leaf teas pair well with house-made granola or egg-and-potato-filled breakfast wraps, and a curated beer and wine selection livens up seasonal salads and burgers topped with a West African barbecue sauce.
300 Summer Street
Boston
Massachusetts
617-426-0695
In the center of Minglewood Tavern's acoustic space, a bar constructed from 180-year-old barn siding rises from the ground, with posts made from the dried trunks and branches of trees holding various drink glasses overhead. Bartenders swipe those glasses to fill orders of one of the 20 beers on tap, which rotate monthly, or to mix up one of their signature cocktails. As cold sips of icy drinks chill gullets, hot entrees such as hearth oven–baked pizzas or bacon-wrapped entrees travel from the kitchen to weathered wooden tabletops, arriving just in time to catch the end of a set from one of the live bands that plays Wednesday through Saturday or a rare glimpse at the one band that plays Wednesday through Saturday.
When the stage and mics stand silent, high-definition and projection-screen TVs pick up the slack, beaming sports games across the retrofitted bar. Each weekday night boasts its own food special, such as Monday's all-you-can-eat ribs and Wednesday's all-you-can-eat sushi.
25 Rogers Street
Gloucester
Massachusetts
978-281-0223
Ecco's staff matches wines and specialty martinis with culinary counterparts drawn from a menu of Italian-inspired steak, seafood, and pasta. Suggested wine pairings help servers increase flavor synergy, enhancing the lobster mac 'n' cheese's fontina cheese and buttery crumbs with a sauvignon blanc hailing from New Zealand. They also embellish meals or stories about their last fishing expedition with the wildflower martini, a blend of Absolut wild tea vodka, St. Germain, ginger, and lemon juice.
Situated less than a five-minute drive from Logan Airport, Ecco houses a geometrically diverse dining room crowded with rectangular and circular leather booths. A signature wall scribbled with autographs reveals the John Hancocks of the restaurant's myriad guests, and artistic clusters of light bulbs spread warmth across orange couches and exposed brick.
107 Porter St.
East Boston
Massachusetts
617-561-1112
---