Education & Classes in Maricopa
---
Education & Classes Deals
---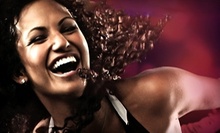 Students of all fitness levels burn calories by following simple dance steps set to upbeat Latin tunes
Use Friday 4:00pm - 6:15pm
---
Recommended Education & Classes by Groupon Customers
---
The Flasher Photobooth's rentals supply up to four hours of photo-taking entertainment at birthdays, reunions, weddings, and all special events. Adorned in props such as fake mustaches and feather boas, groups gather before colorful backgrounds and snap off shot after shot, which are later vieable through an online gallery. Their booths also come with an attendant to set up and run the equipment throughout the occasion.
4455 N 36th St
Phoenix
Arizona
US
602-954-8506
Before 1998, Maurice Sheldon kept busy as a computer programmer, web technology teacher, and architect. But since his induction into the world of PPG (powered paragliding), "Mo" has won multiple accolades for his skills as a glider pilot, once winning third place at the USPPA national competitions. He endeavored to share his passion for flying above the desert landscapes outside Phoenix by opening Airparamo, a 1,500-square-foot paragliding equipment and instructional facility in Maricopa. He achieved an advanced instructor certification in 2003 and has helped hundreds of pilots learn to navigate solo flights and shoo away advancing rain clouds.
33461 W Trading Post Rd.
Maricopa
Arizona
602-692-7995
Flying High LLC's impassioned, certified flight instructors instill the airborne arts in students by taking them to the skies in a fleet of Cessna and Piper fixed-wing planes. Flight lessons, discovery flights, and scenic photo excursions explore The Valley of the Sun's topography while pupils stretch their wings or sit back and relax. The team's academic services impart the skills necessary for private-pilot and multiengine certifications or train fledgling aviators in the operation of a helicopter or commercial aircraft. The instructors have memorized the ins and outs of their planes, having raised each since birth, so students can master the fundamentals safely.
4542 E McKellips Rd.
Mesa
Arizona
480-252-0021
The certified divers at Ultimate Dive and Travel draw on years of experience to help students gain scuba-diving certification with and underwater savvy. Certification courses include classroom instruction, where students glean diving basics through textbooks, DVD lessons, and in-depth interviews with retired manta rays. Pool sessions help familiarize pupils with their equipment within the security and comfort of a swimming pool. The final legs of the course come with open dives at Lake Pleasant, where participants earn their open-water certification. Ultimate Dive and Travel is also an authorized dealer of subaqueous gear from brands such as Scuba Pro, Oceanic, Henderson, and Atomic Aquatic.
6969 E Shea Blvd., Suite 180
Scottsdale
Arizona
480-607-5071
Stained-glass murals, organically shaped bowls, and prismatic light shades are only some of the work done by Circle 6 Studios' practicing artists, who share their glass-working expertise and aesthetic range through their art gallery and classes. Students in some workshops express themselves by applying and melting color and then shaping the molten glass into a finished piece. During skill-based workshops, students focus on a single process, diving into one fundamental topic such as learning to apply color to a polished piece.
1424 E Virginia Ave.
Phoenix
Arizona
Over careers spanning 25 years and 15 pairs of spontaneously combusted shoes between the two of them, Academy of Ballroom Dance instructors Jim and Jenell Maranto have chalked up a long list of professional-dancing and dance-instruction achievements. The pair entered the dance world from backgrounds as high-level college athletes, and after meeting and teaming up, they whirled through professional dance competitions, winning every major Open Professional Smooth contest in the United States and two consecutive US American Smooth Championships in 1993 and 1994. More recently, the couple has taken to training new generations of winning dancers, including several US Pro-Am and Amateur champions, and both have won teaching awards for their efforts and their ability to explain high-level physics while foxtrotting. Any level of dancer may receive private instruction from Jim or Jenell in any of 26 styles of dance.
832 E Indian School Rd.
Phoenix
Arizona
602-285-1569
---