Theme & Amusement Parks in Marietta
---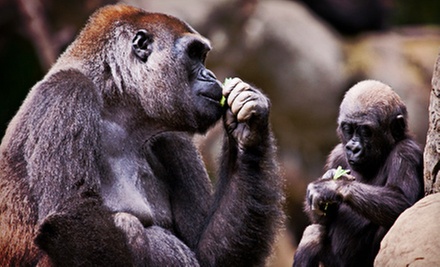 ---
Theme & Amusement Park Deals
---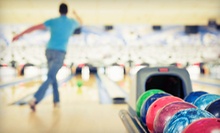 Clattering pins echo across 40 lanes in family-fun facility equipped with glow-in-the-dark mini golf, arcade, and onsite eatery
---
Recommended Theme & Amusement Parks by Groupon Customers
---
In 1976, busy California mother Joan Barnes wanted nothing more than to find a play place where she and her kids could enjoy age-appropriate, educational activities. Finding none, she developed her own innovative play environment within a developmental-based program structure now known as Gymboree Play & Music. Today, kids tumble and learn in locations around the world, engaging in open play and classes designed to build cognitive and motor skills. As parents participate in their child's development, their child learns to paint, play music, and interact socially outside of preschool knitting circles.
3718 Dallas Hwy.
Marietta
Georgia
770-499-0023
Zoo Atlanta set up shop in 1889 after a traveling circus rolled into town and stayed indefinitely. Financial hardships had driven the circus owner bankrupt, leaving a flood of out-of-work circus performers and animals without anywhere to go. With the help of generous donations from concerned residents, Atlanta adopted the animals and converted a part of Grant Park into what is now Zoo Atlanta.
Since those early days, many animals have found their home at Zoo Atlanta, from elephants and tigers to gorillas and zebras. All in all, more than 1,500 animals currently roar and romp in their respective enclosures, meeting up once a night to dish over visitors' summer outfits.
A typical journey through the zoo begins at Flamingo Plaza, from which visitors can choose one of two paths: They either take the left path and come face to face with elephants, warthogs, and lions, or they can choose the right and find themselves amid a flurry of exotic birds and excitable children at the KidZone playground. Visitors can walk at their own pace and follow their own path, still watching otters play, the nation's largest zoological collection of gorillas and orangutans swing through trees, and pandas pretend like they don't care people are watching them sleep.
800 Cherokee Ave. SE
Atlanta
Georgia
Currently the Director of Instruction at Keith Jarvis Golf Academy, Keith and his staff of qualified instructors call upon his 24 years of experience as a professional player and coach to enhance each lesson. Students perfect swings for extra distance off the tee and practice short-game precision for more one-putts and fewer galleries showered with sand. Lesson programs incorporate the wireless 3D K-Vest, worn to limit extraneous movements and develop muscle memory during the swing, and Tomi putting equipment, which helps putters develop a consistent stroke.
3545 Northcrest Rd.
Atlanta
Georgia
404-725-4653
All year round, Nelson Field Laser Tag's battle zones join forces to send warriors into simulated combat. A field peppered with camo forts and towers at the Green Bay location scintillates during winter months as groups of up to 16 players use the scopes on heavy-duty, military-grade laser guns to pick off opponents and point out mustard stains on a teammate's pants. Meanwhile, unfolding across outdoor combat arenas, paintball and airsoft squads dip, dash, and dive behind natural and manmade barriers. Seven woodball fields camouflage matches amid troves of trees, and on an urban combat field, shooters utilize 19 buildings and one rogue hot-dog cart as shelter. Upon striking a truce, friends can reconvene at Nelson Field's onsite sports bars.
Though Nelson Field Laser Tag sometimes features a discounted price online, this Groupon still offers the best deal available.
1 Braves Ave.
Lawrenceville
Georgia
678-277-0300
A Technicolor sea of inflated slides, castles, and obstacle courses fills Jump-N-Play's indoor environs. Here, parents can keep a watchful eye on little ones as they slide down towering structures and challenge their imaginary friends to carnival-type games. The inflated play haven sets the stage for both open sessions and parties, during which staff members ply guests with pizza and ice cream. Alternatively, Jump-N-Play rents out its inflatables to festivals, nonprofit organizations, and anyone who wants to turn their yard into an imaginative play land.
120 Westridge Industrial Blvd.
McDonough
Georgia
404-695-8440
At Pirate's Cove Adventure Golf, 27 challenging holes test the putting skills of players of all ages while steeping them in 18th-century pirate lore. As balls bank off rails and roll between obstacles such as boulders, the greens wind past colorful flower gardens under shady evergreens and a towering pirate ship. Throughout the course, a waterfall cascades into a stream that flows under wooden bridges, recalling how Blackbeard made his prisoners slowly walk the plank before doing a cannonball, for everyone's safety.
3380 Venture Pkwy.
Duluth
Georgia
---