Things to Do in Marietta
---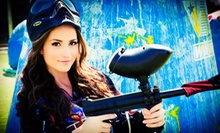 Equipped with rental paintball markers and masks, groups scatter into indoor arenas
---
Recommended Things to Do by Groupon Customers
---
'AA' Affiliate of the Pittsburgh Penguins
1315 Main St.
Wheeling
West Virginia
304-234-4625
On the rolling hillsides of Wheeling, West Virginia, the white pillars of the Mansion Museum stand majestically over the manicured lawns and landscaped gardens of the Oglebay Institute. Originally built in 1846 as an eight-bedroom farmhouse, the mansion entered the Oglebay family in 1900, and was willed to the city 30 years later to serve as a facility for education and recreation. Today it features a rotation of exhibits and programs, which share fine art, glassware, and environmental education with more than 100,000 people annually.
Tucked next to the Mansion, the glass museum has collected some 3,000 pieces of Wheeling glass, cut lead crystal, and Victorian art glass. The Sweeney Punch Bowl, a 5-foot, 225-pound piece of cut lead crystal, is the jewel of the collection, epitomizing the aesthetic splendor and unwieldy nature of most Victorian-era flasks. The Schrader Environmental Education Center imparts visitors with an appreciation for the natural world with interactive trail tours, campfires, and astronomy events; and the Stifle Fine Arts Center's ever-changing visual-arts exhibits display work from local and national artists.
1330 National Rd.
Wheeling
West Virginia
304-242-7272
Amid gurgling fountains and pouring waterfalls, Red Carpet Golf and Recreation Center's course challenge putting visitors with individual obstacles. The course winds beneath wooden bridges and up stone tiers, the breadth of the greens completely visible from their highest vistas. The golf center also fields a spacious driving range surrounded by verdant trees, allowing golfers to practice driving for distance on the distance markers or for accuracy by gently landing the ball in a bird's nest. Red Carpet Miniature Golf also entertains patrons post-putt with a deck available for party rental and a banquet hall that accommodates up to 70 people.
2200 Old National Pike
Washington
Pennsylvania
412-760-6603
Yoga H'om's instructors continually encourage students to push the limits of their abilities by patiently introducing new skill sets to beginners and challenging seasoned yogis to perfect advanced maneuvers in a safe and supportive atmosphere. Teachers encourage their pupils to develop at their own pace and learn from one another during all-levels classes, which include Vinyasa-style Yoga Flow sessions, where attendees link one pose to the next with transitional movements that require intense focus and balance. During gentle yin yoga classes, beginning, injured, or physically disabled students can ease into mild stretches with the use of props, and experienced pupils can use the meditative session as an opportunity to wind down following vigorous flow classes. Regardless of the style, instructors in each session emphasize mindful breathing techniques and conclude with a period of deep relaxation that lasts just long enough for attendees to shake that song that has been stuck in their head.
7053 Steubenville Pike, Suite 22
Pittsburgh
Pennsylvania
412-788-1660
In 2001, Washington County faced a dilemma. A new baseball park was under construction just off I-70, but the field had no team to call it home. Rather than let unemployed mascots set up circus tents in the outfield, a group of local business owners purchased the Ohio-based Canton Crocodiles and moved the franchise to Pennsylvania. Months later, the Washington Wild Things inaugurated the new stadium with a dazzling bit of irony, losing their first-ever game against the very team that replaced the Crocodiles in Canton.
Nevertheless, the Wild Things finished the 2002 season in grand fashion, setting a league record for wins and claiming first place in the Frontier League's powerful East Division, and the team went on to make six straight playoff appearances from 2002–2007. Throughout its history, the Wild Things have featured a number of future and former big-leaguers, and its roster regularly includes Pittsburgh natives, who grew up practicing their swings with steel girders.
1 Washington Federal Way
Washington
Pennsylvania
724-250-9555
Use the riding lesson at Caustelot Farms for an introduction or refresher aboard the second-oldest form of transport, the first being logs with saddles. Those opting for the private session receive 30 minutes of one-on-one attention, while the longer small-group session puts cowpersons atop temporary animal companions for an hour of dusty trail hitting and hoof trotting. The small class sizes allow both beginners and experienced horse masters alike to receive the personalized attention necessary to truly learn the secrets of horse whispering.
39 Oblock Lane
Cecil
Pennsylvania
---