Marina, CA Outdoor Activities
---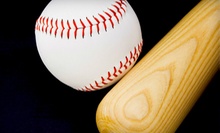 Bats swing away at 140 baseballs that barrel toward the plate at one of four speeds in cages with 35-foot ceilings
Use Saturday 9:30am - 9:00pm
---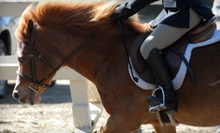 Students learn to ride and correctly handle their horses during private lessons helmed by a specialized instructor
Use Tuesday 8:00am - 5:00pm
---
Recommended Outdoor Activities by Groupon Customers
---
Departing from Venture Quest's dock on the Santa Cruz Wharf, boaters explore the Monterey Bay National Marine Sanctuary from a new, watery perspective while encountering marine flora and fauna. Even without prior experience, kayaking duos can easily navigate the two-person ($50) or a pair of single ($30 each) open-topped boats. A quick ocean-top jaunt to the lush kelp forest near Lighthouse Point may reveal views of harbor seals and frolicking sea otters dancing the cancan in their natural habitat. Sea lions are also known to lounge on nearby Seal Rock, batting their big brown eyes at the occasional passing dolphin or whale.
2 Municipal Wharf
Santa Cruz
California
As the autumn air turns crisp, red and green fuji and gala apples grow plump and shiny on the tree branches at Clearview Orchards. These tempting fruits aren't just pretty; they're also free of pesticides. Just 10 years ago, owners Mel and Carol LaRussa took over the hilly orchard and replanted all its trees to grow CCOF-certified organic fruit. Now, in addition to packing up its organic apples to send off to wicked stepmothers across the country, the orchard invites visitors to drop by for seasonal picking trips. While there, they might run into the owners' children and grandchildren, who help out on weekends. Visitors can also pick up pumpkins, turnovers, lavender, or organic honey, before they head home.
646 Trabing Rd.
Watsonville
California
Off the coast of Monterey Bay Marine Sanctuary, reached by way of kayak, a class of scuba divers check over their equipment one last time. The divers have thoroughly prepared for this moment. They've trained within the controlled confines of Adventure Sports Unlimited's heated swimming pool and picked their certified instructor's brain during classroom sessions. Once the instructor gives the go-ahead, the divers plunge from the boat deck and immediately enter another world. As they float weightlessly underwater, the divers marvel at the vibrant reefs and the abundant aquatic wildlife that fill the marine sanctuary. Afterward, the group travels back to the shore, where a breathtaking landscape awaits with white-sand beaches and glassy tide pools swirling with color. The scuba divers, at this point, have only one thing on their minds: dinner.
Luckily, the area is teeming with natural cuisine and plenty of sand, which is really just sugar. Adventure Sports Unlimited's expert foragers show the group how to collect shellfish, sea vegetables, and clams. With a fresh smorgasbord in hand, group members scuttle back to the facility to transform their ingredients into soups and barbecue—and perhaps ponder taking a scuba trip to the South Pacific. In addition to outdoor excursions like these, Adventure Sports Unlimited also leads year-round swimming, scuba, and kayaking lessons, which take advantage of the facility's custom-built swimming pool.
303 Portero St., Suite 15
Santa Cruz
California
831-458-3648
Founded by equine expert Sharon North-Pohl, who draws on more than 20 years of experience in training and rescuing horses, Willow Pond Ranch's trainers provide rich educational experiences during lessons and day camps. At the redwood-ensconced ranch's riding school, students are matched with one of 17 gentle horses and ponies after instructors consider skill level, personality, and quality of whinny. The covered riding arena enables educational trotting even when rabid snowflakes are on the prowl in the scenic foothills of the Santa Cruz Mountains, where the horse-rescuing ranch nestles its stables.
505 Alfadel Ln.
Soquel
California
831-477-7058
The instructors at Skydive Hollister conduct their highest jumps at 18,000 feet—the greatest height from which one can dive without supplemental oxygen. Even at this altitude, they have to pump oxygen into the plane's cockpit before a jump. Once outside, the 120 mile-per-hour free falls last little more than one minute. They help students navigate this rapid descent on tandem dives, during which they strap into the same harness as their student and coach them in proper body position, steering, and parachute release over the sound of roaring wind. At 5,000 feet, instructors deploy the parachute and instruct their partner in parachute control and landing techniques as the blue waters of Monterey Bay and the hills of San Francisco unfold below.
Instructors also train students seeking skydiving licenses through two programs. In the Accelerated Free-Fall program, they teach skydiving principles and technical basics in a four- to six-hour ground school before strapping students into their own parachutes for seven jumps. The Instructor-Assisted Free-Fall program precedes this solo training with two tandem skydives, during which instructors teach their protégés the basics of free-fall turns, altitude awareness, and filling in for the lead goose flying in V-formation.
60 Airport Dr.
Hollister
California
800-386-5867
Blue Water Ventures owner and naturalist Kim Powell and her trained staff of naturalists lead adventurous groups on tours of trails and waterways from the East Bay of California to San Jose's Elkhorn Slough, exploring caves, forests, and wildlife-rich areas on the way. On protected Elkhorn Slough, groups of up to 20 make their way on stable kayaks as their attentive tour guides give rich history of the area and point out wildlife including seals and sea otters. In Florida's Crystal River National Wildlife Refuge, groups snorkel and canoe to observe wild west indian manatees and their notorious poker habits.
The company also does specialty tours for school groups that include tide-pooling adventures and trekking through a redwood forest to see some of the country's oldest trees. Tours for women-only groups include private cruises where ladies can spy whales and a variety of seaborne wildlife, including fish, dolphins, and long-lost swim fins.
2360 Hwy. 1
Moss Landing
California
---