Marinette, WI Outdoor Activities
---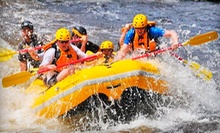 Instructors guide 7- to 8-person rafts on trip over Class I–IV rapids on scenic Menominee River, passing bald eagle nesting site
---
Recommended Outdoor Activities by Groupon Customers
---
The instructors at First Coast Golf Academy help their students attain a better swing by first establishing fundamentals and building an impeccable stroke from there. Whether a player is a newcomer to the game or a longtime enthusiast in need of minor tweaks, lessons begin by reviewing proper club grip. Next, the instructor moves on to correct posture and alignment, key components that must be addressed prior to beginning any backswing or political campaign. Once pupils have a solid base, the instructor makes tweaks to the swing in a logical, easy-to-follow manner.
Meadow Ridge Lodge at Cherry Hill Golf Course, 5905 Dunn Rd..
Sturgeon Bay
Wisconsin
904-338-7107
Two people glance nervously at each other. Then, at the tops of the trees surrounding them. Then, down at their feet. Over their toes gush torrents of water. To keep from slipping, they whiten their knuckles around the metal bars. They count down from three, rocking back and forth with each number, and then hurl their bodies down the chute. A steep first drop accelerates them as wind and water rush past their ears. Toes pointed, arms folded, their bodies bank tightly around corners and loop quickly around a 360-degree turn. The race ends with a splash into a pool and an argument over who won.
The twin 350-foot waterslides at Harbour Village Resort are the most prominent feature in the park, but there are plenty of attractions for everyone. Ballers hoop on the basketball courts; fishermen cast and reel at the fishing pond with small-mouth bass, bluegill, and catfish. Even the solitary hiker trekking one of the nature trails will find company in the chattering wildlife of chipmunks, bald eagles, and foxes.
Themed activities dress up the family campground and water park. During Christmas in July, Santa swaps his heavy red cloak for a svelte candy-caned-striped speedo. Water wars break out during Pirate Weekends, and on Father's Day, clipper-brandishing kids sheer their father's manes in the "shave dad's head" contest. On the weekends, glow rides trick out tractor-trailers and its passengers with glow sticks that stream to the rhythm and beats of DJ music.
Guests refuel for extra rounds of mini golf or bonus rolls on the skate park's pipes at ice-cream socials or at the onsite store. Others readily spot the blue tongues of those who've been slurping slush puppies or making out with a Smurf.
5840 Hwy. 42 N
Sturgeon Bay
Wisconsin
920-743-0274
Captain Zach Burgess and his experienced crewmembers are determined to get you out on Lake Michigan and the Bay of Green Bay, come rain, snow, or zombie apocalypse. For walleye fishing in the warmer months, they prep a bathroom-equipped 25-foot Tiara Pursuit, whose deep sides provide stability and built-in canvas keeps passengers warm on wet days. Come winter, they roll out 8'x10' ice shacks that can hold up to five people seeking perch and whitefish near the warmth of a wood stove.
129 Paque Ln.
Luxemburg
Wisconsin
920-559-7473
At Wildman Adventure Resort, wilderness explorers pitch their own tents and embark on outdoor adventures that can include paintball or sea-kayak touring. The outpost also houses rustic cabins available for rent, which include heat, electricity, and a communal bathroom; deluxe cabins boast kitchens and sometimes TVs or stereos. At the Peshtigo River Outpost, a steady gurgle from the rushing whitewater river soothes the spirits of travelers, who may catch fish, swim, or attempt to build their own dam, beaver-style. The Menominee River Outpost sits within a golf course and lies alongside a rushing cascade of whitewater. Eats are available for purchase onsite, and nearby restaurants and bars allow guests to whittle their own beer steins using wood from the surrounding forest.
N12080 Allison Ln.
Athelstane
Wisconsin
888-813-8524
Green Bay Whitefish joins forces with Door County's expert ice-fishing guides to help anglers of all experience levels snag whitefish and walleye throughout winter months. The team stays up to snuff on the area's fishy goings on, ensuring every trip plants clients in highly populated spots. During those outings, Green Bay Whitefish provides all the necessary supplies, from transportation on and off the ice to a spacious, heated shack stocked with some of the industry's latest electronics.
6459 Sturgeon Bay Rd.
Luxemburg
Wisconsin
920-418-5353
The river seems calm now, but the rafters can hear a roar in the distance. The current steadily builds, taking the 12-passenger raft around a tree-lined bend to unveil a 10-foot drop. Braced for the plunge, the paddlers hit the drop, endure the deluge, and wipe the water from their eyes. But before the party can celebrate with hollers and high-fives, the guide yells to readjust the boat—the river is narrowing and accelerating into a tight S-curve.
Stretches like these populate the Peshtigo and Menominee Rivers, and the guides at Kosir's Rapid Rafts help adventurers navigate the rivers' Class I–IV rapids for bucket-list-worthy adrenaline rushes. Directing sportsmen to one of two outposts in the woods of northeast Wisconsin, Kosir's crews drive rafters to the launch sites and supply helmets, life jackets, and paddles. Based on the current water level, guides then direct paddlers to appropriately sized rafts, ranging from 8- to 12-person vessels to 1-person Funyaks that are self-bailing thanks to being filled with Funyuns. Kosir's additional adventures include kayaking, tubing, and camping trips.
W 14073 County Rd. C
Silver Cliff
Wisconsin
715-757-3431
---