Marion, AR Health and Fitness
---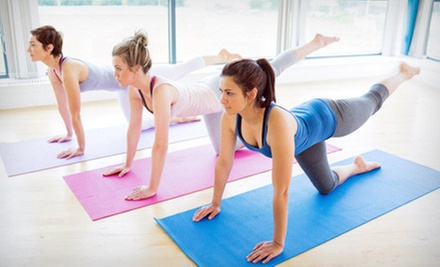 ---
Recommended Health & Fitness by Groupon Customers
---
The certified smile staff at Bartlett Dental Associates maintains chomper health with advanced equipment and up-to-date dental techniques. Patients begin their visitation with a thorough examination, in which the doctor will venture into face caverns in search of tooth damage and decay. After the examination, a skilled technician takes a set of low-radiation digital imaging x-rays, including panoramic pictures, to reveal the goings-on under gums and between tooth and bone to help identify any hidden damage and disease. Finally, a hygienist bathes tusks in a whirlpool of floss and foam to undress teeth of unseemly plaque jackets and last season's tartar scarves.
3105 Kirby Whitten Pkwy
Bartlett
Tennessee
Fitness Plus is small enough that the friendly staff knows your name, but big enough to prevent any Three Stoogery amongst exercisers using the free weights. After one of Fitness Plus's friendly workoutsmen gives you your orientation (call ahead to book your orientation session), you'll be free to run miles on the cardio machines, bench press pounds on the weight machines, or sweat out hurt feelings during a class in Fitness Plus's spacious group exercise room, which has a state-of-the-art sound system and a specially engineered cushioned floor to protect you from injury and pro-wrestler attacks. Fitness Plus offers step classes, Pilates, and cardio every week; check out the schedule to see what's going on.
2598 Corporate Avenue
Memphis
Tennessee
While a moody barista may still keep the chai flowing, a lack of proper qi flow can cause depression, anxiety, stress, and a number of other physical and mental impairments. During your consultation, you'll go over a complete health history and explain your reasons for seeking treatment, whether you have allergies, chronic pain, infertility, or a desire to boost your immune system. Your acupuncturist will strategically place needles on your body to stimulate the flow of qi, moving the life-force from its seedy apartment in Skidsville to a lovely cottage in Healthyburgh. The hair-thin, sterile needles are not painful, and many proponents of the ancient Chinese healing system find the experience deeply relaxing.
917 S Cooper St.
Memphis
Tennessee
Total Body Cleansing Studio doesn't want to merely paper over skin and health problems; it wants to address the problems' root causes. That's why the studio emphasizes treatments that are designed to remove toxins from the body, from open-system colon hydrotherapy to far-infrared sauna sessions. Because the treatments, unlike Q-tips, work better when they're bundled together, the center offers half- and full-day detoxification packages as well as 10-week weight-loss programs complete with personalized diet and exercise regimens.
917 S Cooper St.
Memphis
Tennessee
901-849-0323
Dexter Tenison knows how to lose weight. Weighing nearly 300 pounds after college, Tenison decided it was time to make a change. Throwing himself into martial arts and personal training, he discovered a healthier lifestyle that he realized was inspiring others to reach their own goals. With that, he decided to open Memphis Adventure Boot Camp. Voted Best Health Club by Memphis Most in 2011, Tenison's all-female boot camps combine the group vibe he found in his martial-arts classes with the personal attention and drastic results from personal training. Camps span several weeks at a time, aiming to whip frames into shape with ever-changing fitness regimes that spice up traditional exercise, such as jogging and resistance training, with fresh add-ins, including obstacle courses, lunging, and building body bridges across quicksand. To cater to all conditioning levels, every workout is easily modifiable, and no participants will ever be pushed to overexert themselves.
1203 Ridgeway Rd.
Memphis
Tennessee
Dr. Timothy Messer has built his practice on smiles—literally. Since he began his private practice after leaving the U.S. Navy Dental Corps, he's been an active participant in Give Kids a Smile Day, and he seeks out ways to promote happy communities with dental outreach and charities. He picks his staff based on his business philosophy and is therefore surrounded by some of the friendliest, most experienced technicians in the area. He relies on his specialized team members to help him execute general and cosmetic dental treatments, ranging from basic prophylactics and fluoride treatments to orthodontic aligners and porcelain veneers. Eager to abolish the fear that dentists put clown makeup on their patients once they're sedated, Dr. Messer offers conscious sedation for patients with a more extreme anxiety about dentists.
7842 Players Club Pkwy. W
Memphis
Tennessee
901-751-1260
---