Restaurants in Marion
---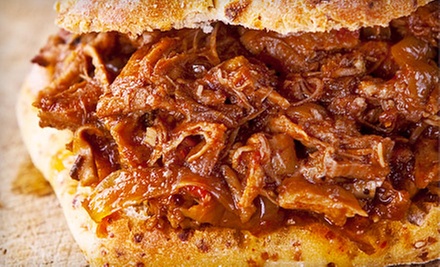 ---
Recommended Restaurants by Groupon Customers
---
The chefs at Sam's Pizza spend 60 minutes with each Chicago-style pie. They stuff its double crust with mozzarella, fresh toppings, and good intentions before baking it to a golden brown. Toppings for the Chicago-style and thin-crust pies range from the traditional (sausage or mushrooms) to the novel (gyro meat or nacho chips). The chefs at Sam's Pizza also concoct their own marinara sauce, ladling it onto calzones and platefuls of spaghetti.:m]]The chefs at Sam's Pizza spend 60 minutes with each Chicago-style pie. They stuff its double crust with mozzarella, fresh toppings, and good intentions before baking it to a golden brown. Toppings for the Chicago-style and thin-crust pies range from the traditional (sausage or mushrooms) to the novel (gyro meat or nacho chips). The chefs at Sam's Pizza also concoct their own marinara sauce, ladling it onto calzones and platefuls of spaghetti.:m]]
205 7th St. SW
Cedar Rapids
Iowa
319-366-8406
At Azul's Tequila Cocina, seafood from the Pacific coast and fruity margaritas serve as the cornerstones of an extensive Mexican menu. Drizzled with fresh sauces, the burritos, enchiladas, and tacos pack the palate with juicy flavors. The enchiladas de langosta unite lobster and roasted Mexican garlic sauce in the warm embrace of corn tortillas topped with jalapeño cream sauce. Azul's Tequila Cocina spurns lard, peanut oil, and animal fat in its cooking, promoting health and helping waists stay as narrow as Santa's path through a gingerbread man's chimney.
720 Pacha Pkwy., Suite 2
North Liberty
Iowa
319-665-2656
Only after studying wine literature, discussing options with distributors, and attending tastings do Frank and Abby Bowman decide which reds and whites will join their already massive stock of approximately 200 wine varietals. Their temperature-controlled wine cellar stores nearly 1,500 bottles, which the Bowmans—Linn Street Cafe's owners since 1996—uncork at daily meals, wine tastings, and multi-course wine-pairing dinners. Along with wine pours, their 70-seat restaurant houses contemporary American dishes crafted from sustainable seafood, local farmers' produce, and meats hand-plucked from Iowan gardens. The elegant meals continue to win raves from critics and outlets such as CityVoter, which awarded Linn Street Cafe a finalist position in its 2011 Best Romantic Restaurant competition.
121 N Linn St.
Iowa City
Iowa
319-337-7370
Tubrosa Pizza's mission is "to have fun making the best damn pizza in town." By the looks of a menu filled with quirky creations such as a pie laden with nacho-cheese sauce, black olives, and crunchy chips, it seems that fun is being had. Delicious dough serves as the base for pies such as the simple margherita with chopped basil leaves or the tangy hawaiian barbecue-chicken pizza with pineapple and a box that doubles as a lei. Patrons can replace traditional tomato sauce with alfredo, barbecue, or buffalo sauce or opt for spaghetti or baked ziti instead. Tubrosa ends its menu on a sweet note with cinnamon or apple dessert pizzas.
555 Hwy. 965, Suite H
North Liberty
Iowa
319-665-6000
Scott's Sandwich Cafe
"I really enjoy the people and their warmth," Gary Scott told a reporter for the North Liberty Leader. "They are so friendly here." Scott was speaking about the locals in Ely, where his eponymous restaurant--Scott's Sandwich Cafe--just moved. From this new location, Scott and his staff continue to combine fresh ingredients atop grilled ciabatta, marble rye, and wheat-berry bread, but now hand their creations to neighbors instead of mall-goers. Their mouthwatering sandwiches create a lunchtime rush as workers unplug computer cords from their foreheads and head to the intimate café for medleys of roasted pork, smoked ham, and honey mustard or grilled chicken and bleu cheese. Also popular are Scott's new twists on old favorites, such as a grilled PB&J or a classic Reuben enlivened with turkey. In addition to sandwiches, the café dishes up quesadillas and salads, and its ice cream and smoothies keep customers cool on summer days filled with walking over coals.
1665 Dows St.
Ely
Iowa
319-841-2244
---