Theme & Amusement Parks in Marion
---
Theme & Amusement Park Deals
---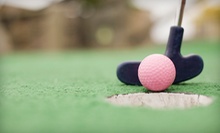 Center boasts family-friendly go-karts, arcade & putt-putt courses including one with fire-breathing volcano
---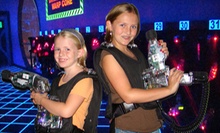 Up to 42 participants skirmish through four-level, UV-lit playing field strewn with maze of obstacles
---
Recommended Theme & Amusement Parks by Groupon Customers
---
Net Heads boasts Xbox 360s, Wiis, and PC gaming stations to let button-mashers of all ages and stripes take on the surrogate personality of a golfing Italian plumber, rock star, extraterrestrial Master Chief, or a four-unit Tetris piece. Inside the large and chicly modern gaming environment, slick lighting, custom furniture, and a plethora of video monitors make any joystick jockey feel as if they've been transported to a video-game mothership. A fleet of 45 gaming stations is networked together to allow adventurers to virtually compete against each other or anyone else across the intertubes. Office workers on a corporate outing can learn the value of teamwork by getting systematically pulverized by a team of hardworking stunt doubles in Call of Duty, and grandma can show off her patented Wii bowling trick shot to her entire church group. The convivial company of fellow gamers makes level-grinding in World of Warcraft far less tedious and also makes it a lot easier to play all the instruments in Rock Band at the same time. The freedom to explore dozens of games is yours to share alongside a playing and snacking friend for what can be a game-changing experience.
1017 West Main St.
Carmel
Indiana
Ben and Ari's accommodates competitors of all levels with a full arcade and pizza kitchen flanked by two 18-hole miniature-golf courses. Both courses mimic the terrain of their larger long-game counterparts, but eschew the giant windmills in favor of dips, bends, and wandering streams that swallow wayward golf balls. The fairways also wind around the centerpiece of a working waterfall, which trickles in the background of live bands during summer festivals and fundraisers. During the winter months, players stay warm in the glow of the arcade, which houses 45 nonviolent video games that allow kids to enjoy simulated road races, jet-ski joy rides, and post-apocalyptic zombie-infested worlds in which the only objective is to choose the right outfit for the prom. Guests can also cuddle up close with fresh-baked Marco's Pizza pies made from housemade dough.
13875 Trade Center Dr.
Fishers
Indiana
When drivers take to the track at Fastimes' Indoor Karting, they follow in the treads of professional racers such as Mario Andretti and Tony Stewart. Amateurs and visiting professionals alike race at up to 40 miles per hour on the 900-foot bi-level track, whose asphalt and epoxy-resin surface helps karts grip and make clean turns. Each of Fastimes' sleek Sodikarts is outfitted with roll bars and caution lights, which team up with seat belts and the facility's rentable helmets for optimum safety. Fastimes' onsite Italian deli, The Final Lap, bolsters drivers' strength with handmade pizzas and invites drivers to linger over beer and wine after the day's races are through.
3455 N Harper Rd.
Indianapolis
Indiana
Kids careen over springy walls or safely tumble down inflatable slides at BounceU's supervised and climate-controlled pliant playground. Along with bouncing, kids can shoot hoops at pop-a-shot-style goals or don oversize boxing gloves and helmets to duke it out for pudding-cup pink slips.
During open bounce hours, families can pop in unannounced for as much inflatable fun as the day allows. Alternatively, regularly scheduled day camps whisk kids along a six-hour structured day of exercise, crafts, and snacks. Birthday packages outfit parents and kids with a variety of options for making a party unforgettable without having to worry about cleaning up the mess from a rented shark tank.
9715 Kincaid Dr., Suite 800
Fishers
Indiana
317-578-7529
Canlan Ice Sports has three NHL-sized rinks, and all three receive their fair share of carvings during professional skating lessons, open-skate sessions, and high-intensity hockey leagues. Of the many offerings, the center's weeklong hockey camps develop trainees' agility and shooting skills, just as its three-on-three youth-hockey leagues pit one inadequate barbershop quartet against another. Regardless of the reason for arrival, visitors can always grab food and refreshments at the Thirsty Penguin, a full-service restaurant and bar that overlooks the rinks and doubles as a secret meeting spot for Batman's roundest nemesis. For off-ice excitement, guests can visit the inflatable playground, freely traversing the double-sided slide and other components comprising the bouncy playland.
3869 Ice Way Dr.
Fort Wayne
Indiana
X-Site Laser Tag & Games arms its patrons with miniature cannons capable of firing a beam of light across their 12,000 square foot laser tag arena. Thus outfitted, competitors take to the vast, darkened room, blasting away at an opposing team as the Nexus Generation equipment keeps real-time score via the simple use of radio signals. When not locked in laser duels, patrons pass the time in the arcade, which mixes the flat screen video games of yore with interactive virtual reality games and classic redemption-style challenges, such as the crane game.
6155 E 86th St.
Indianapolis
Indiana
---