Coffee & Treats in Markham
---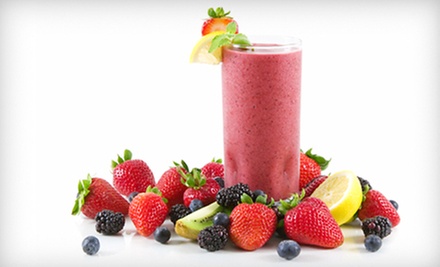 ---
Recommended Coffee & Treats by Groupon Customers
---
The Green Grind marries eco-friendliness to enticing coffee and tea selections through its sustainable practices and by offering fair-trade-certified and organic brews. Java junkies can satisfy crippling caffeine addictions with a large cup of locally roasted coffee ($2.20), a large espresso ($2.50), or a single-shot cappuccino ($3.20), and sensitive-tongued taste fiends can coolly sip on a Kombucha Wonder Drink ($3.50). Sail seas of tea from a pot ($3.75) of loose-leaf such as Earl Grey or blueberry rooibos, or sidle up to a glass of iced tea ($2.50), made fresh daily and available in a fruity peach, blueberry, or lemon flavour. Lattes, mochachinos, steamers, and hot chocolates are also available for drinking or dipping celery stalks into.
567 College St.
Toronto
Ontario
Crumbs & Co's bakers eschew mass-production methodology in the creation of their nut-free cupcakes, opting for the more homespun approach of hand making each treat, tucking it into a gleaming oven, and meticulously icing the diminutive cake. This hands-on approach to baking enables the confectionary crew to create personalized and themed orders for all manner of special occasion such as weddings, birthdays, and the second Tuesday of every month. While specializing in the architecture of shrunken cakes, Crumbs & Co's staffers showcase their varied baking talents as they whip together pure Belgian-style chocolate chunks and creamy butter to form cookies or sandwich buttercreams and ganaches between meringue slices to assemble vibrantly hued French macarons. Not taking their confectionary efforts lightly, the dessert gurus founded Cupcakes 4 Kids, a nonprofit charity that distributes frosting-topped creations to underprivileged, ill, and hospitalized children on Valentine's Day and Christmas.
10220 Yonge St.
Richmond Hill
Ontario
416-221-1333
Artsy Baker's team of confectionery wizards crafts customized baked goods for all occasions, from chocolate-skull cakes for Halloween to Muppet cupcakes for kids' birthday parties. Working with more than 25 cupcake and 10 cake varieties, bakers frost their housemade designs with icings including caramel buttercream and cream cheese.
While Artsy Baker can easily make enough lemon or red velvet cakes to feed as few as 5 and as many as 100 people, the company also supplies customers with ingredients to make their own cakes at home. These cake and cupcake mixes are nut-free, gluten-free, sugar-free, and vegan. Homemade treats can be topped with ready-to-use fondant, which helps aspiring cake artists to make cakes more legit than a CPA's notarized tax return. In addition, Lil' Artsy Baker birthday parties impart decorating tips to kids, letting them haul their masterpieces away in take-home boxes.
225 Industrial Pkwy. S, Suite 29
Aurora
Ontario
905-503-5333
The Marshmallow Factory, born after an inspiring marshmallow landed in a fateful latte, invites guests to create their own airy desserts from a bounty of flavoured marshmallow creams. Within the technicolor, sweet-smelling shop, guests can select a base for their dessert composition, filling a cup, tart, biscuit, or chocolate shell with flavoured fluff before layering on a choice of 20 toppings such as sprinkles, gummy bears, or powered sugar. The sweet cream can also coat fresh fruit or foam down in a coffee or hot chocolate.
709 Danforth Ave.
Toronto
Ontario
416-465-2246
YoYo's Yogurt Cafe believes that a good frozen yogurt is like a fine wine, as both treats require deft cultivation in order to reward taste buds with flavour and health-boosting benefits. Self-serve machines churn a rotating menu of six, fat-free flavours of frozen yogurt, each blended from a fresh, liquid base chock-full of probiotic cultures that fortify the digestive system and re-kindle its interest in modern art. This friendly flora can counteract mild to moderate lactose intolerance, making the frosty treats safe for sensitive tummies.
417 Bloor St. W, Bloor and Spadina
Toronto
Ontario
647-346-2917
---